FACT CHECK: Mock bodies used during Thailand protest passed off as Covid fatalities in Sri Lanka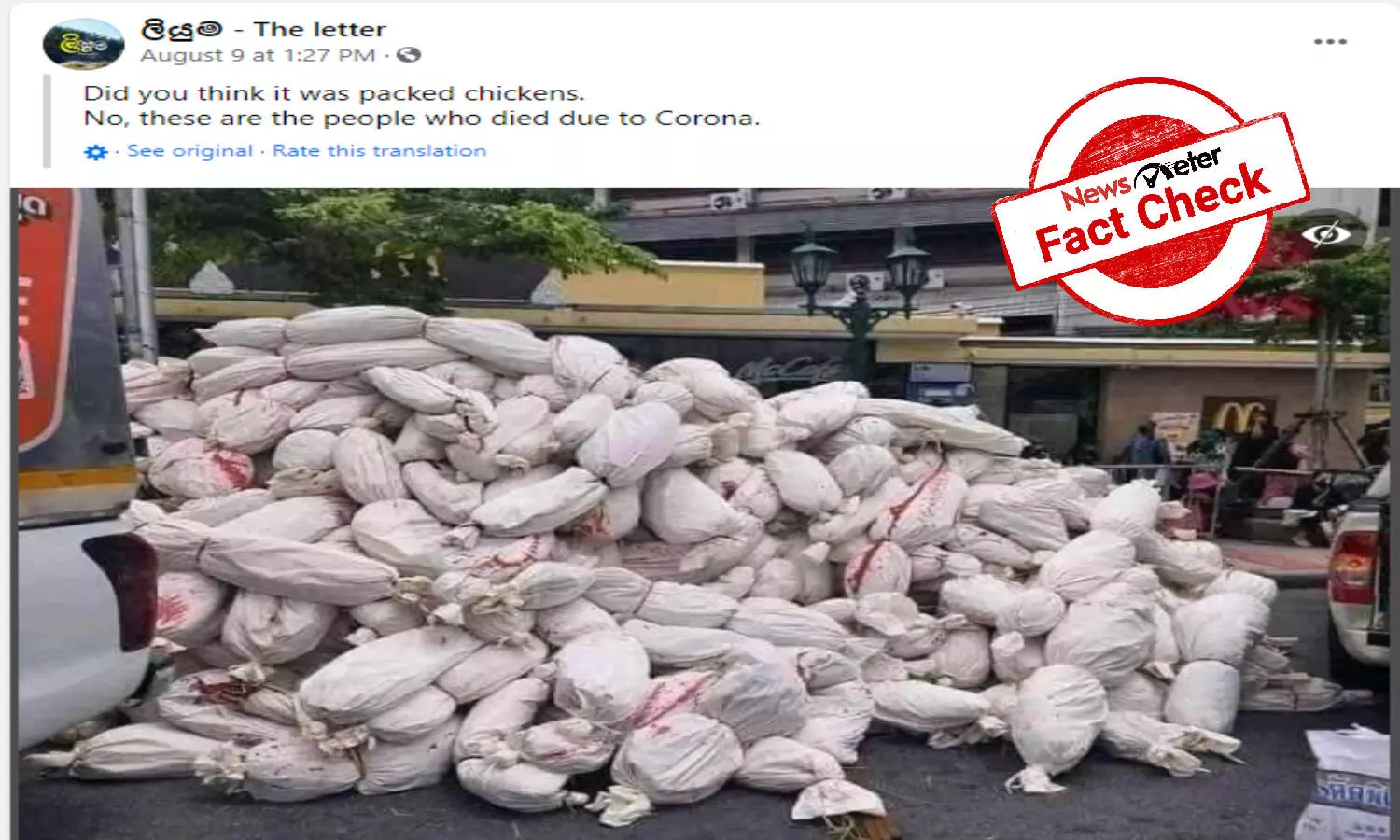 HYDERABAD: An image of white body bags is viral on social media. Users claim that these are Sri Lanka's COVID-19 fatalities.

The claim upon translation from Sinhala reads, "Did you think these are packed chickens. No, they are people who died of Corona."
FACT CHECK:
The claim is false.

NewsMeter performed a reverse image search and found the same image in a tweet by Thai Enquirer, a Thailand news organization that reported a protest at Democracy Monument (Bangkok, Thailand) on 18 July 2021. Pro-democracy protesters held a demonstration against the government's pandemic mismanagement. Mock bodies had been piled up at the protest site to show the lives lost because of the government's poor Covid response.
The protest called for Premier Prayut Chan-O-Cha's resignation and marked one-year anniversary of a pro-democracy movement. White bags were stuffed with straw and painted red to represent the kingdom's total death toll from Covid-19, a tragedy exacerbated by state mismanagement. (Read the reports here)

https://www.dailysabah.com/world/asia-pacific/coronavirus-crisis-prompts-anti-govt-protests-in-thailand

https://prachatai.com/english/node/9359

Another Thailand-based news agency captioned the post: "11.45 a.m. The atmosphere at the Democracy Monument on the McDonald's side before the appointment time. There is a car that carries a replica of the corpses. Along with the people, mostly red shirts gradually entered the area including Mielek Chokromphruek. Bags containing raincoats, N95 masks, fresh shields, and alcohol were also distributed along with gloves."
It is clear that mock body bags used during a Thailand protest were shared as rising Covid fatalities in Sri Lanka. Thus, the claim is false.

Claim Review :
Covid fatalities in Sri Lanka
Claimed By :
Social Media Users