Fact Check: Morphed image shows man falling from US military aircraft during Kabul airlift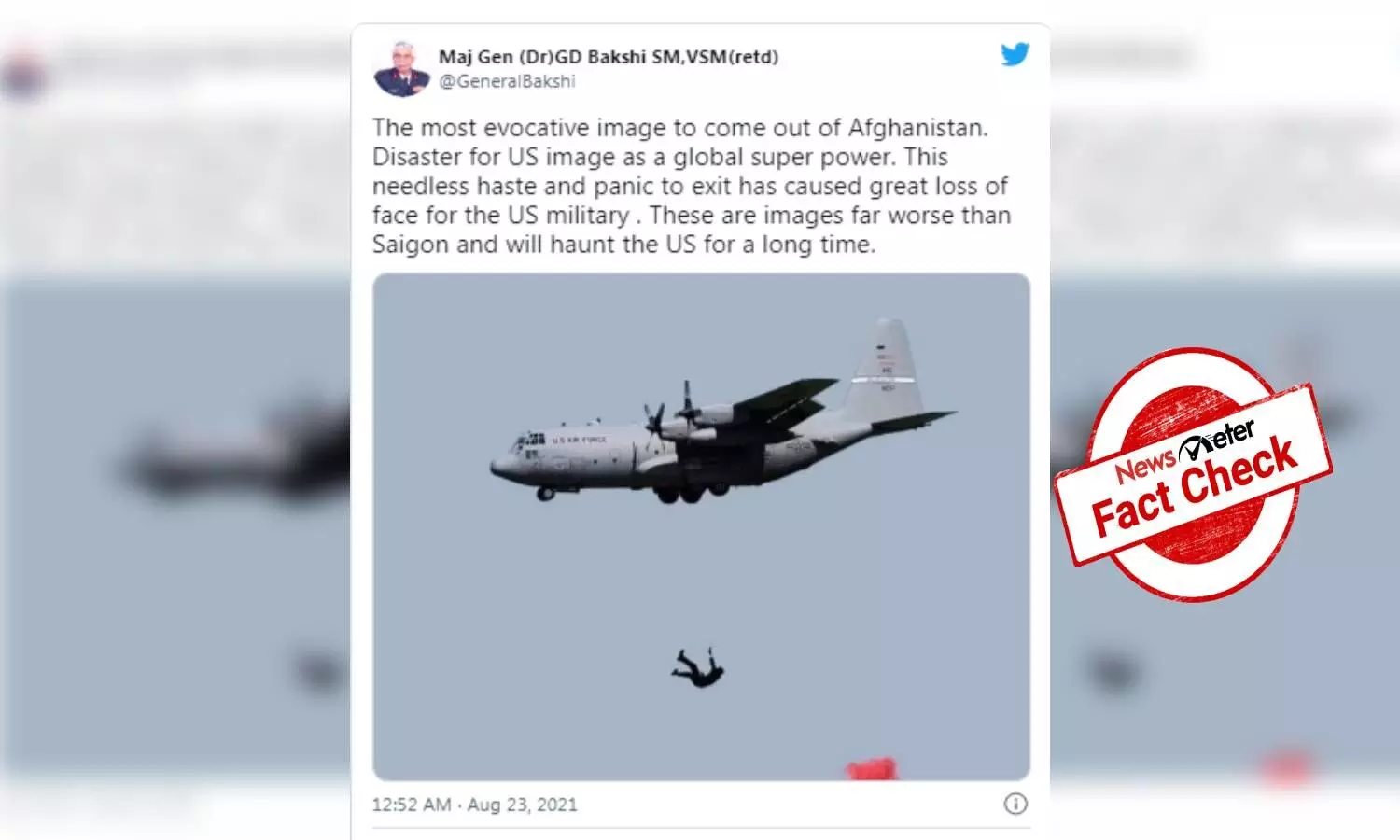 Hyderabad: Amid the Afghanistan crisis, a photo of a man falling from a US military aircraft is circulating on social media with the claim that it is from Kabul.

The photo was shared by a Twitter user with the caption, "The most evocative image to come out of Afghanistan. Disaster for US image as a global super power. This needless haste and panic to exit has caused great loss of face for the US military. These are images far worse than Saigon and will haunt the US for a long time. (sic)" Click here for archive.
Fact Check
The claim is false as the image is morphed.
NewsMeter performed a reverse image search and found the original photo on an aviation website. The photo matches the viral image. The type of aircraft, its positioning, and number are the same. However, in the original image, we do not see a man falling off the aircraft.
According to the website, the aircraft is a Lockheed C-130H Hercules. The picture was taken in May 2017 at the Prestwick Airport in Glasgow. It should be noted that the US military was using C-17 Globemaster III aircraft to airlift people from Afghanistan. Upon close observation, it can be noticed that the body of the Lockheed aircraft in the viral image is not similar to the C-17 aircraft.
It is clear that the claim is false. The viral image is morphed and is not linked to the evacuation process in Afghanistan.
Furthermore, the Twitter account that shared the viral image is fake, too. It claims to be the official handle of Retired Major General GD Bakshi. However, Major General Bakshi told India Today that it was not his Twitter handle. "A few Twitter profiles have been created in my name and I need to get them blocked," he said.
Claim Review :
The image of a man falling from a US aircraft is from the evacuation process in Afghanistan.
Claimed By :
Social Media User