Fact Check: Morphed photo falsely shows members of Pak rights group carrying Tricolour at rally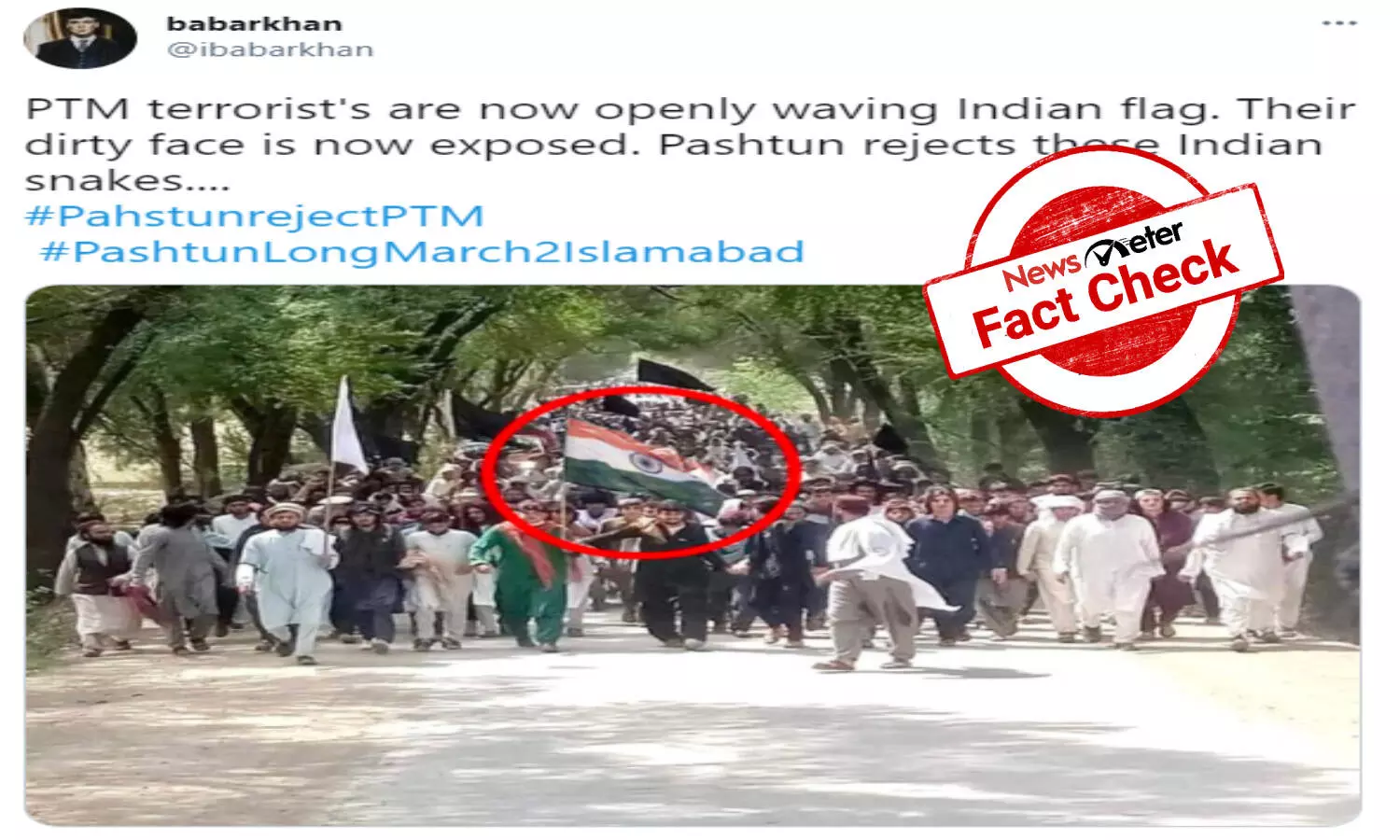 Hyderabad: A photo reportedly showing members of the Pashtun Tahafuz Movement (PTM), a group advocating the rights of Pashtuns in Pakistan, carrying the Indian flag during a rally in Islamabad has gone viral on social media.

One Twitter user who shared the photo wrote, "PTM terrorist's are now openly waving Indian flag. Their dirty face is now exposed. Pashtun rejects these Indian snakes.... #PahstunrejectPTM #PashtunLongMarch2Islamabad."
The archived versions of similar posts can be seen here.

NewsMeter found that the image has been morphed. The original image shows PTM members carrying a black flag to protest the killing of four Pashtun youths.

Fact Check:
We performed a reverse image search and found the photo in a March 2021 article. However, in this image, the men are holding a black flag instead of the Indian Tricolour. The same image of men carrying black flags was also found in an ANI report. The caption read, "Participants of Jani Khel dharna on Sunday marched towards Islamabad to protest the murder of four Pashtun youths."
https://menafn.com/1101827285/Pakistan-Which-demands-of-Jani-Khel-were-acknowledged-by-the-government
The image shows thousands of protesters from Jani Khel, a town in the Bannu district of Khyber Pakhtunkhwa in Pakistan, marching to Islamabad to protest against the brutal murder of four teenage boys.

Mohsin Dawa, PTM leader and member of the National Assembly, also tweeted the same image with the caption, "Participants of Jani Khel Dharna marching towards Islamabad, we are on the way to join them in a while. #PashtunLongMarch2Islamabad aniKhelLongMarch2Islamabad."
Hence, it is clear that the claim that PTM members were carrying the Indian flag at a rally is FALSE. The image has been morphed.

Claim Review :
Members of Pakistan rights group carrying Tricolour at rally
Claimed By :
Twitter Users