Fact Check: NY Post uses Vizag gas leak photo to show people dying in streets due to COVID-19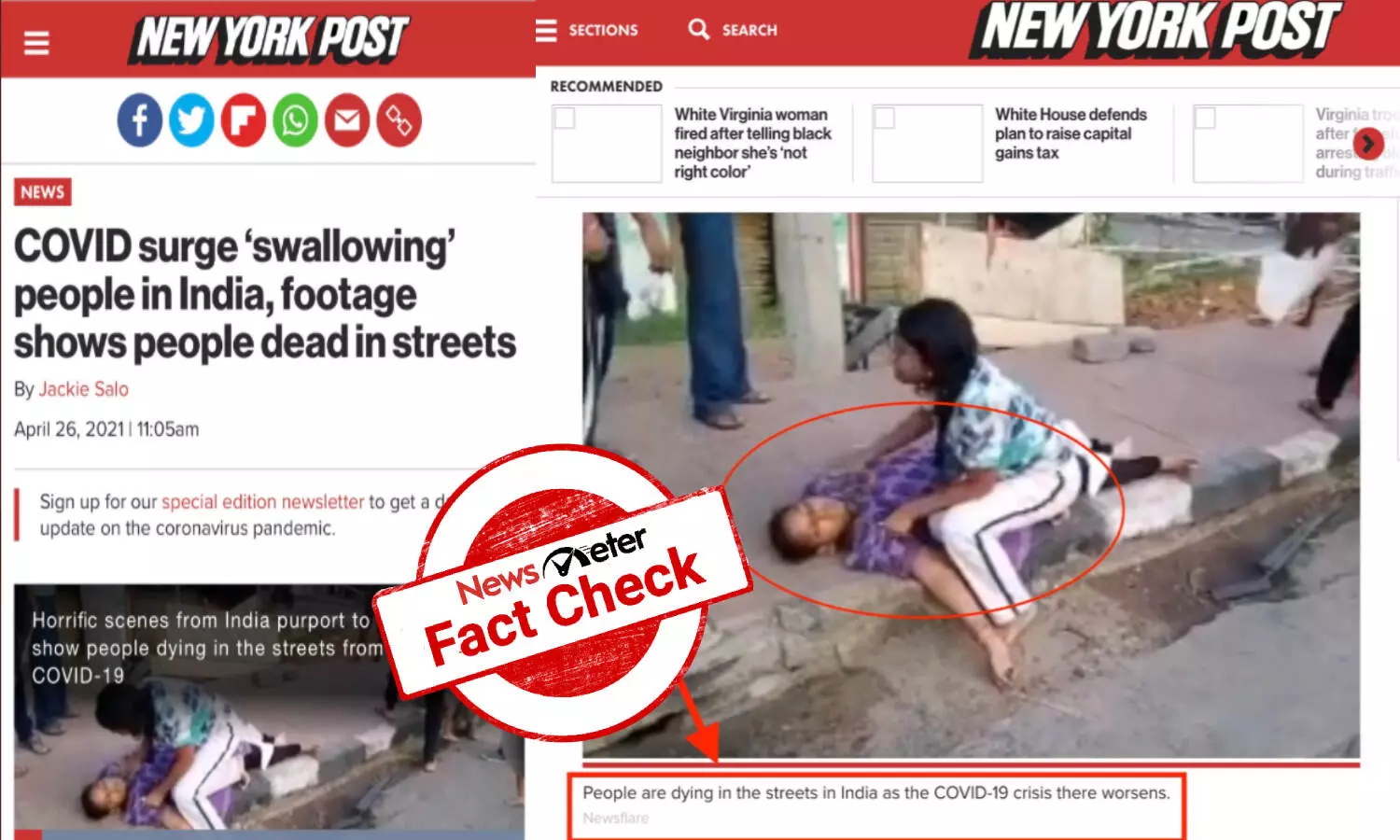 Hyderabad: A New York Post article titled "Covid surge 'swallowing' people in India, footage shows people dead in streets" is circulating on social media. The article dated 26 April 2021 shows a picture of a dead woman lying on the streets.
NewsMeter found that the image featured in the article is from the Vizag gas leak incident that occurred in 2020 and is not related to the COVID-19 pandemic. The New York Post has now updated the article and changed the title and the image.

Fact Check:

We performed a reverse image search of the photo featured in the article and found that the image is from a gas leak incident in RR Venkatapuram village, Visakhapatnam, which took place in May 2020 at the LG Polymers chemical plant.
The resulting vapour cloud spread over a radius of around three km, affecting the nearby areas and villages. As per the National Disaster Response Force (NDRF), the death toll was 11, and more than 1,000 people became sick after being exposed to the gas.

The featured image in the NY Post article was of the gas leak and not from the ongoing COVID-19 outbreak as the headlines suggested. When social media users slammed the media outlet for misleading content, the NY Post quickly changed the image. However, the title of the article still remained the same.
Later, the NY Post updated the article with the title "COVID surge 'swallowing' people in India 'like a monster'". The image was also removed from the article.

The image featured in the NY Post article showing a woman dying on the street was taken during the Vizag gas leak incident from May 2020. It published a misleading image and falsely linked it to the COVID-9 pandemic. It has now updated the article and removed the image and changed the headline.

Claim Review :
NY Post showing people dying in streets due to COVID-19
Claimed By :
Social Media Users