Fact Check: Old image of man waving saffron flag at US Capitol linked to recent Washington violence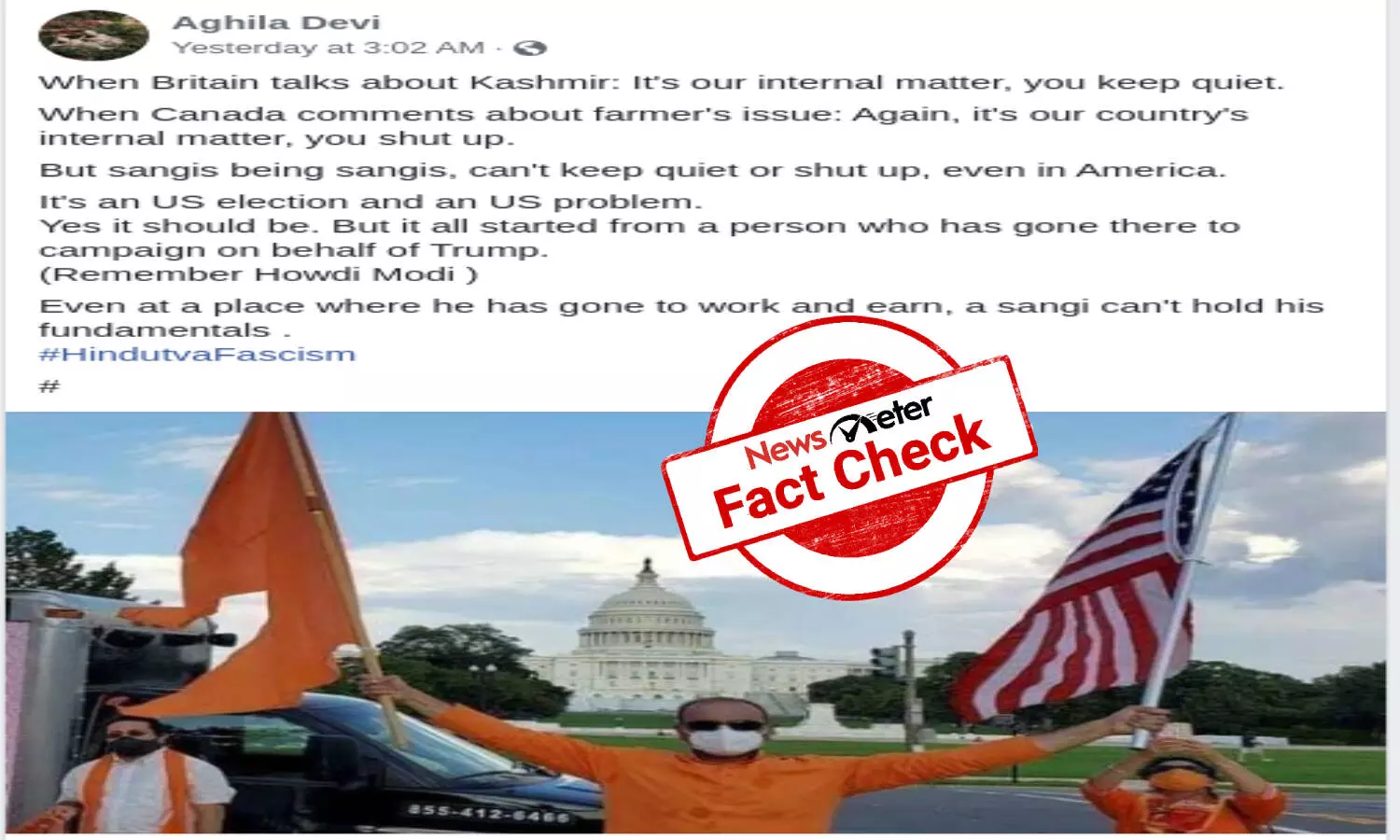 Hyderabad: Thousands of supporters of US President Donald Trump stormed the US Capitol in Washington this week as the Congress was set to confirm President-elect Joe Biden's win in the recent elections. Four died during clashes with the police.

Now, a photo of a man waving a saffron flag and the flag of the United States of America outside the US Capitol in Washington DC has gone viral on social media with the claim that it's from the recent 'siege' when Trump supporters stormed the building.
Many claimed that Hindutva supporters or 'sanghis' were at the US Capitol during the siege.
Fact Check:
NewsMeter found that the image has been on the Internet since August 2020 and is related to the celebration of the ground-breaking occasion of Ayodhya's Ram Mandir.
We performed a reverse image search and found that Deccan Herald had carried the photo with the caption, "Indian community people take out a tableau on 'Ayodhya's Shri Ram Mandir' around the US Capitol Hill to celebrate the ground breaking occasion of the temple, in Washington, Tuesday, Aug 4, 2020."
The same image was carried by Financial Express, Zoom News, Hindustan Times, and the Economic Times. All reports are dated August 2020. The article by Hindustan Times read, "While some members of the community were seen clad in traditional attire, others donned yellow and saffron-coloured clothes and went out on a march raising saffron flags and chanting 'Jai Shree Ram'."
It is clear that the viral image of a man with a saffron flag at the US Capitol is from August 2020 during the celebration of the ground-breaking ceremony of the Ram Mandir in Ayodhya. It is not linked to the recent violence when Trump supporters stormed Capitol Hill. Hence, the claim is FALSE.

Claim Review :
man waving saffron flag at recent Washington violence
Claimed By :
Social Media Users