Fact Check: Old newspaper clipping about UP student begging to study but denied admission shared as recent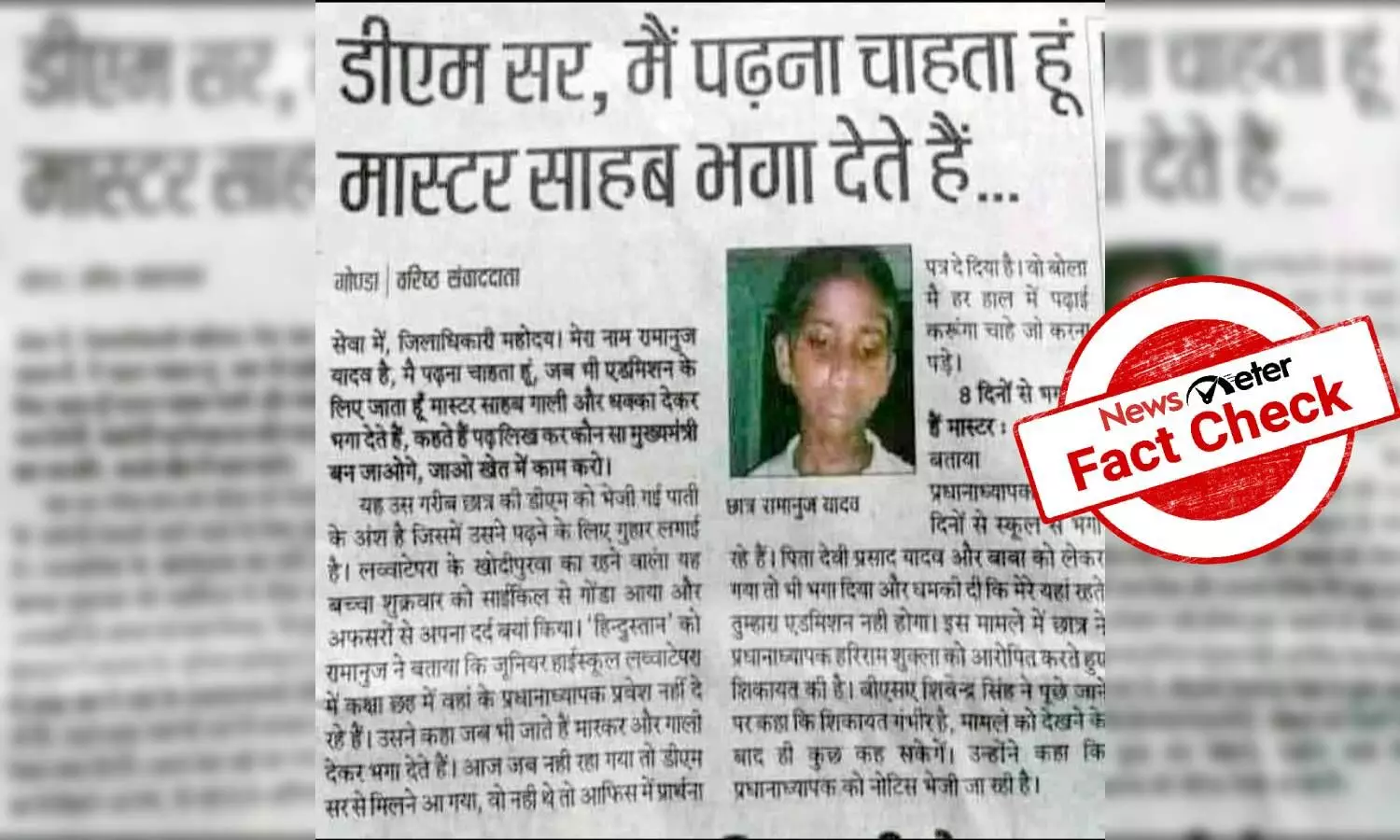 Hyderabad: An image of a newspaper clipping with the headline "DM Sir, I want to read but the master doesn't let me in" is widely being shared on social media. Social media users are claiming that the news is recent and the incident took place during the Yogi government's rule in Uttar Pradesh.

According to the clipping, a student, Ramanuj Yadav, of Gonda city in UP sought admission in Class VI in a junior high school but the headmaster, Hariram Shukla, abused him and drove him away. The headmaster told Ramanuj, "Will education make you the Chief Minister? Go and work in the fields." Following this, Ramanuj wrote to the DM asking for help.
Fact Check
The claim that the news is recent is false.
NewsMeter performed a keyword search which directed us to a report by Sabrang published on 20 September 2016. It carried similar information as that in the viral newspaper clipping.
According to the report, "Ramanuj Yadav of Khodipurwa village of Lavvatepura in Gonda district has written a letter to the district collector and has expressed his grief. Ramanuj said he wants to study, but whenever he goes to the village junior high school for admission, the headmaster Shukla abuses him and says will he become the chief minister after studying and asks him to go to the fields and work."
The report further said, "Khodipurwa headmaster Hariram Shukla believes that OBCs and SCs should stay away from education and do farming or work. The headmaster, who is involved in implementing the Varna system, adopts a similar attitude towards all OBC and SC students of the village."
Many Facebook and Twitter users had posted similar posts in 2016. Click here and here to view them.
The newspaper clipping was also shared on Twitter in 2018 where people had tagged the then Chief Minister of Uttar Pradesh Akhilesh Yadav. Click here, here, and here to view the posts.
We tried to search for any such incident that had taken place recently but found no reports.
It is to be noted that Yogi Adityanath became the Chief Minister of UP in March 2017 and this news has been viral before that. In 2016, when the incident took place, Akhilesh Yadav was the Chief Minister of the state.
It is therefore evident that the claim made through the viral post is false. An old newspaper clipping is being shared to blame the BJP government.
Claim Review :
Newspaper clipping about UP student Ramanuj Yadav being denied admission by the headmaster and asked to go and work in the fields.
Claimed By :
Social media users