Fact check: Old video of brawl in California Gurudwara passed off as fight in Canadian Sikh religious place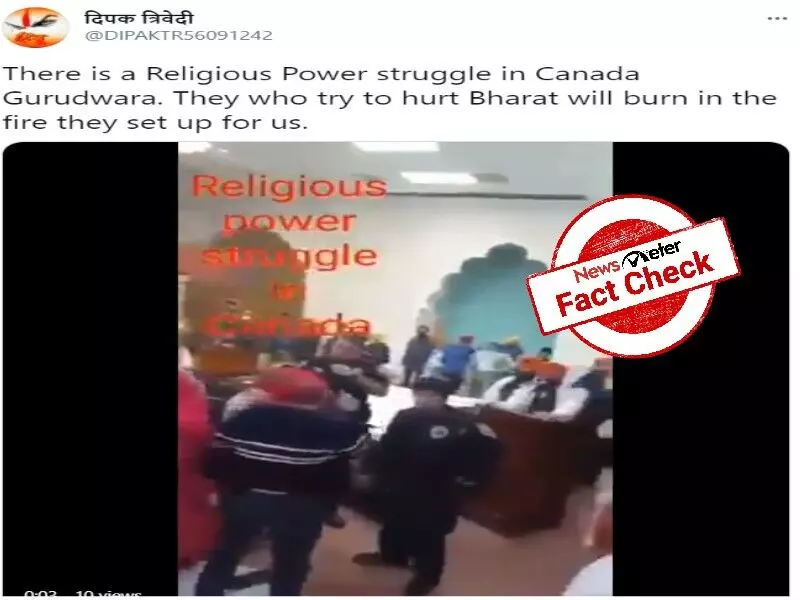 A video of people fighting inside a Gurudwara is going viral on social media. Users claim there is a Power struggle in Canada Gurudwara.

"Those who try to hurt Bharat will burn in the fire they set up for us," reads the message
It is in circulation on both Twitter as well as Facebook.
Archive links:

https://web.archive.org/save/https://twitter.com/DIPAKTR56091242/status/1358828275716399104

https://web.archive.org/save/https://www.facebook.com/jaswantsingh.chauhan.52/videos/1620308558016267

We can even see persons in police attire trying to control the situation.

Fact Check:
The claim that the clash has taken place in Canadian Gurudwara is FALSE.

When the keyframes extracted from the video were searched on Google Reverse image search, we found various videos with similar visuals published in 2016. India Today published the same video with the caption: 'A vicious power struggle led to violence in a gurudwara in California has been caught on camera'.

https://www.indiatoday.in/world/video/caught-on-camera-violent-factional-fight-inside-california-gurudwara-438138-2016-01-13

India TV news also published the video with the caption: "America: Violent fight inside Gurudwara in Turlock City, California."

When searched with keywords "Fight in Gurudwara in Turlock city, California", we found several results confirming that the incident took place in Gurudwara of Turlock city, California.

In a larger video, men and women from both parties were seen using pepper sprays and beating one another with wooden sticks. The brawl, primarily over leadership, erupted when the two rival parties tried to claim their authority over the collection of donations and issuing of receipts.

Despite the intervention of the police, the two groups refused to leave the premises. This is perhaps not for the first time when a tussle over succession took place in the Turlock Gurudwara. In 2013, a major fight broke out, following which the Gurudwara was labeled as "belt Gurudwara", for a belt was used as a weapon then.

https://www.indiatoday.in/world/story/brawl-turns-violent-inside-a-california-gurudwara-303636-2016-01-13

A report in Turlock Journal says, according to court documents, a rift developed between two factions of the temple over the decision of the board of directors to terminate the contract of Attar Singh, a priest of the temple. The disagreement turned physical on June 2, 2013, when a fight broke out in front of the temple.

It also states that the Turlock Police Department made two additional arrests in connection to the altercation at the Sikh Temple in Turlock. Gurdev Singh, 47, of Madera was arrested on Friday for assault with a deadly weapon and elder abuse. Singh was identified by witnesses as swinging a religious musical instrument, called a Chimta, at a large group of men and striking a victim, who sustained non-life-threatening injuries to the head. Singh continued to swing the Chimta and struck a second victim in the arm.

Madera resident Balwinder Kaur Bagri, 51, was also arrested on Friday for assault with a deadly weapon and criminal conspiracy. Kaur Bagri and others confronted two victims outside of the temple's restrooms and proceeded to physically assault them. The victims sustained nonlife-threatening injuries that required medical attention. It's not known what type of weapon Kaur Bagri is suspected of using.

https://www.turlockjournal.com/news/crime/police-arrest-two-more-in-connection-to-sikh-temple-brawl/#:~:text=%E2%80%9CSandeep%20Singh%20'Zanty'%20picked,65%2Dyear%2Dold%20gentleman.

Therefore, the claim that the brawl seen in the video happened in Canadian Gurudwara is FALSE. This incident occurred in Gurudwara of Turlock city, California in 2016.
Claim Review :
fight in Canadian Sikh religious place
Claimed By :
Social Media Users