Fact Check: Photo from 2019 protest to set pro-freedom Kashmir leaders free falsely linked to 2020 farmers' protest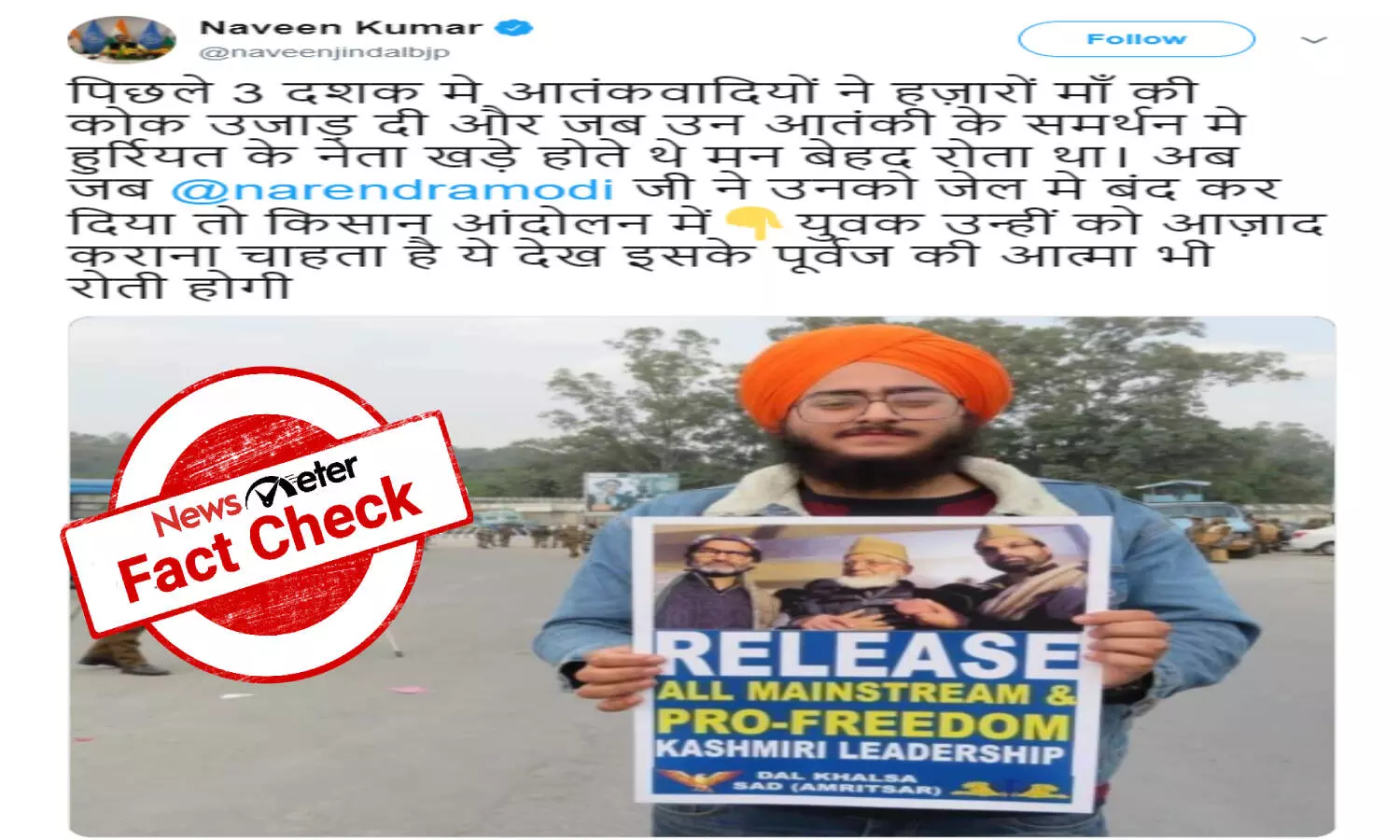 Hyderabad: A photo of a man holding a poster that reads "Release all mainstream and pro-freedom Kashmiri leadership. Dal Khalsa Sad (Amritsar)" has gone viral on social media. It has been linked to the ongoing farmers' protest.
Fact Check:
NewsMeter found that the image is from 2019 and is related to demands to set free pro-freedom Kashmir leaders.
We performed a reverse image search and found an article by Khalsa Force from December 2019. The man in the viral photo can be seen on the banner image of the article and in the video attached to the report. The title of the report reads, "Dal Khalsa Protest on Human Rights Day in Favour of Kashmiries | India Stops Sikh Activists from entering J&K."
The same man can also be seen in a video report by Jammu Link News, Republic World, and Sikh Channel. "Akali Dal and Dal Khalsa activists stopped from entering Jammu And Kashmir," reads the title by the Republic World.
According to all these reports, Sikh groups had announced a march from Amritsar to Srinagar on World Human Rights Day in December 2019 and the representatives of the Sikh groups, Dal Khalsa and Shiromani Akali Dal (Amritsar), tried to proceed towards Jammu and Kashmir but were stopped on the Pathankot-Kathua border. The two groups held a protest demanding the release of Kashmiri leaders.

We also found a report by The Tribune from December 2019 that said the Dal Khalsa and Shiromani Akali Dal (Amritsar) were going to protest at Lal Chowk in Srinagar on the occasion of World Human Rights Day on 10 December 2019.
It should be noted that as the video has been available on the Internet since December 2019 and the farmers' protest only started in September 2020, the image is not related to the ongoing farmers' protest. Hence, the claim is FALSE.

Claim Review :
Photo of pro-freedom Kashmir leaders in 2020 farmers' protest
Claimed By :
Social Media Users