Fact Check: Photograph of AAP minister addressing Defence volunteers without masks is from 2019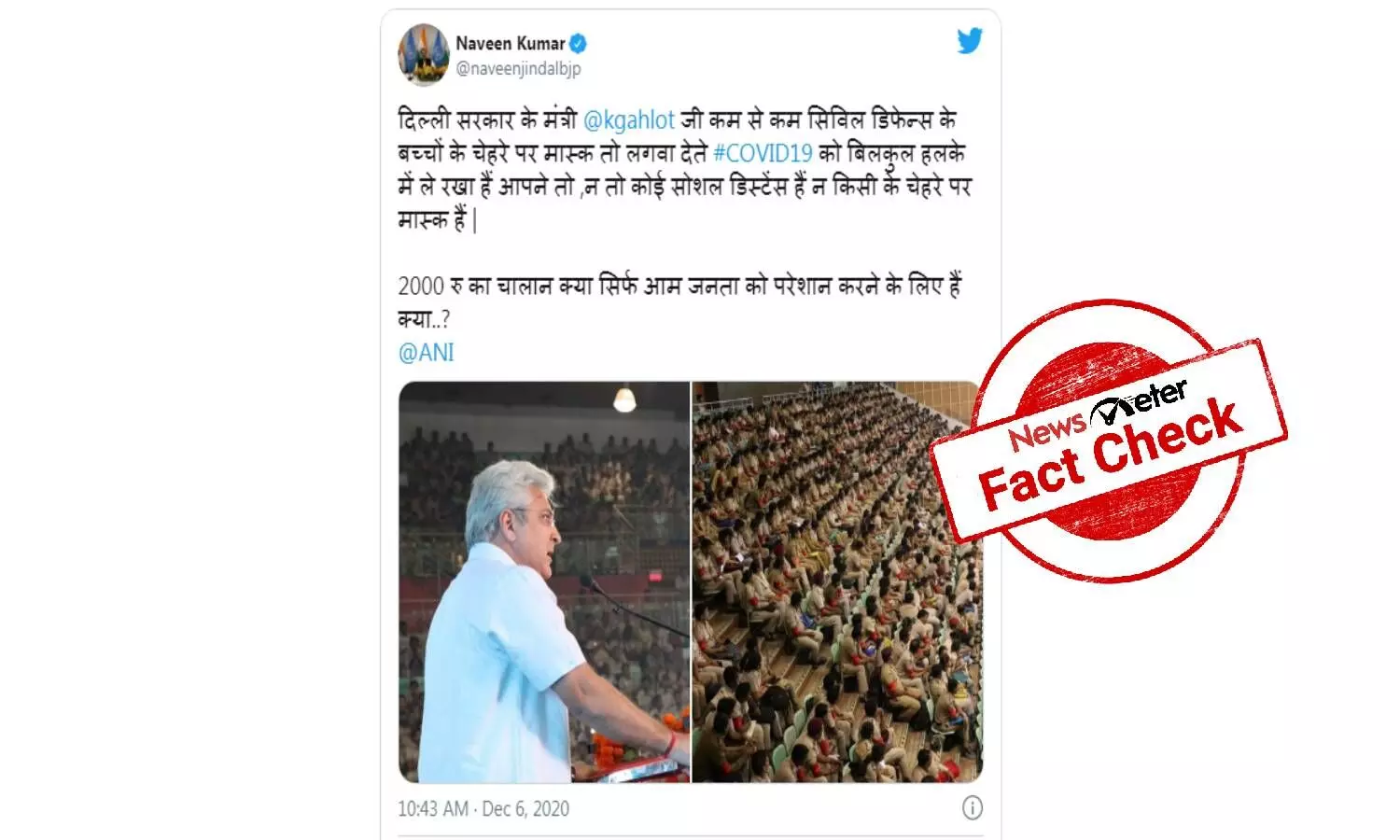 Hyderabad: A picture of Aam Aadmi Party (AAP) minister Kailash Gahlot, addressing civil defence volunteers has gone viral with the claim that neither the minister nor the volunteers were wearing masks or following social distancing measures amidst the Coronavirus pandemic.

The head of media department for Delhi BJP, Naveen Kumar, shared the photo with the caption, "Respected Delhi government minister @kgahlot, at least ask the civil defence volunteers to put masks on their faces. You have taken COVID-19 lightly. Neither are the children wearing a mask nor are they following the norm of social distancing. Is the Rs 2,000 fine only to harass the general public? (sic)" (archive)
Fact Check:
NewsMeter found that this image was taken in 2019, much before the pandemic started thus proving that the claim is false.

We found the same images posted by Gahlot on 28 October 2019 on Twitter. He had tweeted "Historic Day for Delhi. With Hon'ble CM @ArvindKejriwal inaugurated the Training & Orientation of Newly Inducted Bus Marshals in DTC & Cluster Buses & announced for Free Travel for Women in buses from 29.10.19. This is the first of its kind model of Bus Marshals in the world. (sic)"
The same pictures were also posted by Gahlot on Twitter on 5 December 2020, on the the occasion of International Volunteers Day.
According to The New Indian Express, Transport Minister Kailash Gahlot inaugurated 20 vans for patrolling in 20 crucial locations for a safe and secure environment for woman passengers traveling in Delhi Transport Corporation.

The viral image was taken in 2019, much before the pandemic started, hence no rules regarding social distancing norms were broken, contrary to what the claim said.

Claim Review :
Photograph of AAP minister addressing Defence volunteers without masks
Claimed By :
Social Media User