Fact Check: Photos of Bali coral reef conservation project passed off as 5,000-year-old Vishnu idols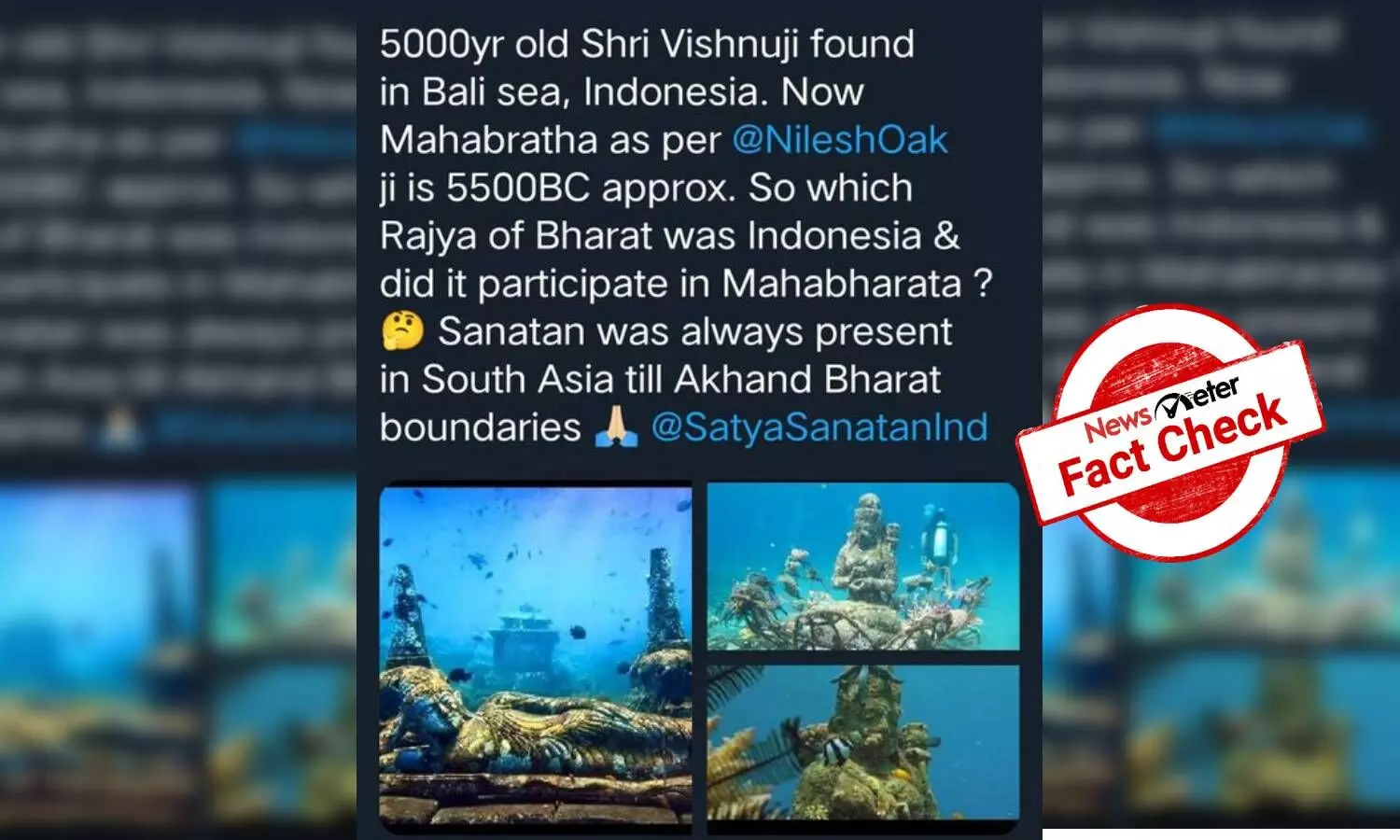 Hyderabad: A post claiming that a 5,000-year-old Vishnu idol has been found under the sea in Bali, Indonesia, is going viral on social media. Netizens are sharing a series of three pictures reportedly showing the idols of the Hindu deity.
Fact Check:
The claim is false.
NewsMeter cropped the three photos with the help of a snipping tool and performed a Google reverse image search. We found the first picture, the idol in a lying down posture, in a blog post on picyourtrail.com.
The article titled "9 Most Beautiful Temples in Bali That Are Absolutely Breathtaking" says the photo is from an underwater temple in Pemuteran, Bali. It was built under the environmental protection program and is not more than 20 years old, it adds.
https://pickyourtrail.com/blog/temples-in-bali/
Similarly, we used Google reverse image on the second picture as well. We found this picture on a website called conspiracytheories.in. According to the article, the temple is the brainchild of Australian Chris Brown, who lived in the Pemuteran area for decades, who was helped by Paul Turley, a British man. With help from the Bali Rehabilitation Fund, the 'Reef Gardeners' project was created that helped the two men materialize their dream of the underwater temple in 2005.
https://conspiracytheories.in/indonesia-the-underwater-temple-garden/
A Google reverse image search of the third picture led us to piknikdong.com, an Indonesian site. It states that the underwater temple is in Pemuteran, Bali. It also clearly says that this is not an ancient temple but was built in 2005 to preserve the coral reef.
https://www.piknikdong.com/menakjubkanya-pesona-candi-bawah-laut-pemuteran-bali.html
Further, we found a video uploaded on 24 March 2012 on Paul Turley's YouTube channel. Some of the viral photos can be seen in the video. The video description states that it is part of a 2005 social/environmental project called Reef Gardeners. Turley clarifies that it is not an ancient temple.
Also, Vishwas News, a fact-checking website, has debunked the claim.
http://www.biorock-indonesia.com/project/pemuteran-bali/
Turley had said that in August 2010 he had issued a disclaimer after the photos went viral with false claims.
https://searoversbali.blogspot.com/2010/08/underwater-temple-garden-bali.html
Hence, the claim is false.
Claim Review :
A post claiming that a 5,000-year-old Vishnu idol has been found under the sea in Bali, Indonesia.
Claimed By :
Social Media Users