FACT CHECK: Purported letter of PM Modi supporting candidature of Giriraj Singh for Bihar chief minister's post is FAKE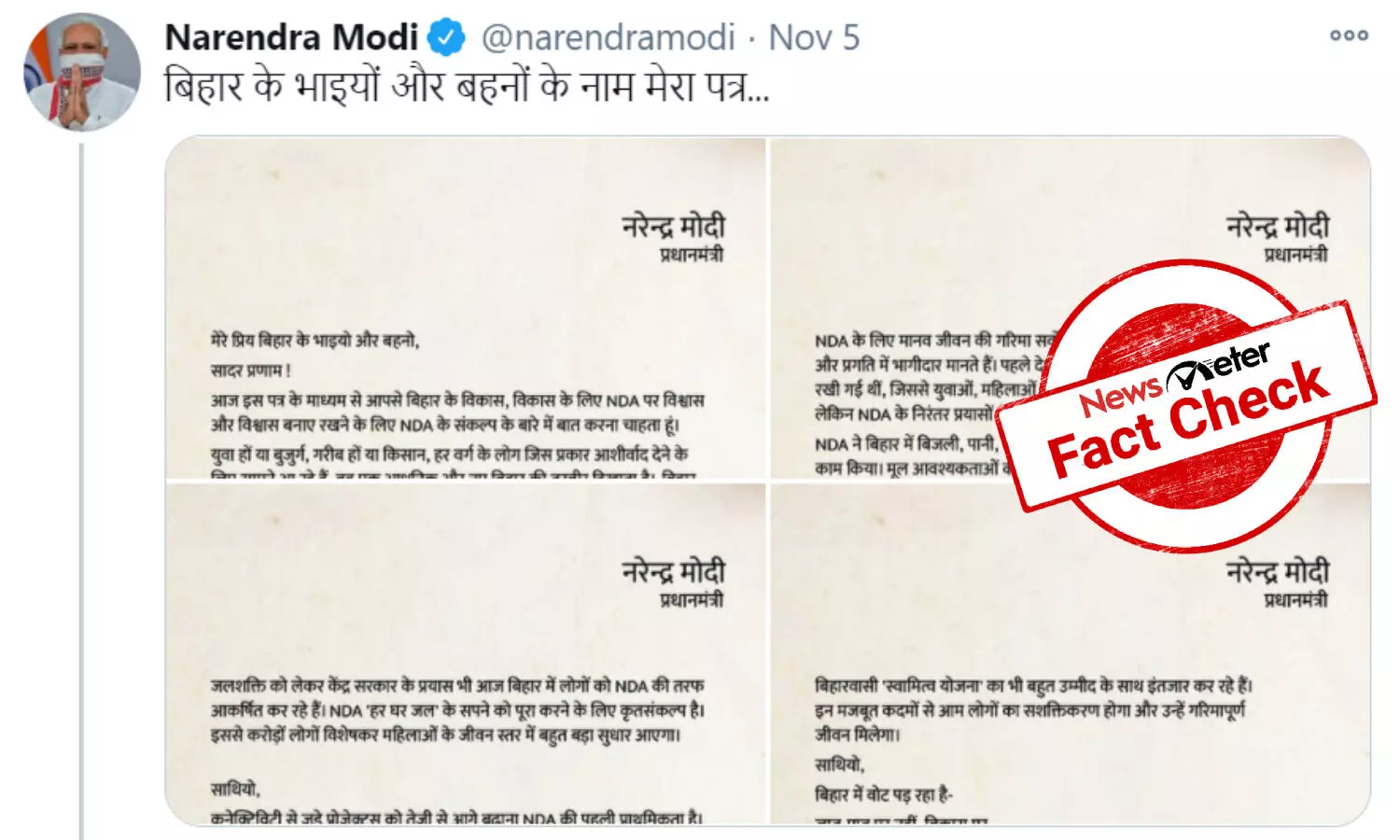 Hyderabad: An image of a letter purportedly written by Prime Minister Narendra Modi to BJP president JP Nadda is circulating on social media. The letter states that union minister Giriraj Singh has Modi's vote to become the Chief Minister of Bihar. It is dated 5th November 2020 and shows a signature that is claimed to be of the PM.

This image is viral on Whatsapp and Twitter. Users are captioning the image, "Even before the Bihar election results, PM Modi has selected the CM of #Bihar, Giriraj Singh would be the next CM of Bihar." (archive)
Click here and here to view similar claims.
FACT CHECK:
The viral letter is fake. PM Modi has not written any letter supporting Giriraj Singh's candidature for the post of Bihar chief minister.

Upon noticing the letter closely, we found grammatical errors. For example, instead of the word 'who', the word 'which' is written, the words 'milestone' and 'extraordinary' are written incorrectly and the sentence "Let me begin congratulating" is also incorrect. It should be noted that none official letter would make such errors.

We also compared one of PM Modi's letters written to Mahendra Singh Dhoni with the viral letter and found that the style of both the letters is different. The dateline in the original letter is also mentioned in Hindi, but in the viral letter, it is only in English.
In the original letter, the two dots at the end of Modi's signature are horizontal and on the same line. In the viral letter, the dots are uneven.
Apart from this, we did not find any relevant news reports about the letter, which is very unlikely at the time of elections.

Evidently, a fake letter is being shared with a claim that Modi wants Giriraj Singh to be the CM of Bihar. Hence, the claim is false.

Claim Review :
Modi wrote to BJP chief expressing support for Giriraj Singh for Bihar CM
Claimed By :
Twitter Users