Fact check: Rotten chicken disposal in Saudi Arabia passed off as boycott of French products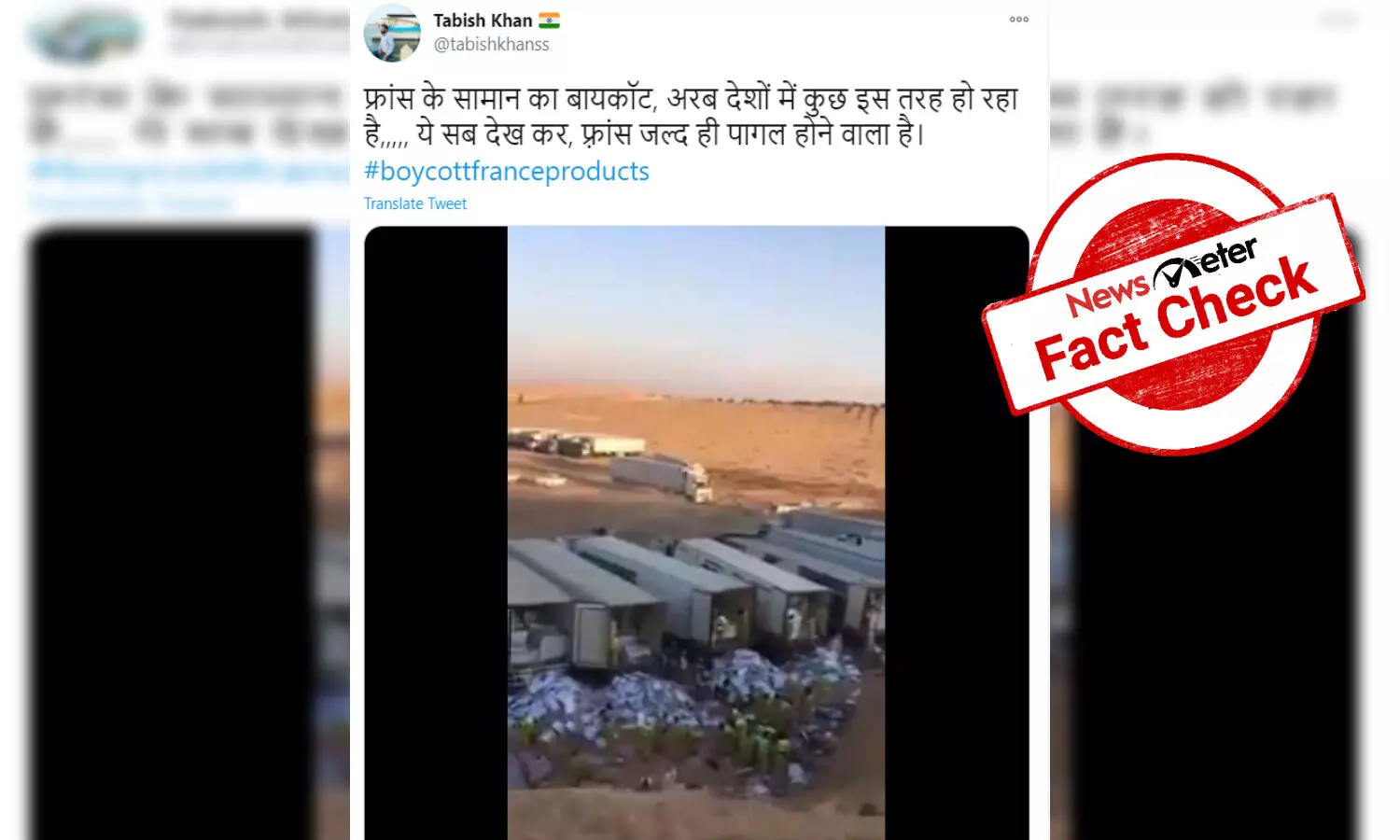 On October 16, French Teacher Samuel Patty was brutally killed by a Muslim radical in the suburb of Paris for showing cartoons of Prophet Muhammad in his class. French President Emanuel Macron condemned this incident and allowed the public to display controversial Charlie Hebdo's cartoons of Prophet in defence of 'free speech'.
This has triggered protests across the Muslim world, and a number of users on social media called for a boycott of French products with the hashtag #boycottfrenchproducts.
Several users on social media shared a video of the dumping of large amounts of packets from lined up trucks and claimed it as Arab countries dumping French products. The caption of the video reads: "Boycott of French goods, something like this happening in Arab countries. Seeing all this, France is going to be crazy soon. #boycottfranceproducts."
The same video with a similar caption was shared widely on Facebook.
Fact Check:
This video is related to the 2016 incident happened in the district of Al- Qassim, Saudi Arabia. Goods that were thrown out of trucks in the viral video were packets of spoiled chicken which were unfit for human consumption.
A reverse image search of one of the keyframes of the video resulted in an article by Alarabiya dated back to Nov 17, 2016. The article titled, "Video shows Saudi Arabia getting rid of 80,000 packs of 'spoiled chicken'", and features the same visuals from the viral video.
"The video shows around 25 trucks parked in the desert with workers unloading and bizarrely tossing away thousands of packs of chicken. It is all part of an official operation under the supervision of the Secretariat of al-Qassim region to dispose of around 80,000 pack of expired chicken not fit for human consumption," reads the article.
Newsmeter also came across a YouTube video which is an extended version of the viral video. The video titled "Al-Qassim Municipality dumped 25 truckloads of chicken unfit for human use, which was on their way for distribution." This video uploaded on 16 Nov 2016.
In conclusion, the viral video is related to the dumping of spoiled chicken in Saudi Arabia that happened in 2016 and not related to the recent incidents of the boycott of French products. Therefore claim made on social media is FALSE.