Fact Check: Russian artist's work falsely shared as Lord Krishna's painting in Afghanistan's Panjshir palace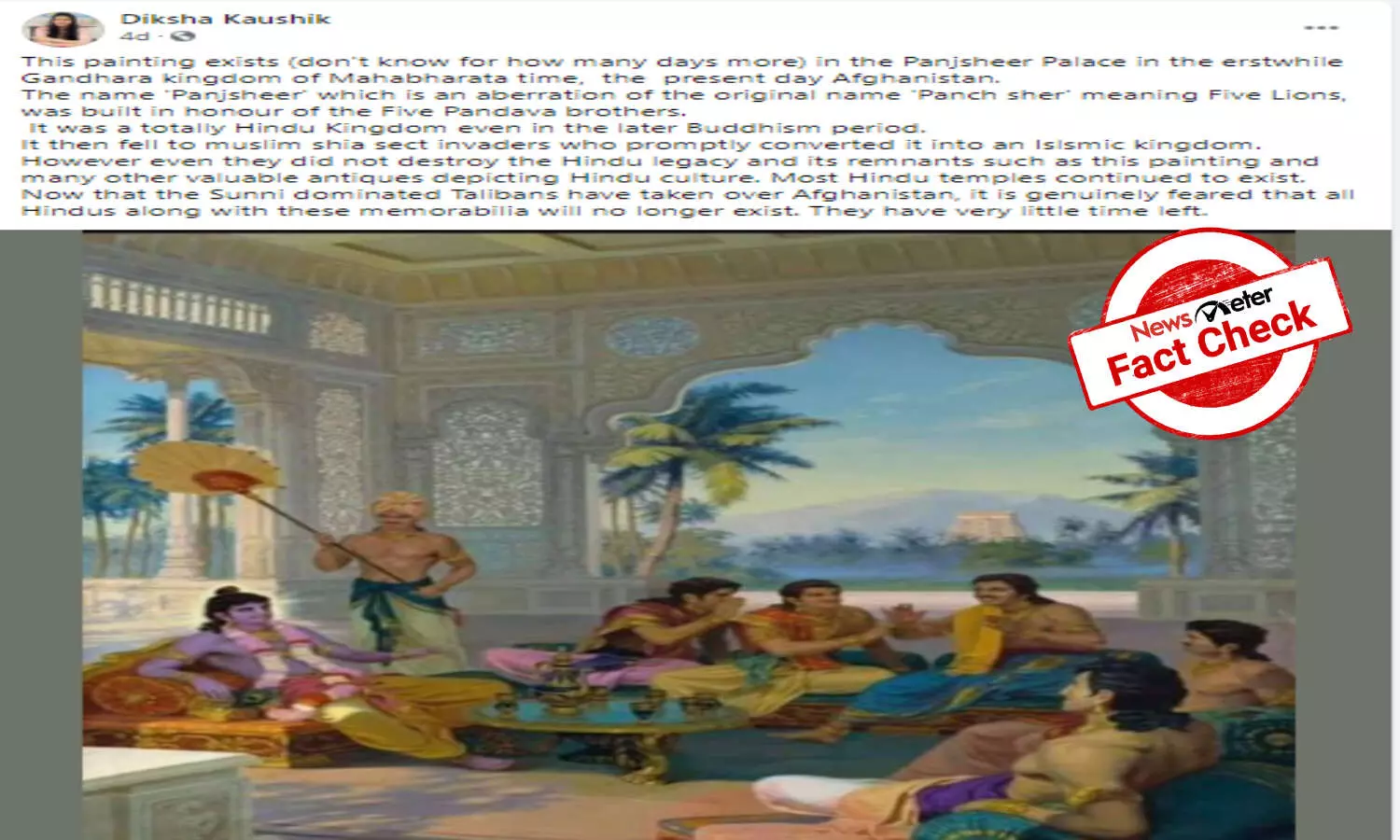 Hyderabad: A painting of the Hindu God Krishna and the five Pandavas is circulating on social media against the backdrop of the Taliban capturing the Panjshir province. It is being claimed that the painting is inside the Panjshir palace in Afghanistan and will soon be destroyed by the Taliban.

Several social media users have posted this photo with the caption, "This painting exists (don't know for how many days more) in the Panjsheer Palace in the erstwhile Gandhara kingdom of Mahabharata time, the present day Afghanistan…Now that the Sunni dominated Talibans have taken over Afghanistan, it is genuinely feared that all Hindus along with these memorabilia will no longer exist. They have very little time left."
Click here and here to view similar posts on Facebook and Twitter.

Fact Check
The claim is false.
NewsMeter performed a reverse image search and found the same painting on the website of a Russian art gallery - Art SPb in St Petersburg. The artwork is captioned, "KRISHNA AND THE PANDAVAS" and is credited to Rashikananda. According to the description, Rasikananda was born in Komsomolsk-on-Amur (Russia) and is a member of the Creative Union of Artists of Russia and the International Federation of Artists
We checked the artist's Facebook profile and found that Rashikananda is fond of paintings of Lord Krishna. The "about" page reads, "I'm just an artist. I love to do painting, realistic of course. I like seascapes, landscapes but paintings regarding Krishna are the topmost. Love Kirtans of IDS, BBGS..."

In light of this painting going viral on social media, Rashikananda denied the claims via a Facebook post and said, "Few people contacted me last two days with request to comment whether is it palace in Panjshir or something else. Some people claim that this is historical place where in Panjshir 5 Pandavas lived, and I somehow depicted this historical palace. NO, it's just my original creation not an historical site. (this is for those who became victim of that fake) (sic)."
Hence, the claim that the painting is in Panjshir palace is false.

Claim Review :
Painting of Krishna and Pandavas inside the Panjshir palace in Afghanistan.
Claimed By :
Social Media Users