Fact Check: Sarat Chandra Academy has named arts department after Sonu Sood in Vijayawada, not Hyderabad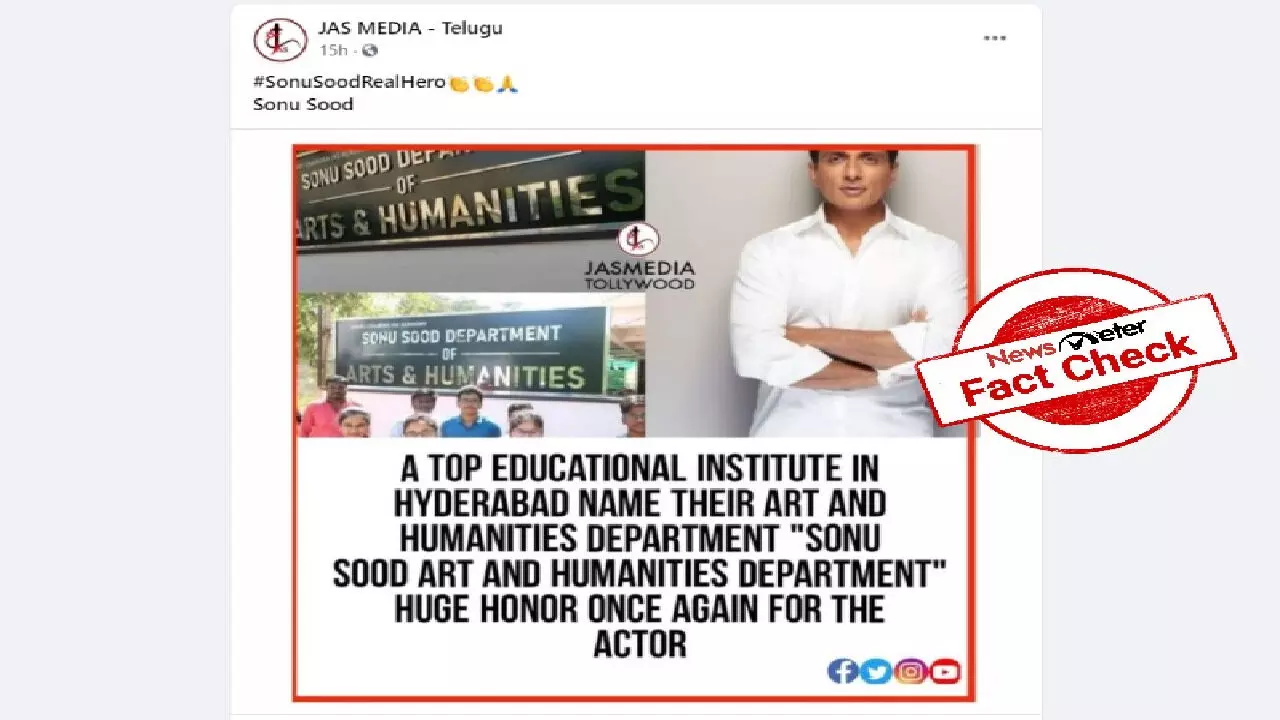 A picture showing students standing near a board inscribed with 'Sarat Chandra IAS Academy - Sonu Sood Department of Arts and Humanities' is going viral on social media.

Users claim a top educational institute in Hyderabad names their arts & humanities department after Sonu Sood. What a huge honor once again for the actor! Sonu Sood #SonuSoodRealHero
Fact Check:
The claim that an educational institute in Hyderabad has named its arts and humanities department after actor Sonu Sood is MISLEADING.
It is true that an educational institute named Sarat Chandra IAS Academy has renamed its Arts and Humanities Department's name to Sonu Sood Department of Arts and Humanities, but it is NOT based in Hyderabad. It is based in Vijayawada, Andhra Pradesh.
The institution took to their Facebook stating that they have changed the name of the Department of Arts and Humanities after Sonu Sood sir as his social work and philanthropy has a deep impact on Social consciousness. The institute said Sood inspired youth and will be permanently etched in the hearts of all Indians. #sonusood #thankssonusood
The section of the academy, both on the website as well as Facebook page show that the institute is situated in Vijayawada, Andhra Pradesh and NOT Hyderabad, Telangana.

The decision follows the actor's philanthropic gestures especially towards students and migrant workers during Covid lockdown.
"I am extremely humbled and grateful. I feel fortunate that I received the opportunity to help whoever was in need. And now that such a big institute has honored my actions, I will only be motivated to keep being there for those who need me," Sonu said.
Claim Review :
Sarat Chandra Academy has named arts department after Sonu Sood
Claimed By :
Social Media Users