Fact check: `Sea of humanity' in viral images is not from CPIM-Congress' recent Kolkata rally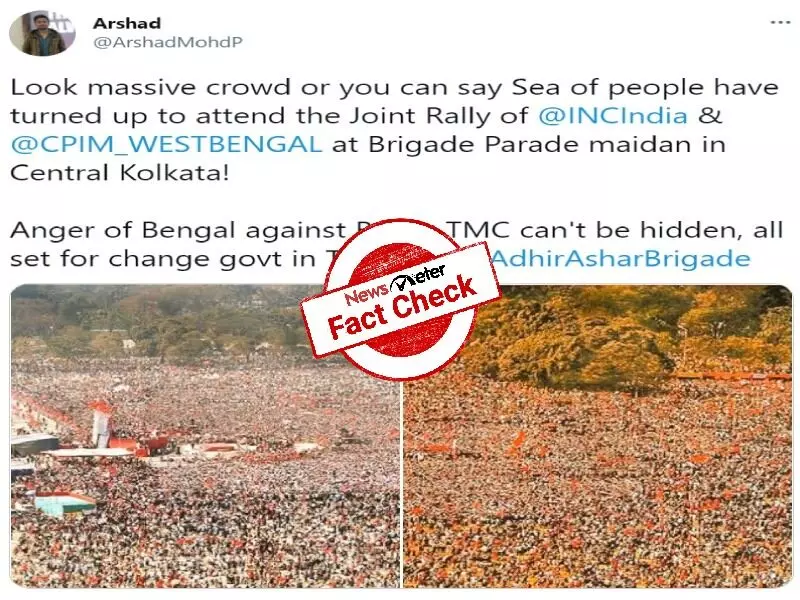 CPM led the left front and Indian National Congress held a mega joint rally on February 28, 2021, at Kolkata's Brigade Parade ground, ahead of assembly elections in Bengal. Lakhs of supporters converged at the venue for a joint rally.

Several users claim that a large crowd seen in the pictures is from the rally.
These images were not shared by users only but verified Congress and CPM party leaders too posted them on their accounts.
A report in People's dispatch in 2019 states that Brigade Parade Ground in Kolkata turned into a 'red sea' of humanity on February 3, as over a million people, gathered for a Left Front-led rally. These people pledged to oust the far-right Bharatiya Janata Party (BJP)-led government from the Centre and the Trinamool Congress (TMC) government from West Bengal in the forthcoming elections.

This report too shares the same image. On verification, we also found that both the images are the same except for a color filter.

https://peoplesdispatch.org/2019/02/04/million-strong-peoples-brigade-in-india-pledges-to-oust-right-wing-forces/

Hence, images of large crowds shared on social media are not from the CPM-Congress rally held on February 28, 2021. The claim is FALSE.

Claim Review :
viral images are from CPIM-Congress' recent Kolkata rally
Claimed By :
Social Media Users