Fact Check: Student activist at farmers' protest is not Amulya Leona who raised pro-Pakistan slogans in 2020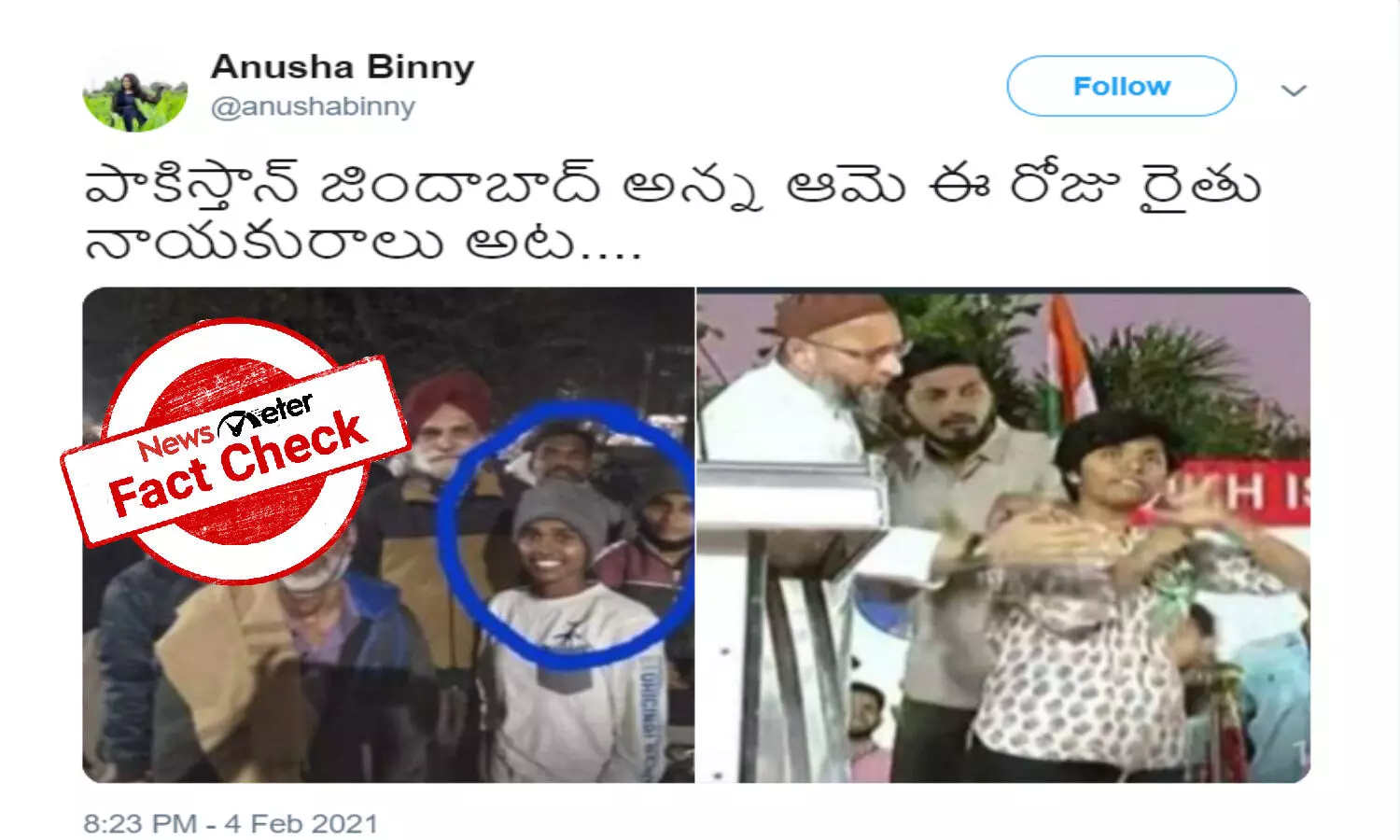 Hyderabad: A social media post has misidentified student activist Valarmathi, who took part in the farmers' protest, as Amulya Leona, a young woman who was arrested for shouting "Pakistan Zindabad" slogans (Click here to read).

Amulya Leona was arrested in February 2020 after she shouted pro-Pakistan slogans at an anti-CAA rally in Bengaluru.

The photos were shared with the caption, "The same girl in Farmers protest .... Who raised Pakistan Zindabad in MIM meeting .... What is this connection ... Who are the forces behind this .... All the same faces seen in every Anti National protest ... (sic)."
Fact Check:
NewsMeter found that comments on a few Twitter posts claimed the woman in the photo was not Amulya but Valarmathi.
We then searched online using the keywords "Valarmathi farmers protest" and found the Facebook profile of student activist Valarmathi Sums who had shared photos of the anti-imperialist movement on 26 January. Among them was the viral image.
The caption read, "Delegates from Tamil Nadu to the Delhi Farmers' Battlefield. Welfare Student Uprising Movement (SUMS) Women's Uprising Movement (WUM) Anti-Imperialist Movement (AIM) Democratic Rights Protection Committee (CPDR). The comrades of the organizations are gone. Comrades with Tiyagi Bhagat Singh's son-in-law Prof. Jangmohan Singh at Tigris border."

We also found several news reports, including by NewsMinute and Deccan Chronicle, that said Valarmathi was arrested for disrupting government officials during a meeting with villagers for the proposed Chennai-Salem highway.
Although we could not find any credible news reports of Leona's presence at the farmers' protest, it is clear that Valarmathi has been misidentified as Leona and that the claims are FALSE.

Claim Review :
Student activist at farmers protest is Amulya Leona
Claimed By :
Social Media Users