Fact Check: True, private clinics in Brazil to buy 5 million doses of Hyd firm's COVID-19 vaccine Covaxin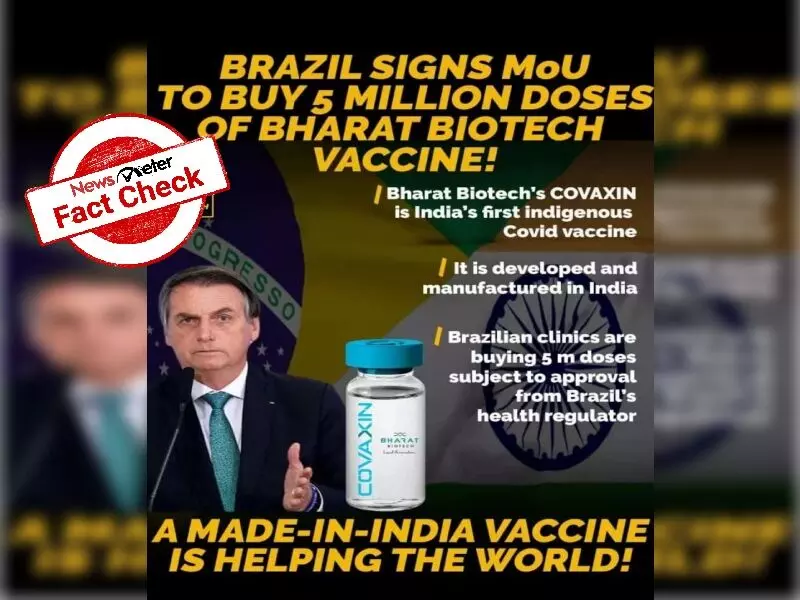 Hyderabad: The COVID-19 pandemic has affected over 85.7 million people worldwide, with the US, India, and Brazil among the most affected countries. Many organisations are trying to prepare a vaccine to combat the virus. In India, Hyderabad-based Bharat Biotech has developed the vaccine Covaxin and the Serum Institute of India has developed Oxford Astra Zeneca Covishield.
Earlier this week, the Drugs Controller General of India (DCGI) granted approval to the two vaccines for restricted emergency use in the country.
Now, it is being claimed that Brazil has signed an MoU with Bharat Biotech for five million doses of the vaccine.
This claim has also been shared on WhatsApp. According to the message, "Brazil signs MoU with India's Bharat Biotech for 5 million doses of coronavirus vaccine, Bangladesh approves Serum Institute of India's COVID19 vaccine for Emergency Use."
Click here and here for archives.
Fact Check:
It is TRUE that COVID-19 vaccines produced in India will be sent to Brazil and Bangladesh.
According to Reuters, Brazil made a diplomatic push to guarantee an Indian-made shipment of British drugmaker AstraZeneca's COVID-19 vaccine, hoping to avoid export restrictions that could delay immunizations during the world's second-deadliest outbreak.
Meanwhile, Brazil's private clinics struck a preliminary deal for an alternative injection made by India's Bharat Biotech despite a lack of public results from late-stage trials. The Brazil government is optimistic that it will be able to import the vaccines from India and any hurdles will be resolved diplomatically, a Brazilian official with knowledge of the matter said.
Separately, an association of private Brazilian clinics announced plans to buy five million doses of Bharat Biotech's vaccine, a day after India's health regulator gave it emergency use approval.
The head of the Brazilian Association of Vaccine Clinics (ABCVAC), Geraldo Barbosa, said, "This should be the first vaccine available to the Brazilian private market, through an MoU (Memorandum of Understanding) signed with ABCVAC." The ABCVAC website said 200 associates, who represent 70 per cent of the national private market, will have priority in purchasing the immunizer.
According to Barbosa, the idea is for Bharat Biotech to make five million doses available to the Brazilian private market, which should arrive in mid-March, depending on the approval procedures of the regulatory agencies. In this way, the population not covered by the PNI will have access to the immunizer, which will make Brazil extend vaccination more quickly. "Initially the news was that Brazilian private clinics would not have doses available, however, with the entry of this new player in the market, we had the opportunity to negotiate. We are very happy to have a real chance to contribute to the government in vaccination coverage, using supplementary health to relieve public spending," explained Barbosa.
Bharat Biotech has not yet applied for approval from Brazil's health regulator Anvisa for its Covaxin. The agency has said the Hyderabad firm will have to undergo phase III trials in the country. The plan is for the five million doses of Covaxin to arrive in Brazil in mid-March to be sold by private clinics after regulators there approve the vaccine.
https://indianexpress.com/article/india/bharat-biotech-covid-vaccine-covaxin-7132818/
https://www.hindustantimes.com/world-news/brazil-s-private-clinics-seek-deal-for-bharat-biotech-s-covaxin/story-rBcawvZw9YLnoZ3Eks78rK.html
Brazil's death toll due to COVID-19 is only second to the US and the government has been facing criticism for its slow response. Brazil is also playing catch up to neighboring Chile and Argentina where vaccine inoculations have started. However, Brazil's Fiocruz Institute's plans to import AstraZeneca's vaccine in bulk, filling and finishing doses locally would only have one million doses ready by the second week of February, the head of the government-funded biomedical center has revealed.
https://www.businesstoday.in/current/world/brazils-private-clinic-seeks-deal-with-bharat-biotech-for-covid-19-vaccine/story/426866.html
Any final deal would be subject to approval by Brazil's health regulator Anvisa which is yet to approve any vaccines against the new coronavirus.
Meanwhile, the Serum Institute of India (SII) is obligated to provide 30 million doses by late January or early February under a deal with Bangladesh's Beximco Pharmaceuticals. However, the SII informed that it has secured India's regulatory approval on the condition that it will not export the shots until the country's vulnerable populations are protected.
Therefore, the claims that Brazil and Bangladesh are going to get COVID-19 vaccines from India is TRUE.
Claim Review :
Brazil and Bangladesh are going to get COVID-19 vaccines from India
Claimed By :
Social Media Users