Fact Check: Twitteratis use video of Iranian soldiers unsuccessfully trying to break vase to mock Indian jawans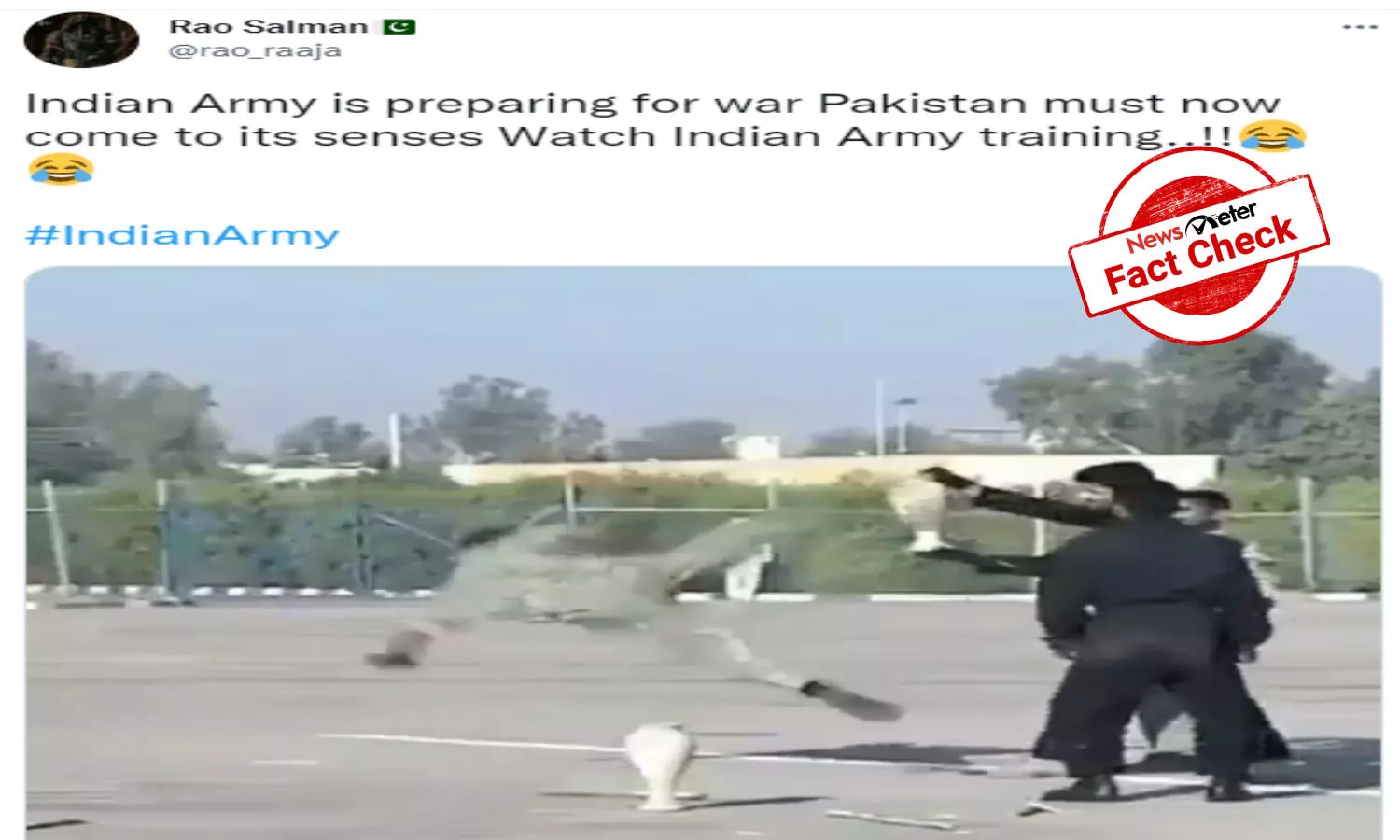 Hyderabad: A video reportedly showing Indian Army soldiers trying to break what looks like a vase and failing miserably is doing the rounds of social media.

Soldiers can be seen kicking and punching in their attempt to break the vase but to no avail. Sharing the video, a Twitter user wrote, "Indian Army is preparing for war Pakistan must now come to its senses. Watch Indian Army training."
Fact Check
The claim is false.
NewsMeter performed a Google reverse image search of a screenshot from the viral video which led us to a report by Arabic news channel Al Arabiya in December 2016. It said the video was from an Iranian military parade. According to the report, "An Iranian military parade was mocked on social media this week, after several special forces failed to break what appeared to be a vase during the show."
Another report by Track Persia also reported that the Iranian military parade was mocked on social media after several special forces failed to break what appeared to be a vase during the show. "Iranian "Special" Forces attempt to dazzle the crowd with sweet roundhouse karate kicks but end up failing miserably," it said.
According to a report by Al Jazeera from 2016, "A pottery jar caused obvious embarrassment to the Iranian army commander, General Atallah Salehi, as more than one of the participants in the military parades failed to break the jar, which usually breaks from the first strike. The pioneers of social networking sites circulated the clip extensively, as members of the Iranian army appeared in the footage trying hard to break the jar, but it continued to resist the various blows that were directed, which was an embarrassment to all the participants. In an attempt to remedy the situation, the participants in the parade changed the soldier who tried to break the jar with another soldier, thinking that his luck would be better than his colleague, but the jar held up again, and the soldier fell to the ground after one of the strikes, without being able to break it."
Russia Today (RT) had also uploaded the video on its YouTube channel on 28 December 2016. The description of the video read, "Iranian military trying to break what appears to be a vase."
It is therefore evident that the claim made through the viral post is false. The video shows Iranian soldiers trying to break a vase and failing.
Claim Review :
Video of Indian military officers trying to break a vase but failing.
Claimed By :
Social Media Users