Fact Check: Video of 'Jamra Beej' from Rajasthan passed off as Rajputs celebrating Diwali using firearms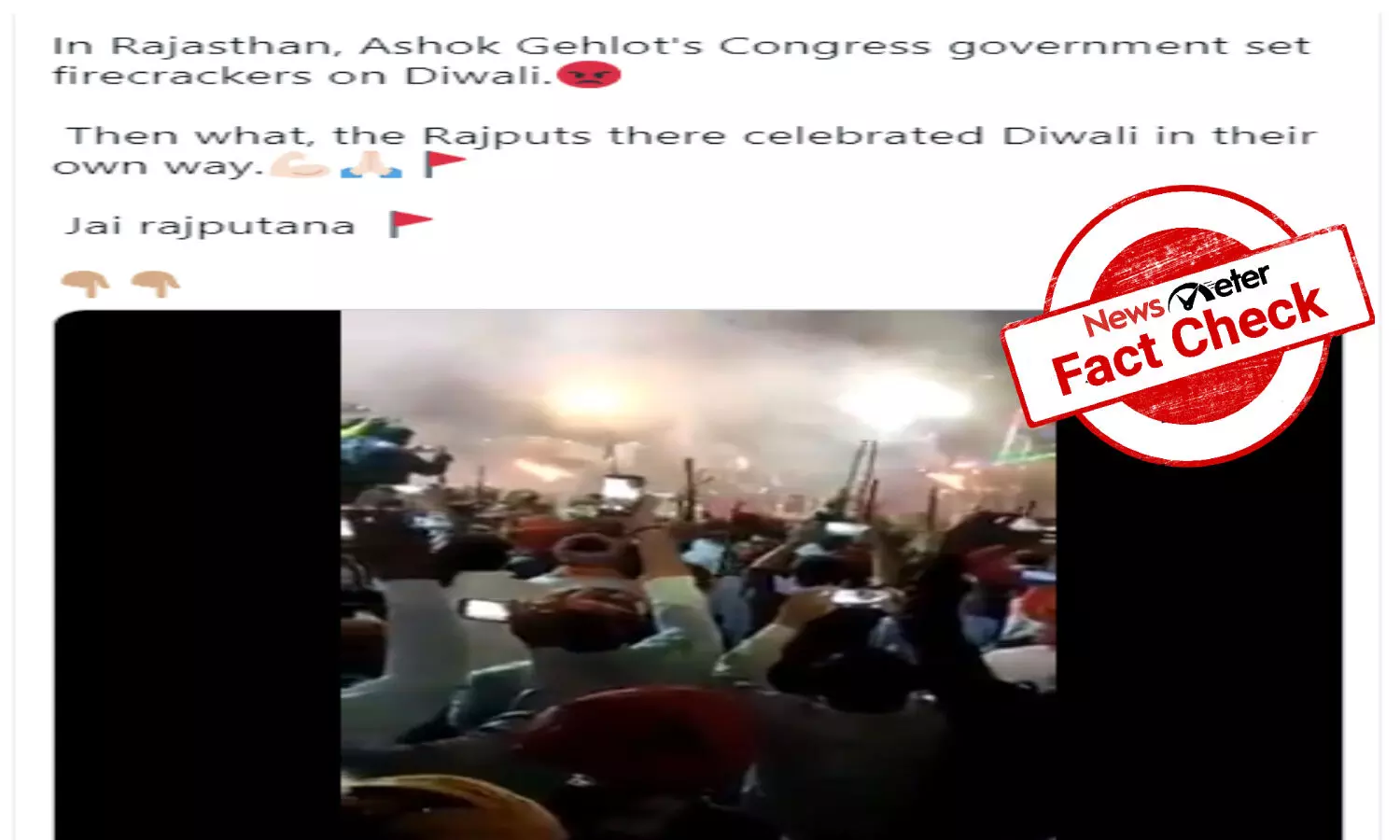 A video of people indiscriminately firing into the air as part of a visible celebration is shared widely on social media. Users claimed that this incident happened in Rajasthan where the Rajput community celebrated Diwali by firing guns amidst the firecrackers ban in the state.

"Ashok Gehlot's Congress government in Rajasthan had banned firecrackers on Diwali. Then what, the Rajputs celebrated Diwali in their own way," read the message
Fact check:
Newsmeter found that this video is not related to Diwali celebrations. People in the video were celebrating 'Jamra Beej,' a 400-year-old tradition of using firearms during the Holi festival.

Newsmeter extracted keyframes of the video using the InVid tool. A reverse image search of one of the keyframes of the video resulted in a YouTube video dated back to 12 Mar 2020. The title of the video reads "Jamrabij menar menaria 2020."

Taking a cue from the title of the YouTube video, we did a keyword search on Google and came across several Hindi newspaper reports by Zee News, News 18, Bhaskar, and others published in March 2020. According to these articles, using firearms is a part of the 'Jamra Beej' tradition celebrated every year during Holi in Menar village of Udaipur city, Rajasthan.

Newsmeter also found several videos and articles related to the Jamra Beej festival published in previous years. According to one such report by Times of India published on 15 Mar 2017, 'Jamra Beej' festival is a 400-year-old tradition, where 'menaria brahmins' celebrate Holi festival using firearms to commemorate the victory of their ancestors over the Mughal army.

"It is believed that the Mughal army had set up a post near Menar village and they plundered and looted the area causing much suffering to the people. Rana Udai Singh fought against the Mughals, and Menaria Brahmins took up guns and swords to help the king. They captured the Mughal booth and defeated the enemy. The day fell on Jamra Beej which is celebrated till today by the locals to cherish the valor and heroism of their ancestors," reads the article.

Therefore, it is evident that the viral video relates to Rajasthan's 'Jamra Beej' festival in March 2020. Therefore claim made on social media is FALSE.

Claim Review :
Rajputs celebrating Diwali using firearms
Claimed By :
Social Media Users