Fact Check: Video of Sunny Deol surrounded by fans during Lok Sabha election campaign goes viral with false claim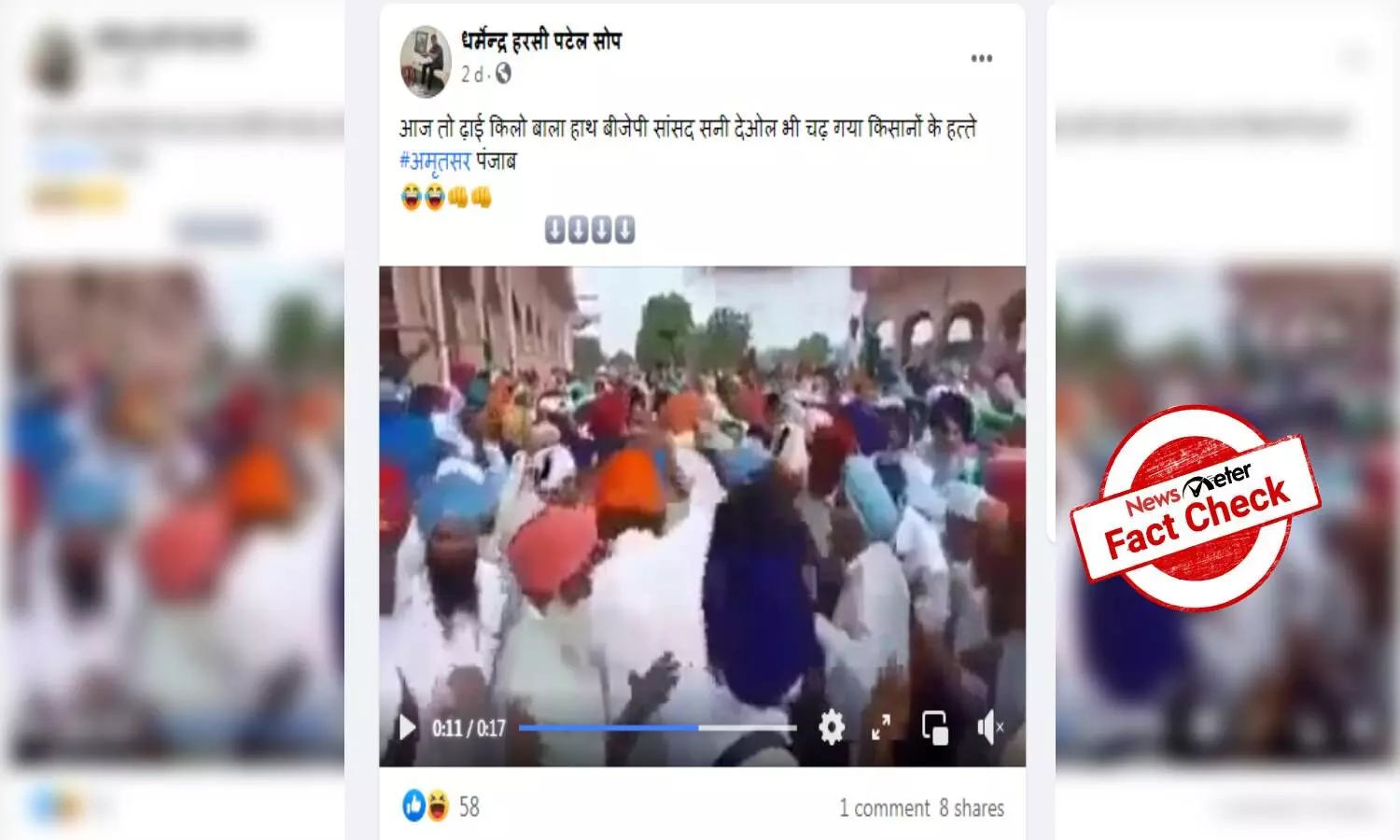 Hyderabad: A video of Bollywood actor and BJP MP Sunny Deol surrounded by a crowd is viral on social media. It is being claimed that farmers surrounded the actor and thrashed him.

The claim states, "Sunny Deol, who has a 2.5 kg hand, was beaten up by farmers yesterday." (translated)
Click here and here to view a similar claim.
Fact Check:
The claim is false.
A keyword search led to a YouTube video report by the Indian Express. The video resembles the viral video. It clearly shows Sunny Deol surrounded by a crowd. In fact, the video is from a campaign for the May 2019 Lok Sabha elections when the actor went to Gurdaspur Gurudwara. Fans gathered to catch a glimpse of the actor.
Another news report said the crowd grew uncontrollable and it became extremely difficult to handle them. The video also clearly shows security personnel covering Sunny Deol and people pushing each other to catch a glimpse of him.
NewsMeter did not find any reports that said Sunny Deol was beaten up by farmers. If something like this had really happened, it would have been big news and news outlets would have reported it.
However, a report published in September 2020 did say that when Sunny Deol made a statement in support of agricultural laws, farmers boycotted him in protest. Farmers in Punjab said Sunny Deol, who contested the Lok Sabha elections on a BJP ticket, had cheated the Punjabi community even though he was the son of a farmer. Punjab minister Sukhjinder Singh Randhawa quoted Deol's famous dialogue from a Hindi film and said the BJP MP has stabbed farmers with his "2.5 kg hand".
It may be recalled that Sunny Deol is a BJP MP from Gurdaspur in Punjab and a large number of farmers staging dharna at the Delhi border are farmers from Punjab.
https://indianexpress.com/article/cities/ludhiana/farmers-announce-social-boycott-of-sunny-deol-a-farmers-son-betrayed-us-6602903/
Claim Review :
Video of actor and BJP MP Sunny Deol being beaten up by farmers.
Claimed By :
Facebook Users