Fact Check: Video of woman assaulting two kids is from Faridabad, she is not their stepmother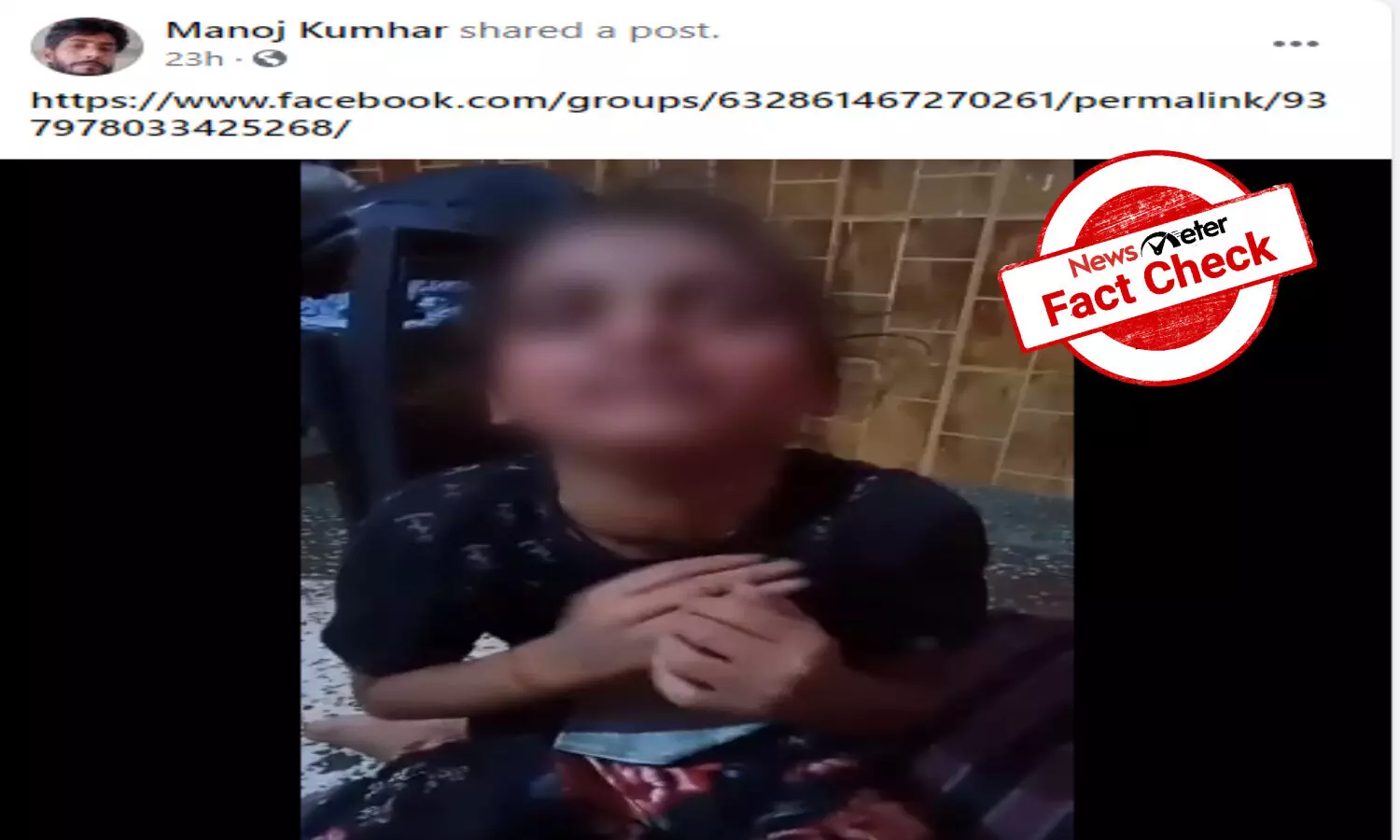 Hyderabad: A video of a woman assaulting two kids is being widely shared on social media. In the video, the woman asks the children to strip naked. The kids can be seen wailing and pleading for her to stop.
The video was also shared on Facebook.

https://www.facebook.com/groups/290168795306182/permalink/599027544420304/
The video is being shared with two claims:
Message 1: It claims that the mother of the two children is dead and their stepmother is harassing them. It exhorts people to share the message so that the woman can be punished.
Message 2: It claims that the video is from an area near Jaipur and seeks help in getting justice for the innocent children.
Fact Check:
The claim is misleading.
Newsmeter performed a keyword search which directed us to a report by
The Tribune
published on 2 August 2021. According to the report, the police arrested a 32-year-old woman in Faridabad for beating up her two kids, aged six and eight years. This came after a video of her went viral. During the investigation, the woman told the police that she had beaten up her kids because they had spilled milk on the floor in her absence.
We also found a report by Bharat Times English News published on 2 August titled "Creepy: Mother brutally beats innocent son and daughter by stripping clothes, also made a video of children apologizing".

The report had a detailed explanation of the incident. During counseling the children said that their mother beat them up after they spilled milk while they were heating it. Also, on 23 July, Preeti was talking to someone on the phone when the children did some mischief. She hit them and asked them to take off their clothes.
We found many videos aired on News18 virals, Saharanpur News Update, Satya Khabar India, and Meerut Express News YouTube channels. The video description said that an angry mother in Faridabad, Haryana, beat up her children for spilling milk. She asked them to take off their clothes and filmed them crying. Taking cognizance of the video, the Child Welfare Committee has filed a complaint, they further said.

https://www.youtube.com/watch?v=eEyIxVkn0CE
https://www.youtube.com/watch?v=rTxb3fJr9Bc

https://www.youtube.com/watch?v=zU-kkYU3GCU

https://www.youtube.com/watch?v=ZEihHGFH3mc
We did not find any reports that said the woman was their stepmother.
It is evident that the claims made in the viral posts are misleading. The woman is not their stepmother but their real mother. The video is not from Rajasthan but Faridabad, Haryana.