Fact Check: Video of woman falling down subway stairs is from China; no she did not die in accident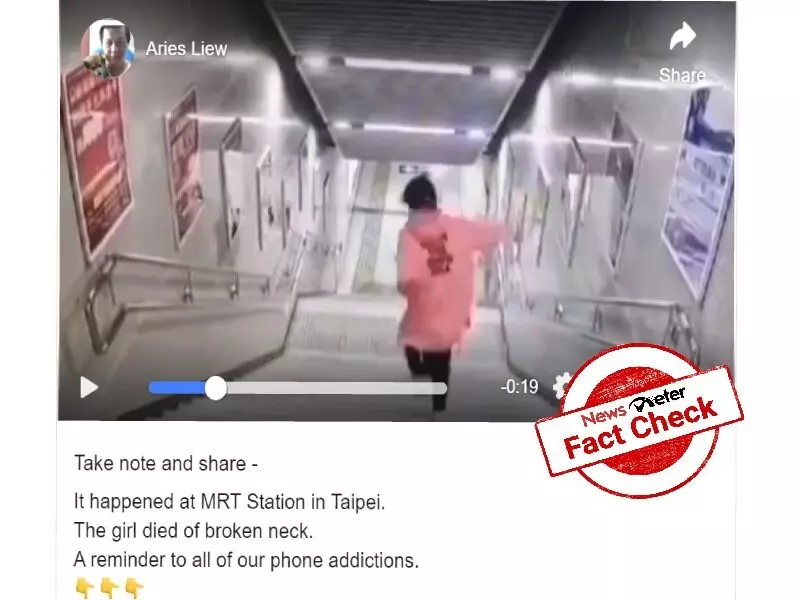 Hyderabad: A horrifying video of a woman tripping and falling down a flight of stairs of a subway station is being shared on social media. People are claiming that the woman was using a phone at the time of the accident. She reportedly broke her neck and died.

A Facebook user who shared the video wrote, "Take note and share - It happened at MRT Station in Taipei. The girl died of broken neck. A reminder to all of our phone addictions."
Another user wrote, "SAFETY FIRST. The accident happened at one of the MRT station in Taipei, a woman was using her mobile phone while walking down the stairs and tripped down, broken her neck. This message was published by Safety Bureau of Taipei MRT as a reminder to all not to use mobile phones while walking."

Click here to view a similar post.
Click here for archive.
Fact Check:
The claim that the incident took place in Taipei's MRT station and the woman died in the accident is FALSE.
NewsMeter extracted keyframes from the video and ran a Google reverse image search. We found that the incident is NOT recent but occurred in October 2020. Reports said it occurred in China and NOT Taiwan as claimed by social media users.
According to dailymail.co.uk, the terrifying footage captured the moment a woman tumbled down a flight of stairs after she missed a step while looking at her phone at a subway station in China. The woman sustained serious injuries on her face and was taken to the hospital by an ambulance, local media reported.
Chinese news outlet The Paper reported that the incident took place at a metro station underpass in Hefei city of Anhui province on 17 October 2020. The staff working at the metro station quickly arrived to help the woman clean up her wounds. They also called an ambulance immediately. The woman suffered some injuries on her face from the fall, it said.
People's Daily, China, had also shared the video on its Facebook page on 20 October 2020.
From these reports, it is clear that the incident took place in China and the woman was injured in the accident. Hence, the claim that the video is from Taipei and the woman was killed after her fall is false.
Claim Review :
Video of woman falling down subway stairs
Claimed By :
Social Media Users