Fact Check: Videos showing alcohol served at religious fair in Punjab falsely linked to farmers' protest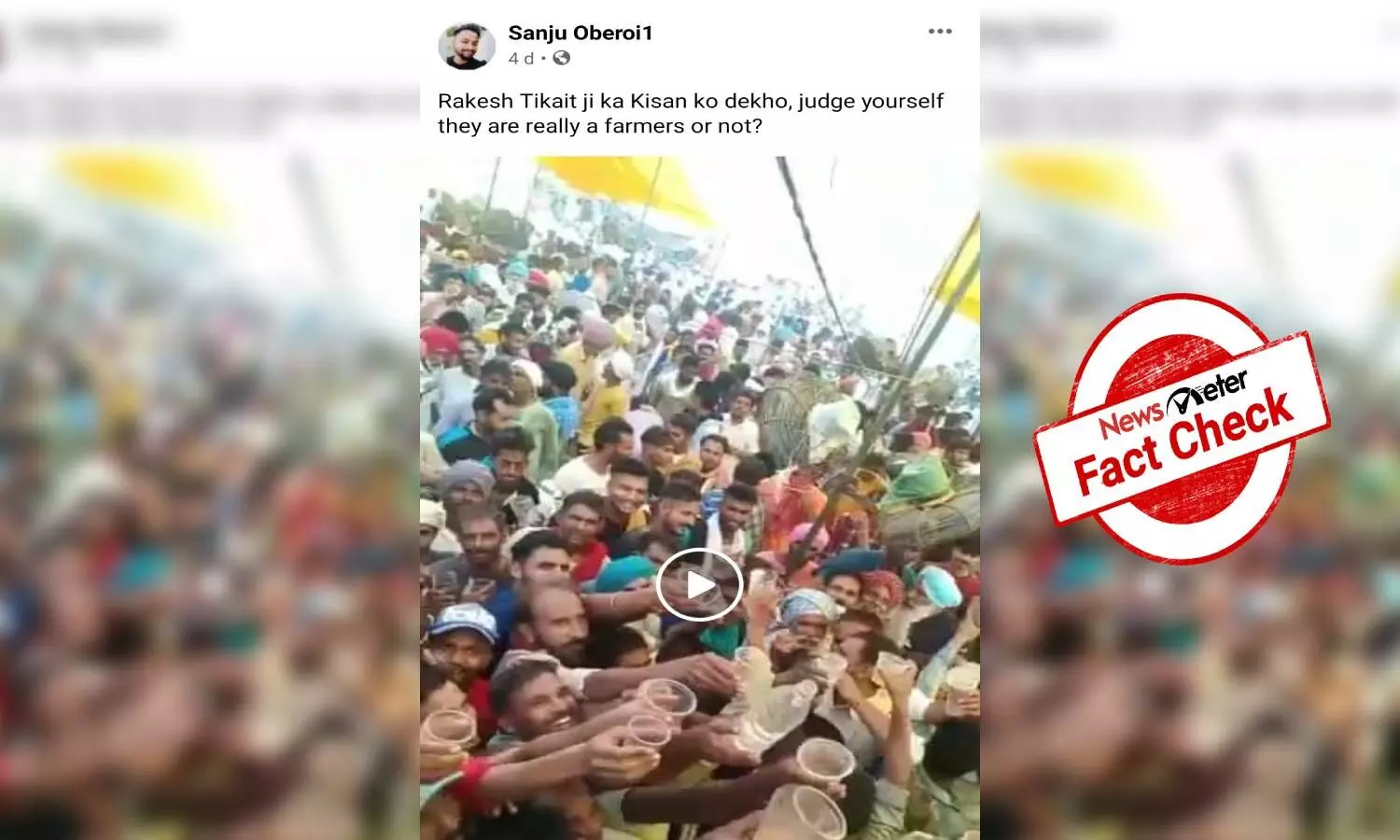 Hyderabad: A video of alcohol being distributed at a massive gathering is being shared with the claim that it is from the ongoing farmers' protest.
The caption reads, "Rakesh Tikait ji ka Kisan ko dekho (look at Rakesh Tikait's farmers), judge yourself they are really a farmers or not (sic)?"

The link to the post can be viewed here.
Click here to view similar claims.
Fact Check:
The claim is false.
NewsMeter conducted a keyword search on various social media platforms and came across a tweet shared by independent journalist Sandeep Singh. He had shared the video and clarified that it is from Kaunke Kalan village in Ludhiana, Punjab.
"Alcohol was distributed at Baba Rodu Shah's dargah in the village. Distribution of alcohol is a tradition which started 60 years ago," he further wrote.
Taking a cue from this, we performed a keyword search in Punjabi and found a video uploaded by Daily News Punjab on its Facebook page on 7 September 2021. The video had visuals similar to the viral video and the caption said it was from an event held in Kaunke Kalan.

We also found a Facebook LIVE video from 6 September.
A report by Web India 123 titled "You can drink liquor at Sufi Baba Rodu Shah's shrine" said the event took place in Ludhiana. It said that alcohol is served as "prasad" at the shrine of Sufi saint Baba Rodu Shah in Kaunke Kalan village near Jagraon.
"On the death anniversary of Baba Rodu Shah, a large number of devotees thronged Kaunke Kalan village, to participate in the three-day long annual fair to pay their respect. It is a long held belief that offering liquor besides other items brings good luck to the devotee," the article said.
Hence, the claim that the video shows alcohol being served at a farmers' protest is false.
Claim Review :
Video of alcohol being served at a farmers' protest in Delhi.
Claimed By :
Social Media Users