Fact Check: Vintage bicycle in viral photo was not used in Indian police stations during British rule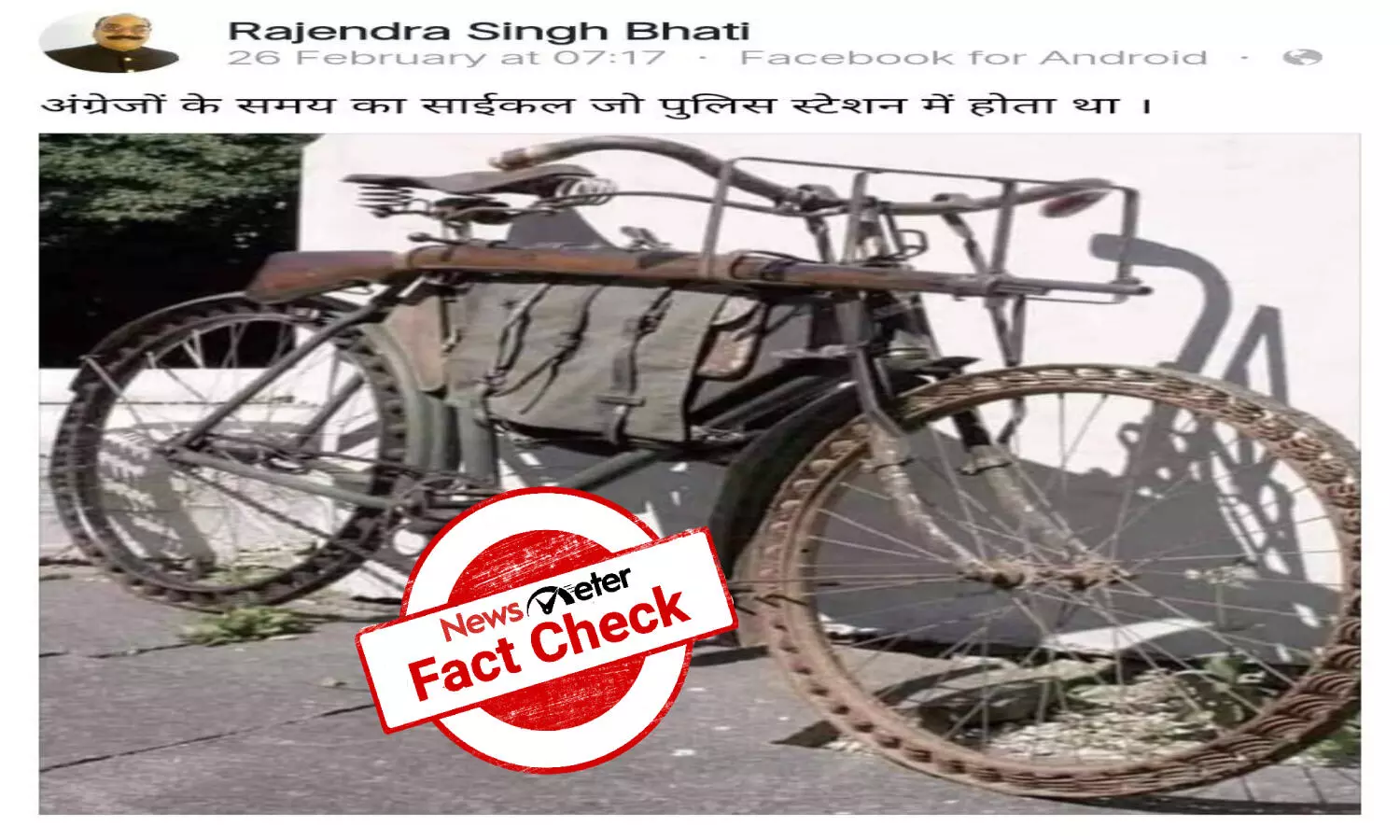 Hyderabad: A photo of a vintage bicycle with spring wheels and a rifle attached to it has gone viral on social media with a misleading claim that it is from the British period and that these bicycles were kept in Indian police stations.

Many Facebook users have posted the photo with a caption in Hindi that translates as, "The bicycle of the British era which was kept in police stations." (The British era refers to the British rule in India before Independence)
Fact Check:
NewsMeter found that the photo shows a German bicycle that was used during World War I and it has never been used in India.
We performed a reverse image search and found similar pictures on Reddit and Pinterest. These posts claim that this is a German bicycle with spring wheels that was used during the Great War.
Using this information, we searched online with appropriate keywords and found a website called onlinebicyclemuseum.co.uk - a website dedicated to bicycle enthusiasts - that had a detailed article on vintage German spring wheel bicycles.

The website is the most extensive public database for bicycle history and according to Colin Kirsche, the creator of this online bicycle museum, the bicycle in the viral image is a 1905 Herrenrad Victoria Model 12 German bicycle along with Mauser GEW 88 rifle, which was used in World War I.

According to the article, this bicycle was not attached with spring wheels when found in France. The author writes, "I managed to find the front spring wheel at Beaulieu Autojumble, and I got the rear spring wheel a year later from the USA, just in time to use its photos in my book." As per the article, there was a scarcity of rubber during WWI. A spring wheel in a bicycle was occasionally used as a replacement for rubber.
Kirsche also has a Facebook page on bicycles, where one can buy some of his vintage collection.

https://www.facebook.com/RideVintageTVchannel/
Hence, the claim that the vintage bicycle in the photo is from the British era and was used in police stations in India is MISLEADING.
Claim Review :
Vintage bicycle in viral photo was used in Indian police stations during British rule
Claimed By :
Facebook Users