FACT CHECK: Viral claims that Ahmed Khan from Hyderabad has been appointed Biden's political advisor is false.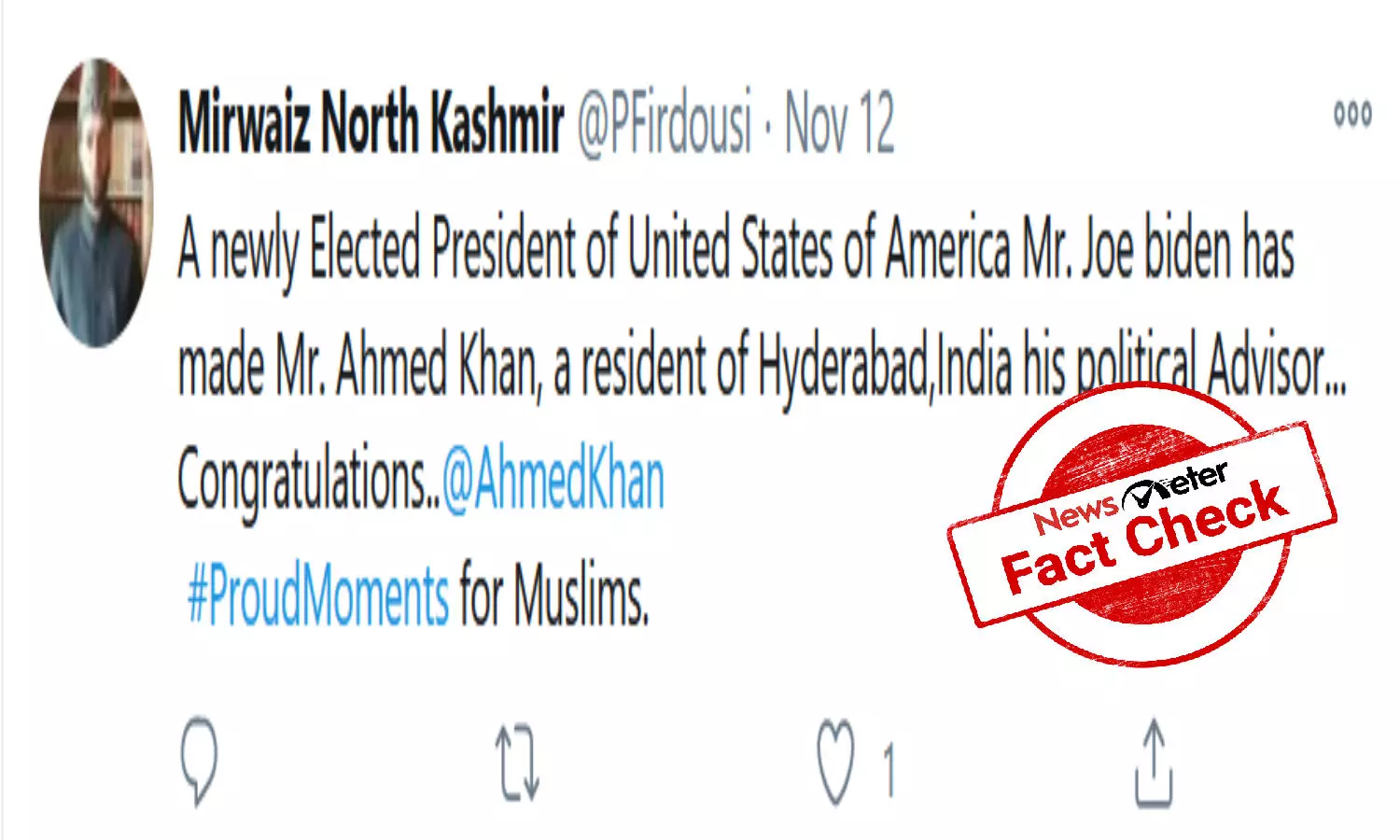 Hyderabad: A claim that President Joe Biden has appointed Ahmed Khan from Hyderabad his political advisor, is viral on social media.
Many social media users have posted images of Joe Biden, his wife Jill Biden, and the man. "A newly elected President of the United States of America Joe Biden has made Ahmed Khan, a resident of Hyderabad, India his political Advisor...Congratulations," read the caption.
(Archive)

Click
here
to view the archive and
here
and here for similar claims.
FACT CHECK:
The claim that Ahmed Khan has been appointed as Biden's Political Advisor is false.
NewsMeter found Ahmed Khan's official Twitter account. In his bio section, he writes that he was the "Former Deputy Executive Director at @DraftBiden; Former Steering Committee Member at @Illinois4Bernie ; Former @OurRevILChicago.Board Member". The position of being a political advisor wasn't mentioned at all.
We also searched for reports by other media organizations and found no report about his appointment
Next, we noticed that his pinned tweet contained pictures that were viral. Khan congratulated Biden, his wife, and his former colleagues at the original @draftbiden 2016 team in that post.
Also, out of the three viral images, two were posted by Ahmed in 2015 on Facebook (1,2).
Apart from this, a 2015 report by Muslim Mirror carried the same image and reported that Ahmed Khan attended a reception hosted by Vice President Joe Biden and his wife Dr. Jill Biden at their residence in the US Naval Observatory, Washington D.C.
Biden does have few Indian origin people in his COVID-19 advisory team. They include Dr. Vivek Murthy, who is one of the three co-chairs of the board.
Evidently, it is clear that viral pictures are not recent. Ahmed Khan is a Chicago-based US citizen and has not been appointed as Biden's Political Advisor. Hence the claim is false.
Claim Review :
Viral claims that Ahmed Khan from Hyderabad has been appointed Bidens political advisor
Claimed By :
Social Media Users