FACT CHECK: Viral image of Rs 35 crore cheque purportedly issued by Vijay Mallya to BJP is morphed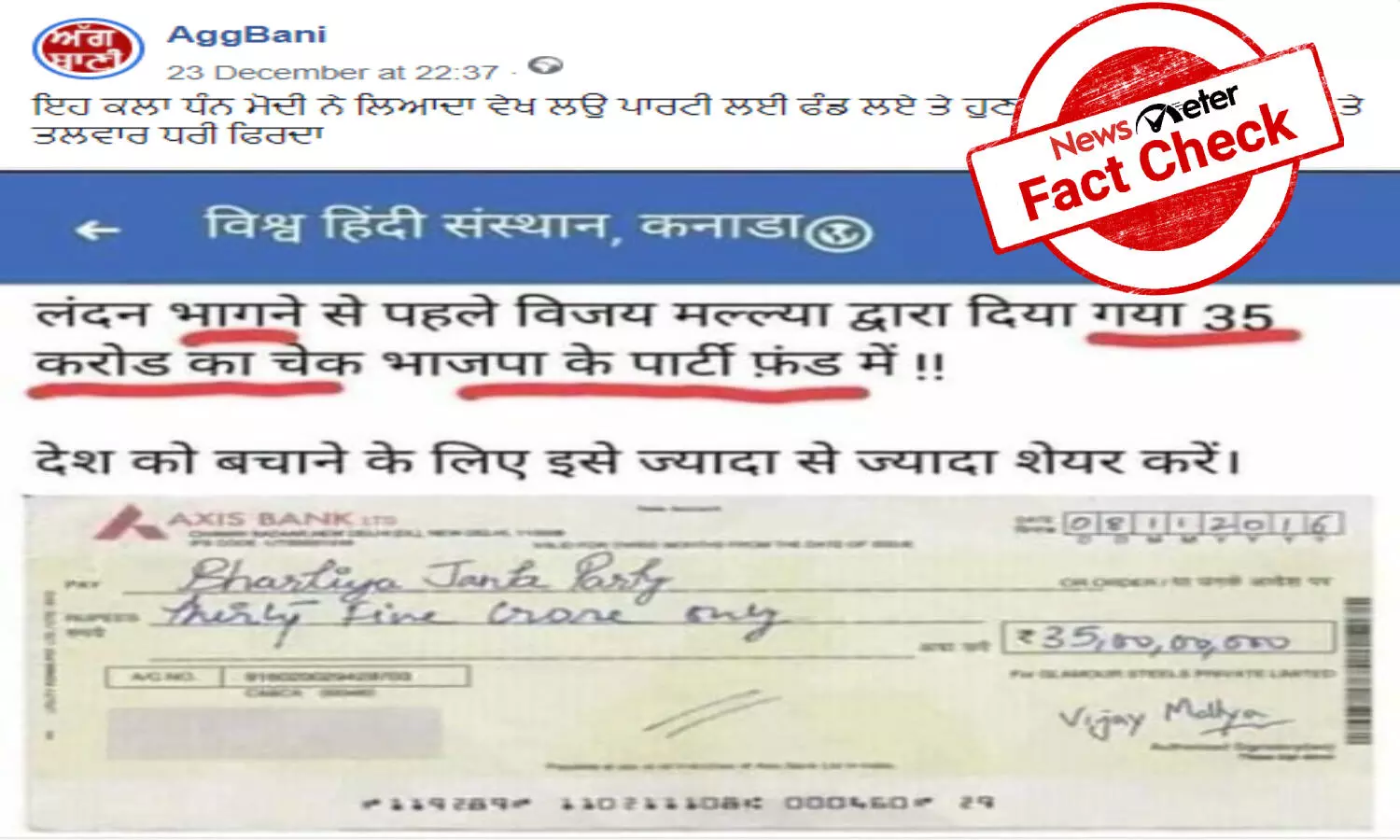 HYDERABAD: A picture of an Axis Bank cheque that is allegedly claimed to have been signed and issued by Vijay Mallya to the Bharatiya Janata Party is viral on social media. The value of the cheque is Rs 35 crore and netizens claim that this was issued before he fled the country.
FACT CHECK:
Upon close observation, NewsMeter found a few errors in the cheque. It indicates that the cheque has been morphed.

Firstly, the full form of BJP has been misspelled as 'Bhartiya Janta Party' instead of 'Bharatiya Janata Party'. Secondly, the cheque has been issued on behalf of Glamour Steels Private Limited. Amit Kumar Saxena and Mukesh Kumar are its directors.

Next, we noticed that Vijay Mallya's signature is also fake. We compared his official signature with the viral image signature and found that they were not similar.

Also, in May 2017, AAP leader Kapil Mishra had flashed a similar cheque stating that it was allegedly issued to the Aam Aadmi Party. A comparison of the cheque shown by Mishra and the viral image confirms that both are, indeed the same. And that the viral image has also been morphed.

It should also be noted that Vijay Mallya fled the country in March 2016, but the cheque is dated November 8, 2016.

Evidently, it is clear that no such cheque has been issued to BJP. Therefore, the claim is false.

Claim Review :
Rs 35 crore cheque purportedly issued by Vijay Mallya to BJP
Claimed By :
Facebook Users