Fact Check: Viral video of speeding train smashing motorbike but narrowly missing biker is not from Rajahmundry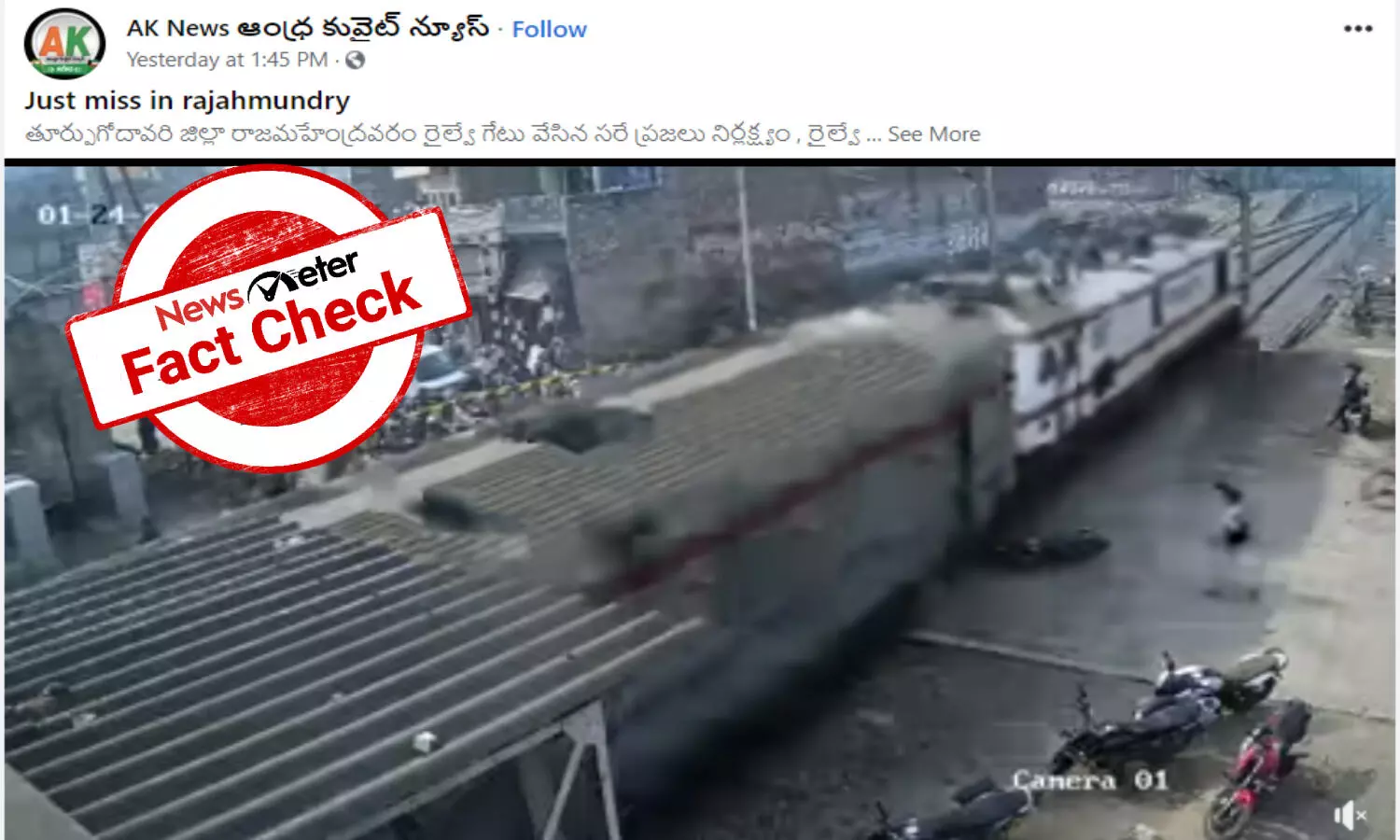 Hyderabad: A video showing a speeding train just missing a biker but hitting the motorbike has gone viral on social media with the claim that the incident occurred at a railway crossing in Rajahmundry.

In the video clip, we can see the biker trying to cross the railway crossing. However, he stops next to the tracks and loses control of the motorbike which lurches forward. While he escapes unharmed, a speeding train hits the motorbike and smashes it to pieces.
Archive links:
We extracted key frames from the video and performed a Google reverse image search. We found a few Facebook posts claiming that the incident occurred at Bharwari manual railway crossing.
We also found a report by Samayam.com Telugu edition that said the Rajahmundry railway police had refuted the claims that the incident took place in Rajahmundry. They clarified that the viral video was not from Rajahmundry Annapurna Peta railway crossing as is being claimed in several posts. They also warned the people that it is an offense to share videos with wrong claims.

We also found that the same video has been shared by newsflare.com with the title "Speeding train in India narrowly misses biker but smashes his motorcycle". The article states that a speeding train smashed a motorcycle after an impatient biker attempted to cross a level crossing in Bharwari, Uttar Pradesh, on 24 January.

The incident was also reported by the Hindi news website livehindustan.com.

According to a report published in Indiarailinfo.com, the incident occurred at Bharwari railway gate on 24 January 2021. A bike collided with the North East Express near the local railway gate on Sunday afternoon. The biker survived narrowly. The train was delayed by about five minutes due to the accident. A report has been filed against the bike driver, it said.

The incident occurred at Bharwari railway gate in Uttar Pradesh and NOT in Rajahmundry. Hence, the claim is FALSE.

Claim Review :
Viral video of speeding train smashing motorbike but narrowly missing biker is from Rajahmundry
Claimed By :
Social Media Users