Fact Check: Wake up Telangana report about fake traffic cop is misleading; man in photo is Abids PS officer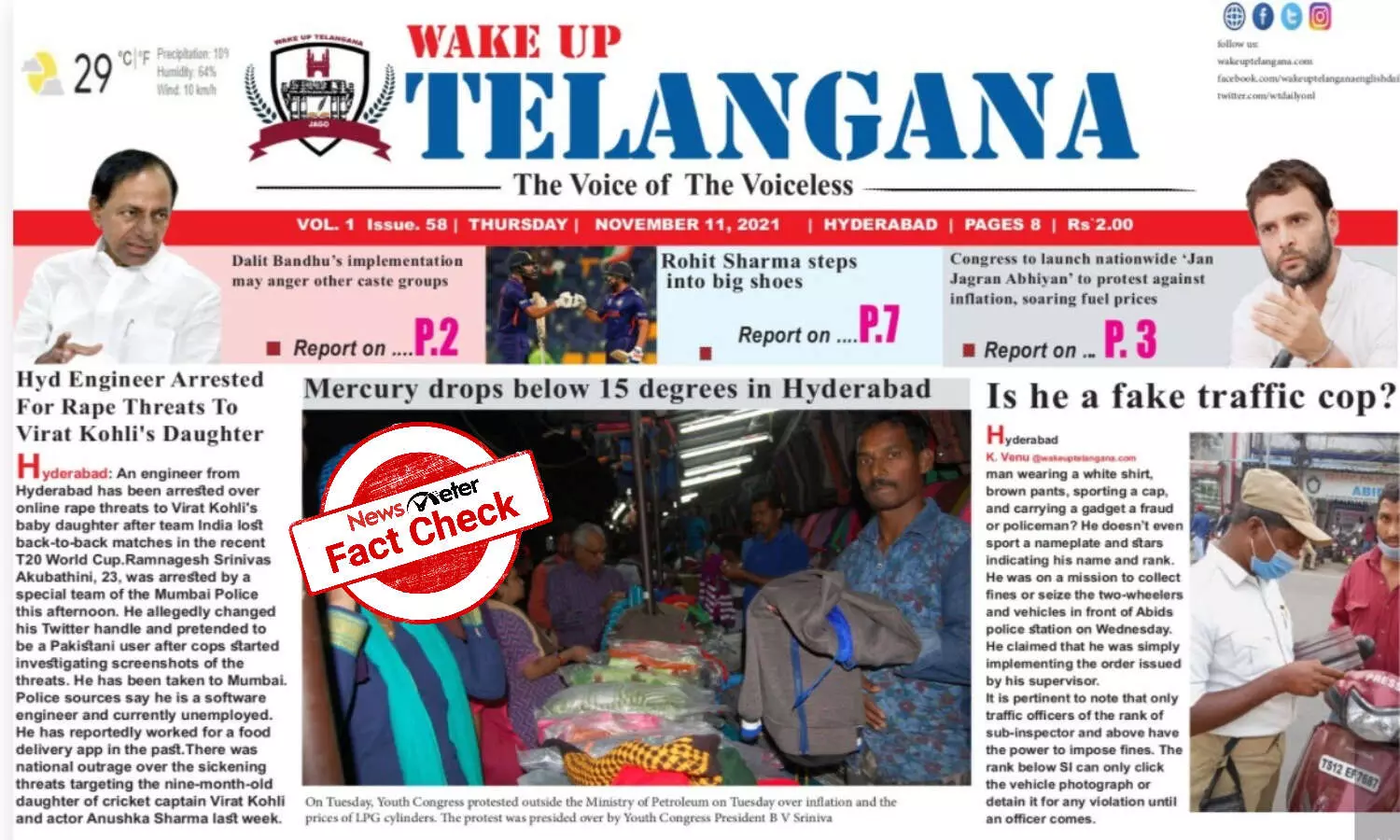 Hyderabad: A news report by 'Wake up Telangana', an English daily, carried an image of a traffic police issuing a challan to a vehicle claiming that the man is not a real traffic police. The report reads, "A man wearing a white shirt, brown pants, sporting a cap and carrying a gadget a fraud or a policeman? He doesn't have a nameplate or stars indicating his rank and name."

Click here to view the report.
Following the report, several users have taken to Twitter asking if the report is true.

Fact Check:
NewsMeter found that the claim is false.
We looked closely at the image published in 'Wake up Telangana' and noticed the Abids traffic police station in the background. NewsMeter approached K P.V Raju, inspector traffic admin, Hyderabad commissionerate. He refuted the claim and said that the report is false and the cop in the photo is Bhiksham Goud who works at Abids traffic police station as SI officer pilot.
While checking vehicles, Goud had fined a media person for not wearing a helmet. Later, the cop found that the man had more than 10 pending challans against his vehicle. Following this, the officer had booked a case against the man.

Next, we reached out to the official account of the Hyderabad traffic police on Twitter. "He is our HGO of traffic police station, Abids," they responded. The team then contacted Bhiksham Goud but we have not received any response from him yet. This fact-check report will be updated once we receive a response.
We contacted a reporter from 'Wake up Telangana' who said when they asked the traffic police officer (seen in the photo) his name and designation, he refused to answer. He also had no name, badge, or stars on his uniform. This prompted them to write the article, the reporter said.
This fact-checker read the entire report and found no solid evidence to substantiate the claim that the man in the photo is not a real traffic police personnel. We believe that the report is based on assumptions.
'Wake up Telangana' is an English daily and a new media outlet that covers Telangana news.
Claim Review :
A man in a traffic police uniform is not a real traffic cop.
Claimed By :
Wake up Telangana