Fact Check: Was US Air Force plane evacuating Afghans from Kabul an 'inflatable decoy' plane?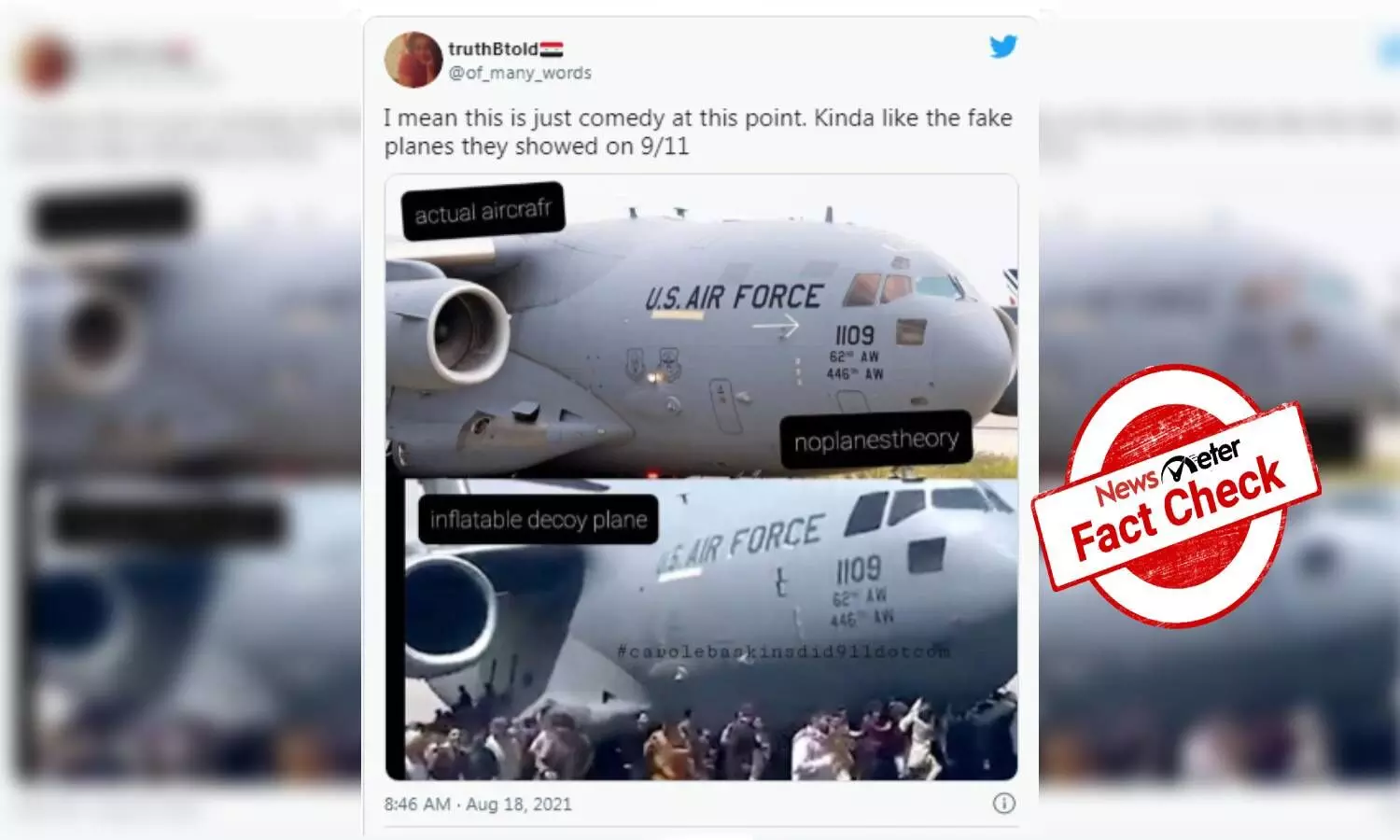 Hyderabad: After the Taliban seized Kabul, the capital of Afghanistan, hundreds of Afghans started fleeing the country. They tried to get into a US Air Force cargo plane that was departing Afghanistan for Qatar. Amidst this, a photo of a US Air Force plane has gone viral on social media with the claim that the plane at the Kabul airport (the one evacuating Afghans) was an inflatable decoy.

The post compares two pictures, one intending to show the "actual aircraft" and the other the "inflatable decoy plane".
Fact Check:
The claim is false.
NewsMeter found several news reports that provided footage of the same C-17 airplane with the "1109" number. It is clearly seen that the plane is moving and the sound of its engines can be heard. News outlets showed dozens of people running beside the aircraft as it tied to take off.
The Guardian News and Global News showed Afghans clinging to the side of the moving US military plane leaving Kabul airport. The footage shows hundreds of people running alongside the plane as it moves along the runway of Kabul international airport.
Afghan news outlet ToloNews had also shared the video and tweeted, "People run on tarmac of Kabul international airport as a US military aircraft attempts to take off." The footage was also shared by The Washington Post, NBC Times, and The New York Times.
All this proves that the plane at the Kabul airport was a real aircraft and not a decoy. If the plane was inflatable, the sides would have come apart when people began clinging onto it, yet in the video, the plane appears solid. Deaths were reported as people tried clinging onto the plane's wings after it took off. Thus, the claim is false.
Claim Review :
The plane at Kabul airport was an inflatable decoy.
Claimed By :
Social Media Users