Fact Check: Yediyurappa continues to be part of Karnataka BJP, resignation claims are false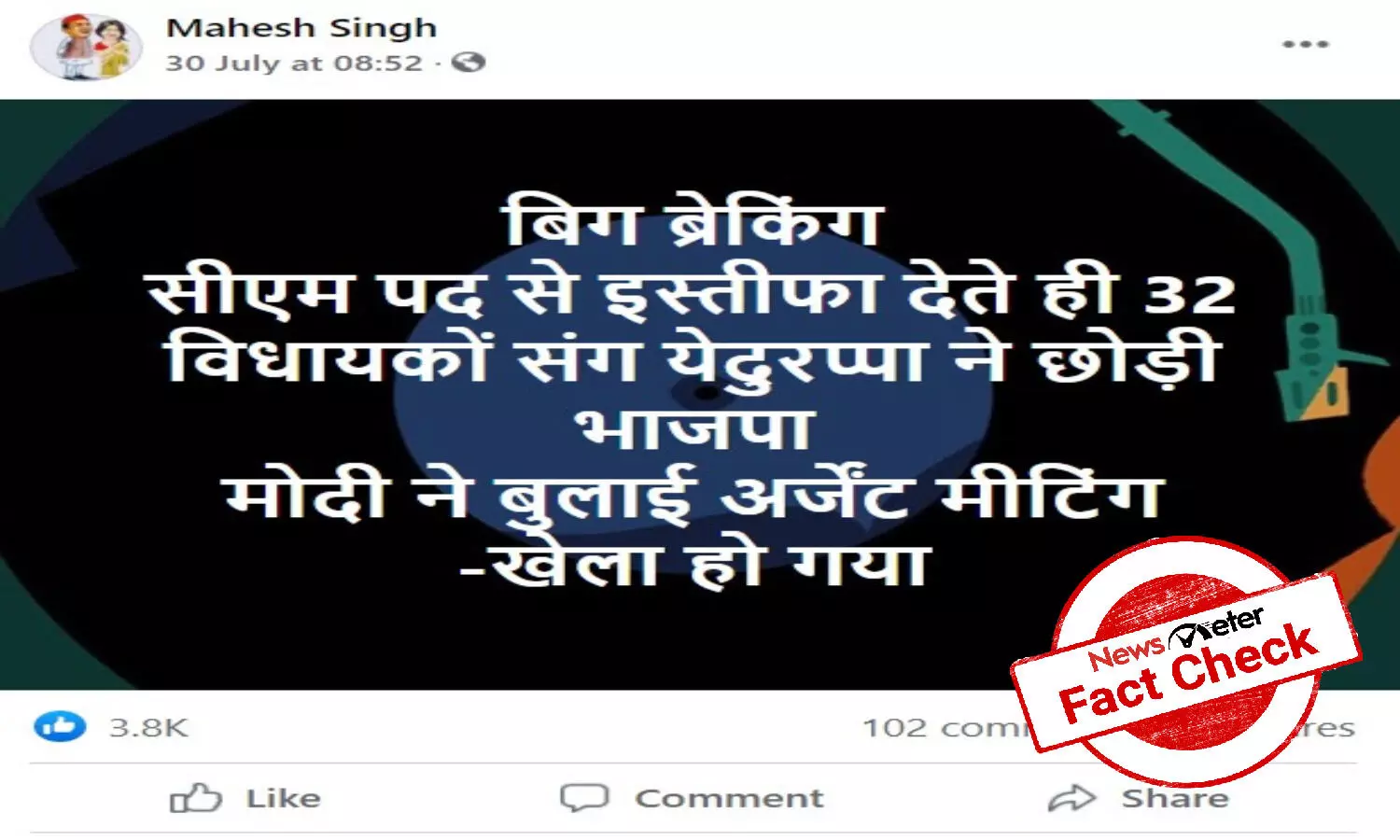 Hyderabad: Social Media users are claiming that former Karnataka Chief Minister BS Yediyurappa has quit BJP with 32 MLAs.

Users claim that Prime Minister Narendra Modi has convened an urgent meeting on the issue.
"32 MLAs sang Yediyurappa quit as soon as he resigned as CM, BJP Modi convened an urgent meeting", the post said.

Original claim: "सीएम पद से इस्तीफा देते ही 32 विधायको संग येदुरिप्पा ने छोड़ी, बीजेपी मोदी ने अर्जेंट बुलाई मीटिंग खेला हो गया."
The link for the post can be seen here.

Fact Check:
The claim is False and BS Yediyurappa has did not quit BJP.

NewsMeter took the help of the internet and searched for news by credible media organizations. BS Yediyurappa is a senior BJP leader in South India. If that were the case, the news would have made headlines in the media.

We also scanned BS Yediyurappa's Twitter profile but we did not get any statement related to his quitting BJP. After Yediyurappa resigned as chief minister, we received tweets from Prime Minister Narendra Modi, Home Minister Amit Shah and BJP President JP Nadda posted on July 28, 2021. The leaders praised Yediyurappa for his work. Yediyurappa also thanked everyone.

Secondly, we found some media reports that Yediyurappa will continue to work to bring BJP to power in the 2023 assembly elections.

https://www.bbc.com/hindi/india-57972245

When we searched with the keyword 'BS Yediyurappa has quit BJP with 32 MLAs' we found media reports of November 20, 2012. According to the reports, former Karnataka chief minister BS Yediyurappa on Friday announced he has sent his resignation from the Bharatiya Janata Party (BJP) to party president Nitin Gadkari.

In 2008, Yediyurappa became the chief minister after leading BJP to a victory in the Karnataka Assembly elections, a first for the BJP in a South Indian state. In 2011, he resigned after being indicted over a corruption case; he was acquitted in 2016.

Owing to alleged ill-treatment meted out to Yediyurappa by the BJP high command, he left BJP and formed his own party, Karnataka Janata Paksha. So, this is a news report dated to a time when he resigned and quit BJP.
https://zeenews.india.com/news/karnataka/yeddyurappa-quits-bjp-says-was-stabbed-in-the-back_813715.html

https://bangaloremirror.indiatimes.com/news/india/bjp-tells-yeddyurappa-to-quit-immediately/articleshow/21547433.cms

Hence, it is evident that the claim is false.
Claim Review :
Former Karnataka Chief Minister BS Yediyurappa has quit BJP with 32 MLAs
Claimed By :
Social Media Users