Fact Check:Mahatma Gandhi did not defend Swami Shraddhanand's killer, viral posts are false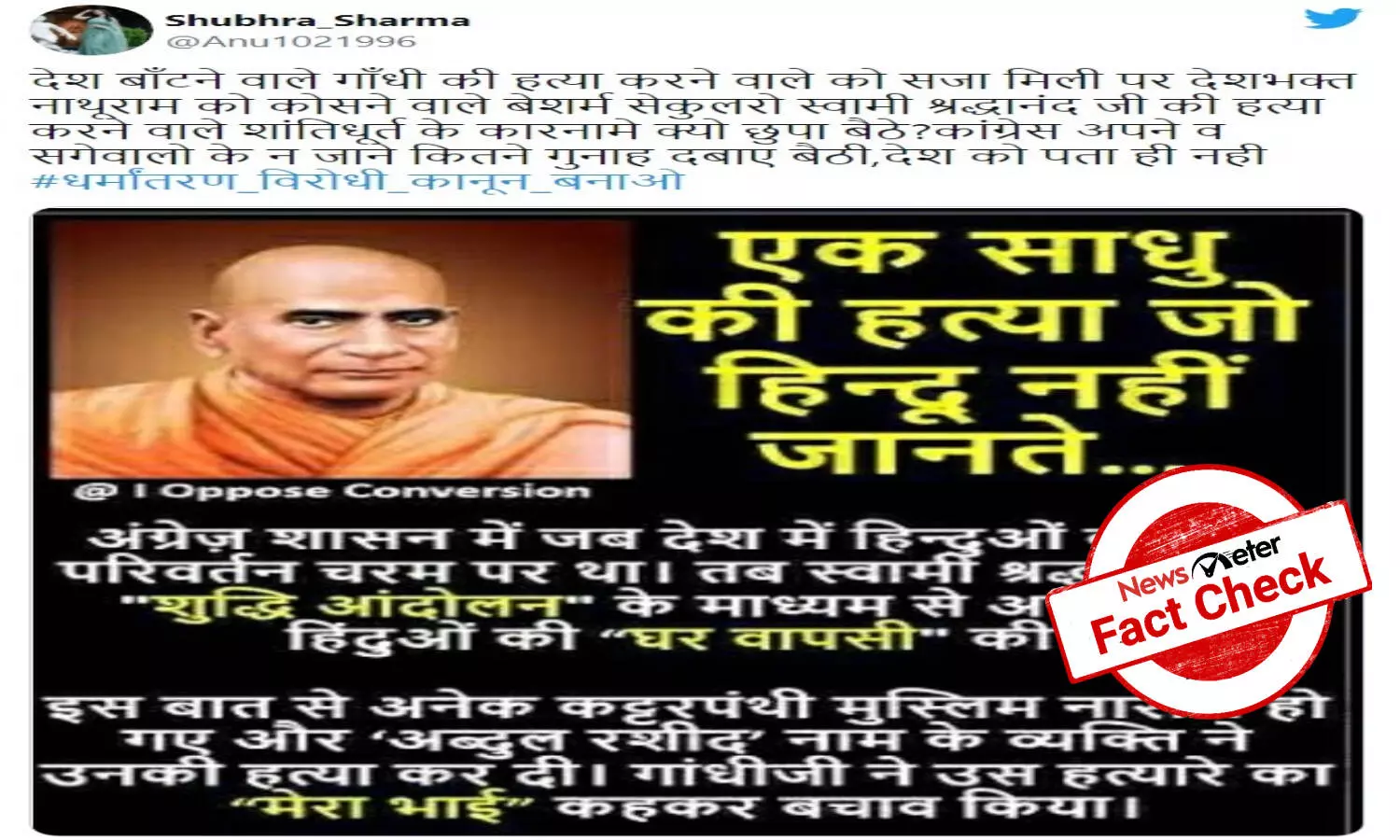 Hyderabad: Social media users are claiming Mahatma Gandhi had defended Abdul Rashid, who killed freedom fighter and Arya Samaj sanyasi saint Swami Shraddhanand.

The original claim: "देश बाँटने वाले गाँधी की हत्या करने वाले को सजा मिली पर देशभक्त नाथूराम को कोसने वाले बेशर्म सेकुलरो स्वामी श्रद्धानंद जी की हत्या करने वाले शांतिधूर्त के कारनामे क्यो छुपा बैठे?कांग्रेस अपने व सगेवालो के न जाने कितने गुनाह दबाए बैठी,देश को पता ही नही धर्मांतरणविरोधीकानून_बनाओ।"
"Killing of a sadhu whom Hindus don't know. During the British rule, when the conversion of Hindus was at its peak, Swami made the Hindus return home through the Shuddhi movement. This angered many radical Muslims and he was assassinated by Abdul Rashid. Gandhiji defended that killer by calling him, my brother (sic)," reads its English translation.
Fact Check:
The claim is false. Mahatma Gandhi did not defend Abdul or call him brother.

NewsMeter performed a keyword search on Goggle and found that according to the information available on jivani.org, Swami Shraddhanand Saraswati was an Indian educationist, freedom fighter, and sannyasi of Arya Samaj, who spread the teachings of Swami Dayanand.

According to the information available on the website, he was assassinated on December 23, 1926, in Chandni Chowk area of Delhi. However, we did not get any information about the name of his killer.
As per the article published on `India speaks. News', "Abdul Rashid shot and killed Swami Shraddhanand in Chandni Chowk area on 23 December 1926.'

In the article published on this blog and the website of jivani.org, we found the same picture of him, which is viral. The picture shared on social media features Swami Shraddhanand. His killer has been identified as Abdul Rashid.

We took the help of Gandhi literature, which is available on the Gandhi Heritage Portal.

Present on the portal (The Collect Work of Mahatma Gandhi), every material was written and said by Gandhiji is collected. On pages 473, 474 and 475 of its 32nd volume is the complete statement of Gandhiji after the assassination of Swamiji. His statement in Young India was also published on 30, December 1926.

In this, Gandhi, referring to the meeting of himself and Swami Shraddhanand six months ago, has described him as a reformer and a Karmaveer and has mentioned the incident of his assassination.

Paying tribute to him, Gandhi wrote: "Whatever was expected happened there. Some six months later, Swami Shraddhanand Ji came to the Satyagraha ashram and stayed for a day or two. In conversation, he told me that he used to receive letters now and then, threatening to kill him. What is such a reformer, people whose lives were not customers? Therefore, it was no surprise for him to receive such letters and his death is not an accident. God had to give them the death of a martyr. Therefore, while on his sickbed, he was killed by the killer who wanted to meet him in the name of religious discussion on Islam. He was allowed inside on the orders of Swamiji. He sent Swamiji's honest servant Dharam Singh out to get water on the pretext of asking for water to quench his thirst, and then when the servant left, he inflicted two mortal injuries in the chest of the patient lying on the bed."
"I want to say something on behalf of Abdul Rashid. I don't know him. I don't care why he killed. The fault is ours. Newspapers have become germs on the go. They spread the contagion of lies and slander. They deplete the filthiest of words in their language and sow the seeds of disorder in the doubtless and often receptive minds of the readers. With the help of their oratory power, sect leaders have not learned to control their pen and their tongue. Covert and deceitful propaganda continues its dreadful dark work unabated. So it is we educated and semi-educated people who are to blame for the attitude of Abdul Rashid," Gandhi said.
Vishwas, a fact-checking website debunked the claim and also quoted the President of Gandhi Memorial Fund, Varanasi, and Gandhian thinker Ramchandra Rahi, who said that the father of the nation never defended wrong.

He never defended his mistakes. When he realized his mistake he brought it in front of the world. Rahi said, "Half-truths and false posts keep going on about Gandhiji. Such things keep coming to my notice. This is wrong and should not happen. The viral claim on social media about Abdul Rashid is also false," he said.
Hence, it is evident that he did not defend Abdul Rashid and it is nowhere mentioned that he called him his brother.

Claim Review :
A post claiming that Mahatma Gandhi had defended Abdul Rashid, who killed freedom fighter and Arya Samaj sanyasi saint Swami Shraddhanand.
Claimed By :
Twitter Users