Fact Check: Image from Pepsi commercial featuring US actress Kendell Jenner shared with FALSE claim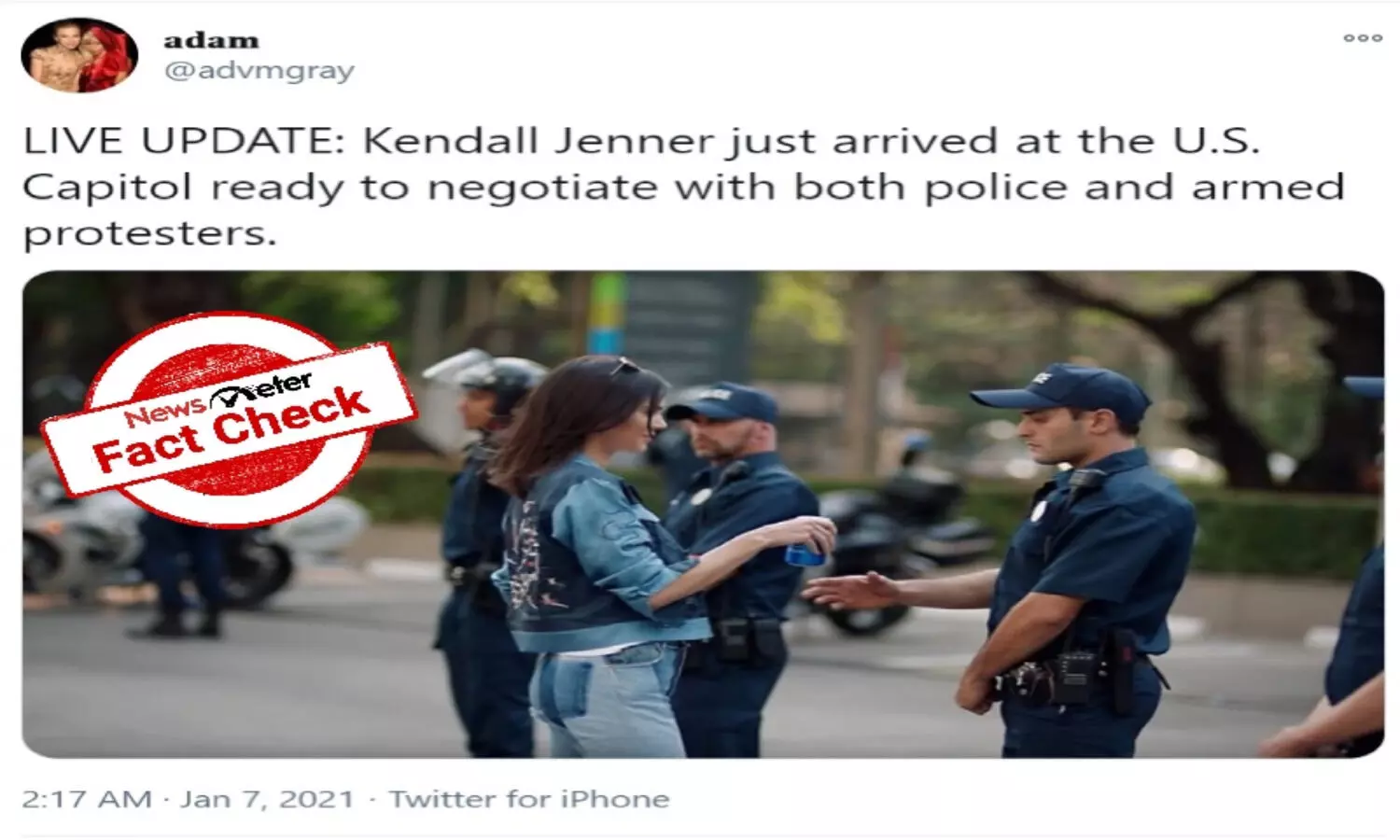 All hell broke loose when protestors stormed the US Capitol Building. Protestors overpowered the police and broke into the Capitol building, even as the Congress was in session to certify Joe Biden's win. Four people were killed in the police action.

Several videos and photos are being circulated on social media showing people barging into the capitol building. A picture of US model and actress Kendell Jenner handing a Pepsi to one of the Police standing to control the mob is going viral with the caption, "BREAKING NEWS Kendall Jenner just arrived at the U.S. Capitol."
Few users shared the image with the caption: "LIVE UPDATE: Kendall Jenner just arrived at the U.S. Capitol ready to negotiate with both police and armed protesters."
Archive link:
https://web.archive.org/save/https://twitter.com/advmgray/status/1346921354201714695
Fact Check:
The image is an attempt to take potshots at the present situation in the USA.

When searched for the image using Google Reverse image search, Newsmeter found that it is a snapshot of a Pepsi commercial released in 2017.

This ad which was released on YouTube by Pepsi was later removed after immense criticism for trivializing the widespread protests against the killings of black people by the police.

The ad shows attractive young people holding milquetoast signs with nonspecific pleas like "Join the conversation." The protesters are uniformly smiling, laughing, clapping, hugging, and high-fiving.

In the ad's climactic scene, a police officer accepts a can of Pepsi from Kendall Jenner, a white woman, setting off raucous approval from the protesters and an appreciative grin from the officer.

Here in the video showing the controversial Pepsi ad, we can see the same visuals shared relating to the attack on the Capitol Building in a satirical context.
Therefore, a visual from a Pepsi commercial is being shared with a FALSE claim.

Claim Review :
Image from Pepsi commercial featuring US actress Kendell Jenner
Claimed By :
Social Media Users