Karnataka's 'Artistic Banyan tree' passed off as sculpture from Prayag's `Naga Vasuki temple'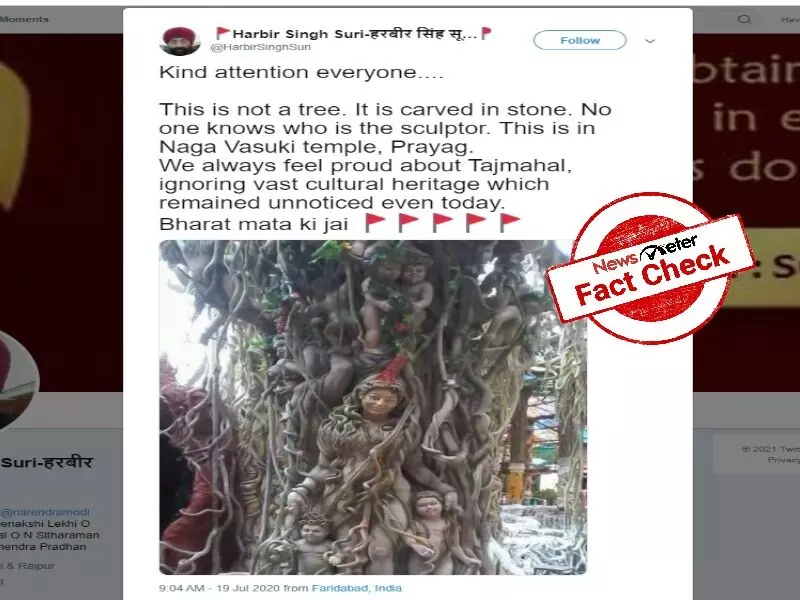 An image of a beautiful sculpture is viral on social media. Users claim that the image is from Nagavasuki temple from Prayag.

"This is not a tree. It is carved in stone. No one knows who is the sculptor. This is in Naga Vasuki temple, Prayag. We always feel proud about Tajmahal, ignoring vast cultural heritage which remained unnoticed even today (sic)," reads the claim.
This claim has been viral in 2020 too.
Archive links:

https://web.archive.org/web/20210714063954/https://twitter.com/Aashuu_bgp/status/1414977699219525636/photo/1

https://web.archive.org/web/20210714064110/https://www.facebook.com/photo?fbid=10207530794143311

Fact Check:
The claim is FALSE.

When we applied Google Reverse image search, we found several shares on Pinterest. We also found a link to a website `where-is-this.com', which states that the image is from Utsav Rock Garden, Indoor and Outdoor Sculpture Museum, Gotagodi, Shiggaon Taluk, Haveri, Karnataka.

The comments on this post state that Utsav Rock Garden is an Indoor and Outdoor Sculpture Museum located at Gotagodi, Shiggaon Taluk at Haveri district in Karnataka, India.

Taking a cue from there, we searched using the keywords Utsav rock garden. We found a blogpost `Prayanika – The journey' that shared the viral image with a title "The Artistic Banyan Tree". She had written a blog about Utsav Rock Garden in Karnataka.

The blog said that the Utsav Rock Garden is located in Gotagod village - in Shiggaon Taluk of Haveri district. It is just beside NH4, Bengaluru-Pune National Highway. And that Prof T B Solabakkanavar is the mastermind behind this Sculptural museum.

http://prayanika-thejourney.blogspot.com/2016/02/utsav-rock-garden-sculptural-museum-art.html

We also found a photo report by `Kannadatimes.com', under the title 700 photos of Utsav rock garden clicked by Chinmaya. M. Rao.

Website utsavrock.com shared the image under the section 'Artistic Banyan tree'. According to the website, the sightseers will be enchanted as soon as they get ahead of the Banyan Tree. It is jam-packed with creativity. The 'Great Banyan Tree' is a Monumental tribute to the three great artists of Karnataka, India - Dr. M. V. Minajigi, Shri D. V. Halabhavi, and Shri T. P. Akki. Before independence, these artists established Fine Arts Colleges to develop art teachers and artists. By the effort of their remarkable work, many artists, art teachers were developed and they are serving in the art segment not only in India but also in many parts of the world. These three stalwarts were instrumental in establishing Lalitakala Academy in Karnataka, India.

Banyan Tree is celebrated as a 'Mother Nature' (Symbolically). Creativity explores 'Nature' as a Mother here. The artist has presented mother in nature with her kids hidden behind the branches and roots of trees. Tree consists of several creatures like various birds, snakes, and monkeys which are all happy in nature. The roots of the Banyan Tree have been compared here to the knowledge. Like branches and roots of the Banyan Tree, Art also spreads over the earth and creates happiness in surroundings. The range of paintings on the ceiling and walls is awe-inspiring and makes visitors flabbergasted.

Hence, the image of Mother Nature with children represented by a sculpture 'Artistic Banyan tree' from Utsav Garden in Karnataka. It is falsely being shared as a sculpture from Naga Vasuki temple in Prayag. The claim is FALSE.

Claim Review :
Sculpture from Prayag's `Naga Vasuki temple'
Claimed By :
Social Media Users