Hyderabad: A Pakistan International Airlines flight crash landed yesterday in a residential area in Karachi. The flight, carrying 90 passengers and eight crew members, crashlanded at Karachi's residential area with only two survivors.
Many visuals of the aircraft crashlanding were seen on the social media. One of them was being shared with a caption, "This name is not easy to destroy. A picture from yesterday's #PIAPlaneCrash."
You can view the archived tweet here.
The same picture was also shared on Facebook with the same caption
Fact Check:
NewsMeter team did a reverse image search with the picture and found that the picture was posted by an Urdu website in 2016, with a similar caption, "Pia flight PK 661 was later destroyed pieces but a name that could not be erased Pakistan. (Sic)"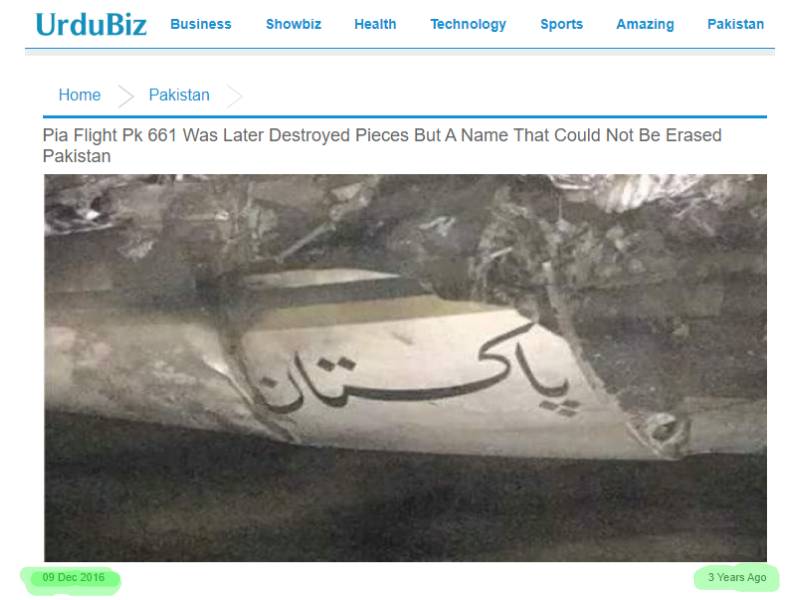 While searching with keywords for PK 661 flight crash, we found an article published in Pro-Pakistan website with the same picture. The article was analysis of what led to PK-661 plane crash.
According to an article published in Dawn News in December, 2016, "Pakistan International Airlines (PIA) flight PK-661 carrying 48 passengers and crew crashed on the way to Islamabad from Chitral on Wednesday at 4:42pm PST. The Civil Aviation Authority confirmed there are no survivors from the
ill-fated flight."
We also found that in Facebook, the picture with same caption was also shared in 2016.
Hence, the claim that the picture is of the May 23, 2020 flight crash is fake. The picture is being shared since 2016 after PK-661 flight crash in Pakistan.
Claim Review :
Images shared as Karachi flight crash
Claimed By :
Social Media Users