Hyderabad: Do you often use cab services in the twin cities? Do you get frustrated when your cabbie cancels your ride in the last minute, based on their destinations and other issues? It is uncommon for cab drivers to cancel your booking after you have been waiting for more than 20 minutes. However, from now on, citizens can file a complaint with the Cyberabad traffic police whenever they face such issues with cab drivers or the service providers.
According to the Motor Vehicle Act, the refusal to ply a contract carriage on hire by a driver is an offence. Therefore, the public can now file a complaint to the traffic police with details such as the vehicle number, date and time, location, a screenshot of rejection. People can file the complaint on WhatsApp to the number 9490617346.
Mr Anumod Alex Thomas, a Cyberabad resident who faced this issue multiple times, approached Cyberabad Traffic DCP, who informed him of the MV Act rules. While speaking to NewsMeter, Anumod said, "I faced this issue multiple times and wasn't aware of the legal side. Now, I know that I have the right to report it, and I am sure that Cyberabad police will act on it quickly. It is a prevalent issue, especially during peak time."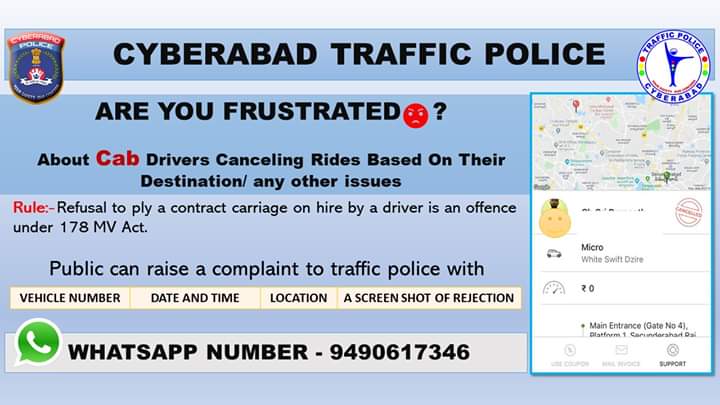 Taking to Twitter on Tuesday, Anumod shared the information with other citizens. "@Olacabs or @Uber_India, cancellation of rides are becoming a menace now. Whenever the public is denied with a service, please raise a complaint with @CYBTRAFFIC along with the screenshot of cancellation or WhatsApp 9490617346. @SCSC_Cyberabad @FACHyderabad (sic)."
Public can raise a complaint to Traffic Police if any cab/auto driver cancels Ride. pic.twitter.com/rEPjg5AQnQ

— CYBERABAD TRAFFIC POLICE (@CYBTRAFFIC) December 17, 2019
Cyberabad DCP Traffic Vijay Kumar told Newsmeter, "The cancellation of rides by drivers is an offence and will attract penalty as per the law. Instead of ignoring such refusals, the public should report to the police, along with the details to Cyberabad Traffic's WhatsApp number."
The officer added that they would issue an e-challan of Rs 500 to the violator. "We have received similar complains, and we booked three cases. We have issued them challans, and they would have to pay the Rs 500 penalty. This rule has been there for a long time, but the public was not aware of it. However, now, they can immediately file complaints with us," said Vijay Kumar.