Hyderabad: After having India's first dog park in Gachibowli, Hyderabad now boasts of a fruit-themed park at Road No.36 in Jubilee Hills in the vicinity of restaurants and jewellery showrooms.
The transit park built over 362 square kilometres was formally inaugurated by city Mayor Bonthu Rammohan Friday evening. The Greater Hyderabad Municipal Corporation (GHMC) has spent Rs 18.50 lakh on the park.
The major attraction is the pineapple-themed water fountain at the centre with styled around fruits like pomegranate, orange, custard-apple and others adjoining it. The ambience is made complete with bright coloured walls that are depicted with fruits.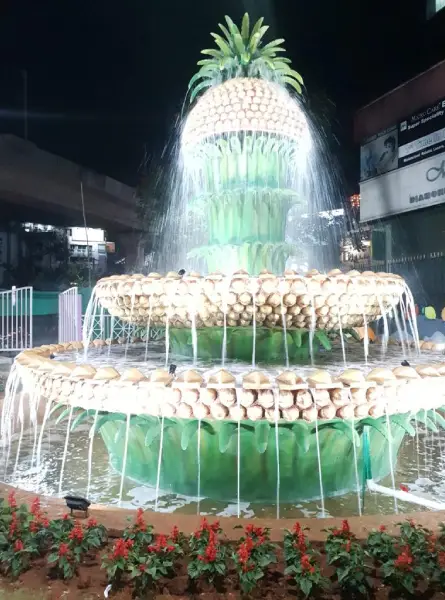 GHMC officials said the design will attract children and people living in the surrounding areas can come and relax in the park, where greenery by way of seasonal plants.
The park is an addition to GHMC's plan to improve junctions. Recently Khairtabad junction was renovated with vertical gardens and 'Love Hyderabad' symbol. Other beautified junctions are the ones at Chintalkunta and Lakdi-ka-pul.
Similar parks and beautification works have been planned in different junctions of Hyderabad to beautify the city.
Incidentally, a similar fruit-themed park exists in Bangalore, Named Kanakasa park, it has seats in the shapes of banana and watermelons, besides Chota Bheem characters.