Highlights
Telangana government to speed up slew of projects, including development and beautification of lakes

Connectivity to Kokapet, Kollur areas

Developing logistics parks in HMDA purview

Hitex convention centres at Uppal, Medchal to come up

Blueprint on Gandipet lake project
Hyderabad: The Gandipet lake project will include a 40-km walking and cycling tracks around it, according to the latest proposal by the Telangana government. The state government is keen on developing and protecting lakes in Telangana. Towards this, we have taken up beautification of Hussain Sagar, Durgam Cheruvu and Gandipet lakes, said Municipal Administration and Urban Development Minister KT Rama Rao.
As part of an initiative to speed up several ongoing and proposed projects to make Hyderabad a global city, the Telangana government will construct Hitex convention centres at Uppal and Medchal very soon. These convention centres with global standards will cater to the ever-increasing number of global seminars and trade fairs in Hyderabad, added KTR.
The MA&UD Minister KT Rama Rao held a marathon meeting. Hyderabad Metropolitan Development Authority officials briefed the minister about the ongoing projects. KTR made suggestions on the current beautification projects on Hussain Sagar, Durgam Cheruvu and Gandipet lakes. The meeting further discussed works in progress for the development and beautification of lakes in and around Hyderabad.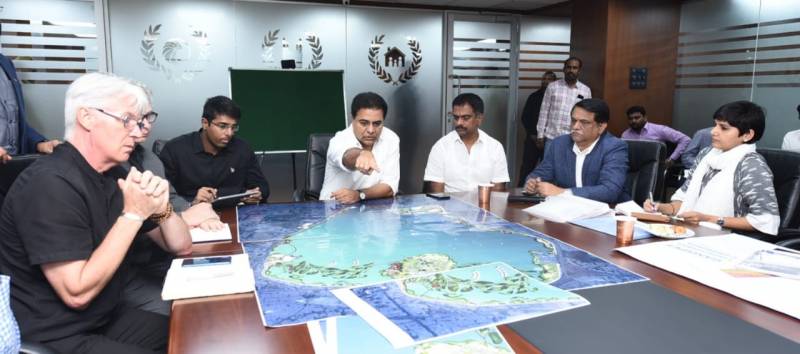 KTR reviewed the master plans prepared by consultants. He stated that the master plans should be made in a way that it retains the natural beauty of the lakes and at the same time, provides facilities to the people.
The minister approved the proposals of HMDA to build a park on the banks of Gandipet Lake. He directed officials to start the work immediately. He also instructed them to prepare plans to develop 40-kilometre walking and cycling tracks around the lake.
The minister also reviewed the status of HMDA layouts works in Kokapet. He asked officials to improve road connectivity to the Kollur and Kokapet, keeping in mind the increasing population and traffic.
KTR asked officials to ensure all amenities are available at the logistics parks. HMDA should develop logistics parks to meet the increasing demand for logistics. The parks should come over 50 acres of land so that they can cater to the future requirements of the industry, suggested KTR.
According to the minister, HMDA purview will be classified into 20 units for developing forest blocks to enhance the green cover in the city. KTR also looked into the proposals for the Hyderabad Habitat Centre, which will be constructed by HMDA. He said that the habitat centre should have all facilities to conduct art and cultural events.
The officials were told to identify locations for construction of convention centres similar to the Hitex Convention centre in areas such as Uppal and Medchal.
Soon, a high-level meeting will be called for, chaired by Minister KTR and Forest Minister. Public representatives and concerned officials under HMDA limits will take part in the meeting where an action plan to increase the green cover in the region will be discussed.
Mayor Bonthu Ram Mohan, MA&UD Principal Secretary Arvind Kumar, EVDM Director Viswajit Kampati and senior officials participated in the review meeting.