Highlights
New modus operandi used to swindle Rs 53 lakh
Hyderabad: It was a modus operandi that was baffling and tricky. It helped fraudsters to make easy money before they were nabbed. Cyberabad Cyber Crime police station arrested six people after busting their racket that involved cheating banks for availing various types of loans in the name of techies, who had died in accidents. The gang members submitted fake IDs, forged documents of the techies and cheated banks to the tune of Rs 53,95.043. They used fake documents of IBM employee Avakash Mahanta, Infosys employee Palaparthy Raghu Ram, Repakula Vishnu Kumar of Yash Technologies and Abhishek Anand of Page Systems, who all died due to various reasons in 2019. The gang cheated HDFC Bank, ICICI Bank, SBI, RBL, Kotak Mahindra Bank and Bajaj Finserv, said police.
The accused are kingpin Nimmagadda Phani Chowdary, Mandava Swaroop Nath Chowdary, Pedavalli Srinivasa Rao, Kandru Harish, Narne Venu Gopal and Ikkruthi Veera Shekhar Rao, all hailing from Guntur district. The fraud came to light after the senior manager of HDFC Bank approached the police informing that they found misuse of the bank credit card to the tune of Rs.2,76 lakh, The card was owned by Palaparthi Raghuram who had died in October.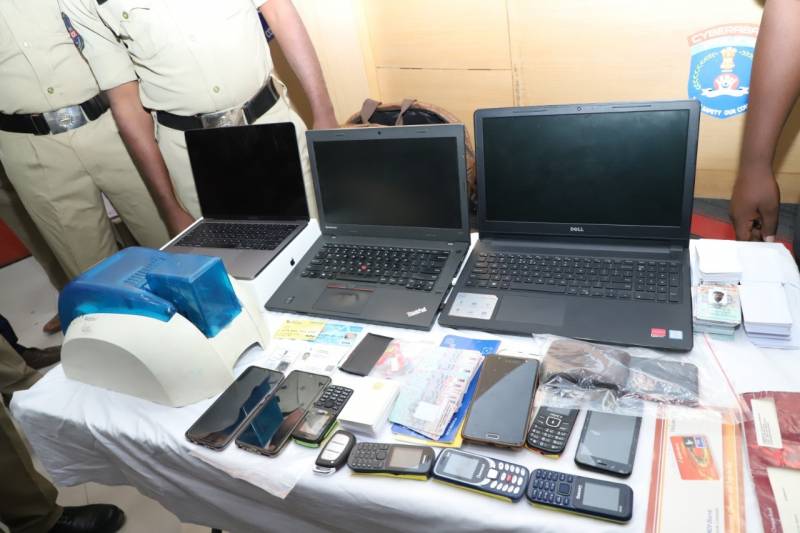 Investigation revealed that Phani Chowdary associated with Swaroop Nath and hatched a plan to avail loans in the names of dead persons by impersonating them in banks and in mobile stores by using false IDs and other documents. They informed their plan to other accused and started working on it.
The two targeted techies who died in accidents, as their personal details like mobile number and workplace, are easily available on internet platforms like Google, and also social networking websites. They would collect the mobile number and duplicate SIM cards by submitting fake IDs created by Srinivasa Rao with pictures Venu Gopal and Veera Shekhar Rao. They collected customer ID and account number from the banks saying that they needed them to deposit amounts. Using the Customer ID and mobile number, the accused would login into net banking and click on "Forgot password" option and get the password changed by using Gmail and phone number. The Gmail or email IDs are collected from the internet or mobile stores or even from banks by giving their phone numbers. Once the information is procured, they find out the existing bank accounts, credit card details and loans in the name of the deceased. They get to access the net banking through the changed password and raise requests for instant pre-approved loans and credit cards. Later they transfer the loan amount and balance amount to fake bank accounts opened by them. They withdraw the money from banks and ATMs. Also, they transfer amounts from the credit cards to other accounts at cash points, where they collect cash by paying commission.
Police arrested the members and sent them to remand.
Advisory to public
In the wake of a first-of-its-kind fraud coming to light, police appealed to the public to be alert. They advised citizens not to share their personal information on any social media platforms, should check in Google platform for their personal information and report any discrepancies they find. Further, companies and friends shall not disclose the phone numbers and other details of others to any strangers. Banks are also advised not to give away sensitive information like account number, customer ID, email ID of any person without verifying the authenticity of the person seeking the details. Banks shall also sensitize their bank branch employees regarding the above and also take steps to bring in stringent guidelines in providing the credit or debit cards online to prevent the fraudsters in getting hold of some other's credit or debit cards easily. Further, telecom service providers shall ensure the retail stores are not giving away the duplicate Sim cards or replacement Sim cards without proper verification and authentication.