Hyderabad : A six-member gang, who had cheated as many as 169 people from different parts of the city, by promising to allocate flats to them in the State Government's double bedroom housing scheme, was nabbed by Cyberabad police. The members, all belonging to different parts of Andhra Pradesh, collected up to Rs 1.50 lakh from each victim, for an overall aggregate of an astounding Rs 2,25,95,000 and even issued to them fake flat allotment letters, said Cyberabad police commissioner VC Sajjanar.
Police recovered Rs. 1,11,84,000 in cash, six mobile phones, gold ornaments weighing 115.16 grams, one gold necklace, one Maruti 800 car , Honda City Car and fake double bed room allotment letters all worth Rs. 1,21,34,000 from them.
Police said that as the government has been constructing double bedroom houses in various places of the State, including in Bahadurpally under Dundigal police station limits, the gang took advantage and started cheating the public in the name of allotting double bed room houses.
He appealed to the people not to believe such crooks and informed that the process of allotments in the scheme is through online procedure, followed by an inquiry and a lottery.
The racket came to light after a woman Busaraju Lalitha, from Suraram Colony who paid Rs 10.60 lakh to the gang approached police. Inquiries revealed that Velisetty Venkata Sathya Krishna Vara Prasad is the kingpin of the gang.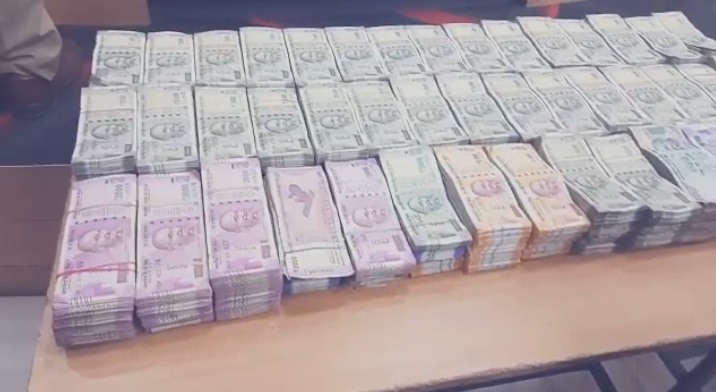 Another accused, Aela Laxmi, who runs a tiffin centre, would show fake allotment letters of double bed room flats to all her customers and acquaintances. People believed her and started paying amounts. She collected Rs 1.50 lakh from each customer. From the amount received she used to take commission and give the balance to Palakollu Srinivas Rao. He took his share and paid the remaining amount to Aduri Murali Krishna Murthy and Velisetty Vara Prasad.
She also collected another Rs. 1,50, lakh from individuals and after taking commission and paid the balance to Sathya Krishna Vara Prasad. In a similar manner, Palakollu Srinivas Rao, and other gang members, also collected money from the public and paid it to Vara Prasad.
Police investigation revealed that Venkata Vara Prasad, meanwhile consuming liquor in a local wines shop observed the discussion between two strangers regarding the fake allotment letter of double bed room homes. He requested them to take a photocopy of fake double bedroom allotment letter. With the help of Venkat, he learnt the art of making fake double bed room allotment letters. He then met his relative Aduri Murali Krishna Murthy and convinced him that he has good contacts in the Secretariat and it was easy to get flats sanctioned. Since then, they started working together and cheated people.