Highlights
Vellanki Simhadri murdered ten people with his 'rice-pulling coin' trap

The man fed victims prasadam mixed with cyanide and escape with a total of Rs 24.60 lakh.

The last victim was Katti Nagaraju
Vijayawada: Kati Nagaraju, a physical trainer and a native of Pedapudu Mandal of Eluru left home at around 4.45 pm on October 16. He was carrying 1.9 lakh cash and gold weighing five tolas. The 52- year-old told his wife that he was going to the bank, and the rest is history.
Three hours later, Nagaraju was found dead near polytechnic college Eluru, his bike parked on the main road. There were no traces of any suicide or murder. The man lay untouched, not a single bruise on his body to indicate a crime had taken place, except for the missing cash and gold.
Loss of property triggered suspicion within the family and forced them to file a police complaint. Eluru police zeroed down on the man's call records and found the last dialled was one Vellanki Simhadri, a 38-year old from Eluru. The police tracked down Simhadri and ended up revealing one of the "biggest cyanide murders in AP".
Vellanki Simhadri's criminal journey does need a separate mention. The 38-year-old initially worked as a watchman, and later ventured into real estate business, working as a broker. However, he gradually fell into debt running into lakhs. The man got a barbaric idea to earn easy money, but in the process ended up poisoning ten innocent people who fell into his 'rice-pulling coin' trap. The man fed victims prasadam mixed with cyanide and escape with a total of Rs 24.60 lakh. The last victim was Katti Nagaraju.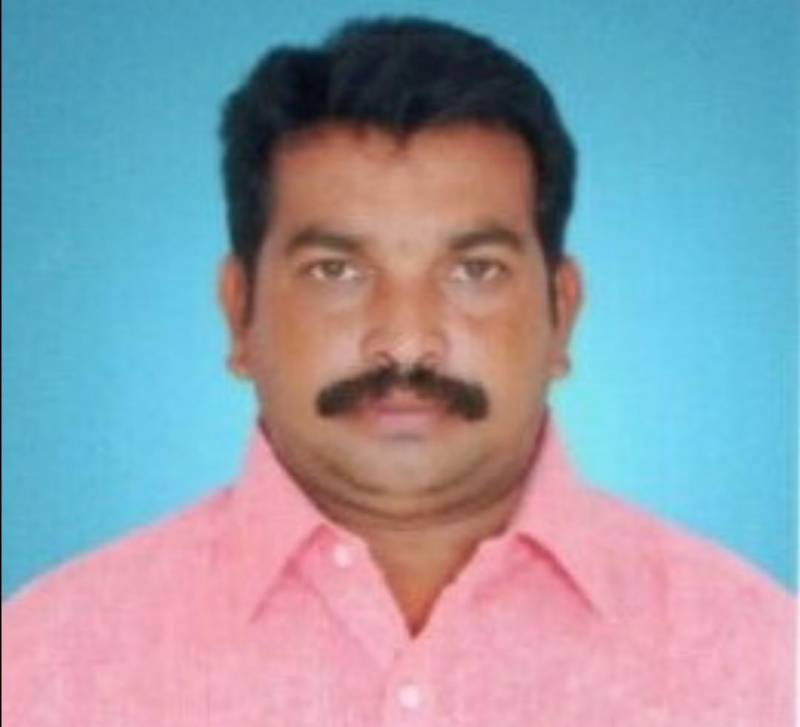 Vellanki Simhadri, the accused
What is rice-pulling coin?
The rice-pulling coin is a general belief (unscientifically proven) that certain utensils possess energy when struck with lightning. Anyone possessing these utensils will have their wealth multiplied. This belief is primarily based among the rural belt in Andhra Pradesh and some part of Maharashtra. Basing his modus operandi on this belief, Simhadri began trapping people in a bid to earn easy money.
West Godavari Superintendent of Police, Navdeep Singh Grewal, told NewsMeter, "Simhadri found a new way to earn money. He approached people stating that he can arrange for a rice-pulling coin test. This was a farce. The coin is placed, and it would hypothetically attract rice, while prayers are chanted simultaneously. Simhadri would call them to an isolated placed with cash and gold, and before starting the ritual, Simhadri would offer them prasadam mixed with cyanide. The victims would die a slow death without any trace, while Simhadri would escape with the cash and gold." Totally 10 cyanide murders in 20 months in AP
Out of the Rs 24.60 lakh and 35.25 tolas gold, he robbed from victims, Simhadri paid his debts and spent the rest on his wife and kids, before he was placed in police custody. "He promised the victims that he would double their cash by performing pooja and then gave cyanide as prasadam. He had administered it in ayurvedic medicine as well. He adopted this method to escape from the police easily. There won't be any visibility after cyanide is used and no one would suspect him of including the relatives of the deceased, as they would die immediately after consuming cyanide," said the superintendent of police.
How did he get access to cyanide?
Simhadri worked with cyanide supplier Sheik Ammenullah Babu. The cyanide came from a nickel-coating motorcycle spare parts shop where Ammenullah's brother Asad was an employee. The store management purchase cyanide from Chennai from a legal licensing unit. Ammenullah would accompany his brother Asad and would secretly purchase cyanide for Simhadri. The list of ten cyanide murders in AP listed below.
The ten cyanide murders in AP
1. Vallabhaneni Umamaheshwara: He was called to a garden in February 2018 and was given a prasadam mixed with cyanide on the pretext of getting a rice-pulling coin. Total property stolen is worth Rs 4 lakh and a silver ring.
2. Pulaparthi Thavitaiah: He was called to an isolated place in Meerjapuram village of Nuzividu and was offered a cyanide-mixed prasadam. The man lost Rs 8 lakh and a silver ring.
3. Kadiyala Bala Venkateshwara Rao: He was called near a cell tower in the fields near Mustabad and was offered a cyanide-mixed prasadam. The man lost Rs 2.90 lakh and a silver ring.
4. Gandikota Venkata Bhaskara Rao: He was called to Ajith Singh Nagar in Vijayawada and was offered cyanide prasadam. The man lost Rs 1.7 lakh.
5. Chodavarapu Suryanarayana: He was called to Eluru town and was offered prasadam. The man lost Rs 5 lakh and two gold rings.
6. Sri Sri Ramakrishnananda Swamiji: He was called to Seethanagaram at Rajahmundry and was offered poisoned Ayurvedic medicine.
7. Kothapalli Raghavamma: The lady was called on the pretext of getting a rice-pulling coin, and she was given cyanide mixed with diabetic-curing medicine
8. Samanthakurthi Nagamani: The lady was killed in her own house. She was robbed of Rs 5 lakh and 20 tulas of gold.
9. Mulike Ramulamma: The lady was offered cyanide prasadam and was robbed of Rs 1 lakh, 2.25 tulas of gold.
10. Kati Nagaraju: The man was called near Eluru Polytechnic College, and he was offered cyanide prasadam. He was robbed of Rs 1.63 lakh and gold ornaments worth Rs 1.63 lakh.