Most women who cross their 50 year milestone start feeling that they have lost their youth and are on their way to getting old. But that's far from the truth! Women are like fine wine who get better with age. So, if you are ready to give yourself a mini makeover and go back to your 20's again, then check out these 10 trendy hairstyles for 50 Year old Women with glasses.
Whether you have short hair, medium or long, these hairstyles are sure to minus a few years from your age and earn you tons of compliments. Ready for a transformation?
10 Best Hairstyles for Women Over 50 Years with Glasses:
If you are worried about looking older than your actual age due to glasses, then you must give these 10 hairstyles a try:
1. Short Pixie with Pompadour Bangs:
Here is a short pixie hairstyle for women over 50 with glasses which looks chic and edgy. The low-maintenance haircut features a buzz cut on the sides and a raised pompadour on the front. This leaves you looking fresh and younger than your actual age. To complement this haircut, you can pick large cat-eye shaped glasses. Also, if you are feeling experimental, then don't hesitate to add a highlight or two on the bangs to show the next-gen who's the boss!
2. Short Bob for Thick, Curly Hair: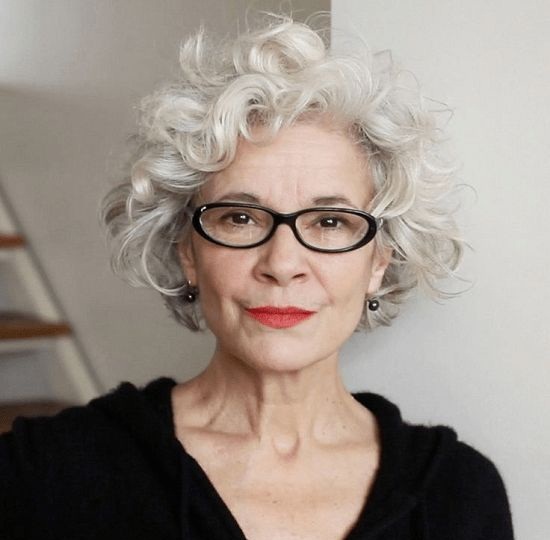 If you have naturally curly and thick hair, then try this stylish short bob. The idea is to lift up your locks and add volume to your face. This can conceal wrinkles or shrinkage (if any) and adds a firm appearance. You can add as many layers as you can to get the desired volume and use a round brush to tuck them inwards. Choose a narrow and wide frame for your glasses to look complement this hairstyle.
3. Edgy Pixie Bob with Front Bangs: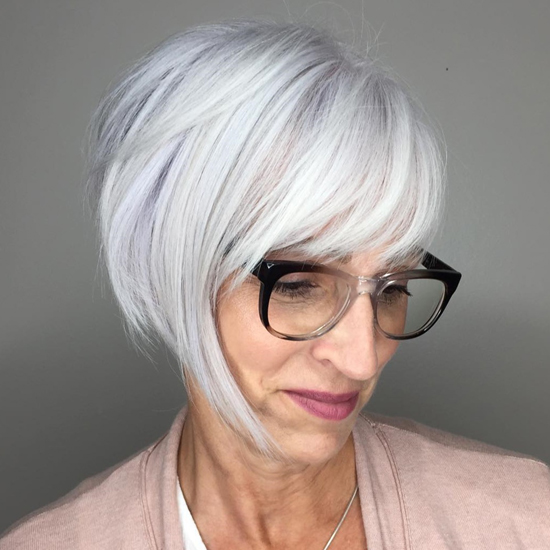 This sassy hairstyle for women over 50 with glasses is anything but boring! The asymmetrically chopped locks in the front and sides adds definition to your thin and long face. It conceals your boney jawline and gives it a sculpted look. The locks in the back are chopped shorted than the front to achieve an uneven and angled look. Pick colored frames to match your outfits and looks smarter than ever!
4. Medium Bob with Side Swept Bangs: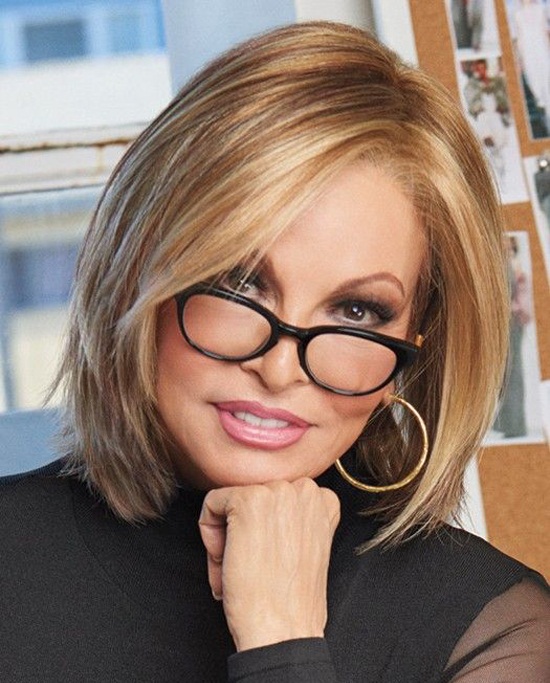 This medium length bob with side bangs is one of the most flattering hairstyles for women over 50 with glasses. The round hairstyle balances the length of your face and works like a nice frame to it. The soft wispy bangs are chopped unevenly to add texture to your mane and give you a neat little flirty look. This hairstyle works exceptionally well for formal and casual events and makes you look like a symbol of elegance.
5. Layered Pixie Bob with Highlights: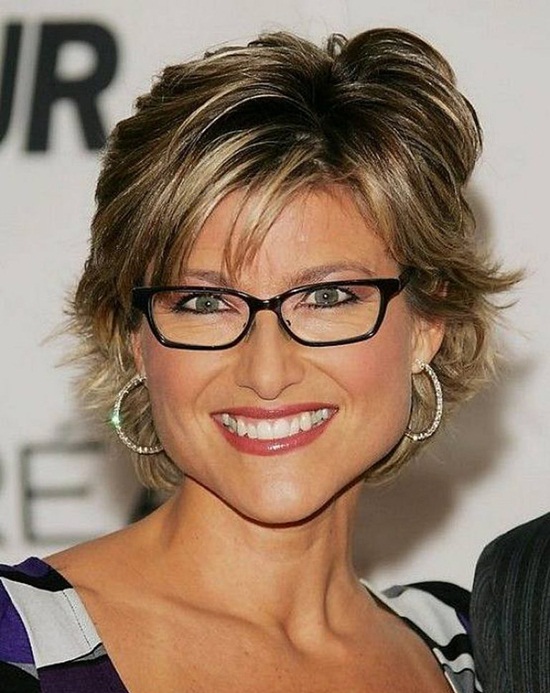 Here is an attractive short hairstyle for 50 year old women with glasses. The sleek and stylish hairdo features edgy, choppy layers for a textured effect. The top volume adds some height to your face and leaves you looking sophisticated. Touching the roots with a dark color like black gives a sharp transition to the blonde strands and also lends some much needed depth. Pick a thick, angular frame that adds sharpness to your features.
6. Textured Feathery Bob Cut: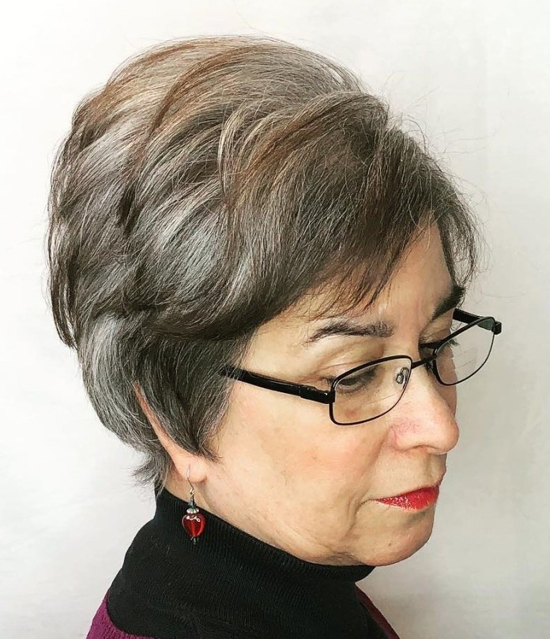 This elegant hairstyle lets you embrace your natural aging process gracefully. The layers on top add a salt and pepper look, without the need for using highlights or colors. The front is kept short and cute, while the back is lifted up to lend a body. This is a great way to make your hair look voluminous and bouncy. For easy maintenance, go for side-swept bangs and keep the other side neatly trimmed. Also, pick a sleek metal frame with this hairdo for a refined look.
7. Platinum Long Bob Hairstyle: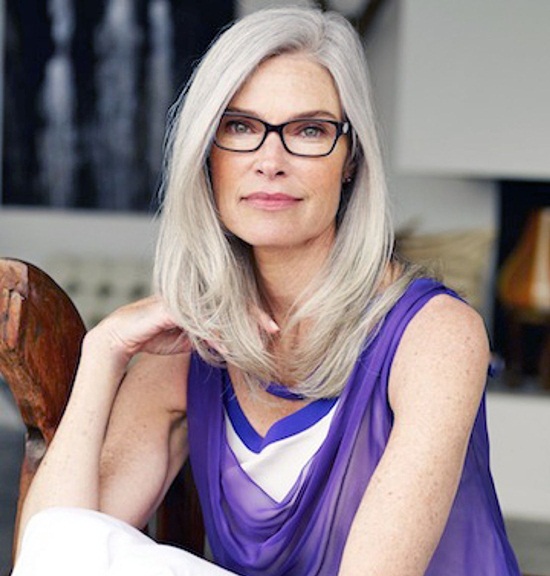 If you want to play it safe, try this long length hairstyle for women over 50 with glasses. The simple, yet sophisticated hairstyle features a side swept long bang with below-the-shoulder length. Instead of going for straight ends, keep them edgy and uneven to create some texture. Add some bounciness to the front portion of your hair to cover up your jawline and forehead. Pick a wide-length and dark-colored frame to suit your brand new hairstyle!
8. Multi-Layered Long Bob with Front Bangs: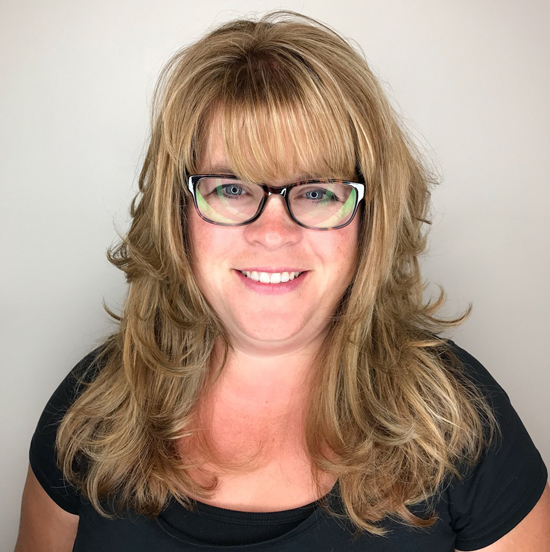 This glamorous hairstyle is a smart way to cover up that extra flab on your face and shift the focus towards your hair. The mane is cut into multiple layers, with the shortest on top and the longest on the bottom. The ends are flipped out to create a wispy, textured effect. The bangs start from the crown section and go all the way down the forehead. This style works exceptionally well with those who have big faces.
9. Long Wavy Hairstyle with Dark Highlights: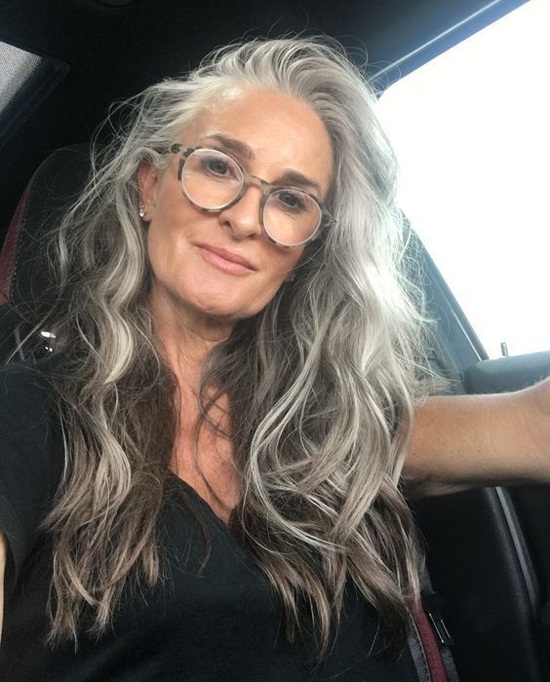 Take a look at this easy, peasy hairstyle which used the natural length and texture of your hair. The beach-ready waves can give you a divalicious transformation in a jiffy. Just go for a trim on the ends and get rid of all the dry strands. Now, go for a root touch up with black and blend it with your grey hair. Use a curler or simply twist your locks into a bun to get these gorgeous curls. When wearing glasses, comb your hair sideways to highlight your features.
10. Medium length Straight Bob Cut: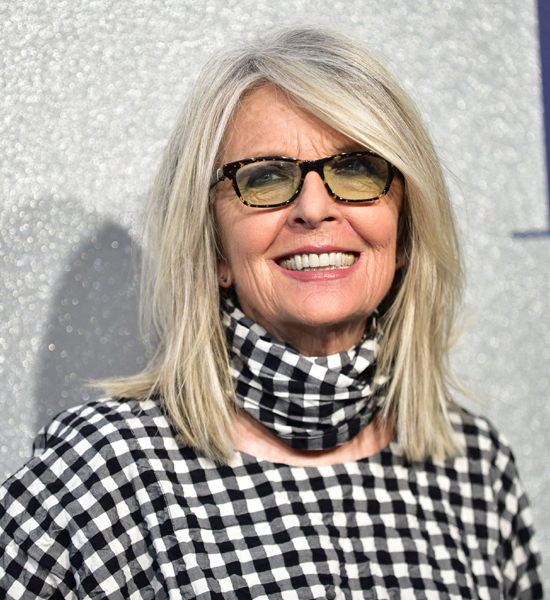 This hairstyle for 50 and above women requires almost zero effort to maintain. The sleek and thin hair is cut straight on the ends and the layering is made seamless. The side bangs are given some length to cover up the forehead. The idea is to give a slimmer look to your face and conceal your neck and collarline with some hair. When getting ready for a special occasion, use a blowdry or curler to give some volume to your mane.
So ladies! We hope these 10 hairstyles for women over 50 with glasses have inspired you to go for a makeover. Speak to an expert hairstylist to know which one works well for your hair type, face shape, texture and also about your abilities for styling. If you are a little adventurous, don't forget to ask for a splash of color or a streak of highlight!