Hyderabad: India crossed the 10 lakh mark of Covid-19 positive cases on Friday, proving several predictions wrong.
Dr. Rijo John, data scientist and health economist, was one of the few who had predicted that India would only be crossing the 10L mark after July 20. While his initial predictions (published on June 8) about the surge in the number of cases had been on the dot, the unusual growth of new cases in the last few weeks made India reach the landmark sooner.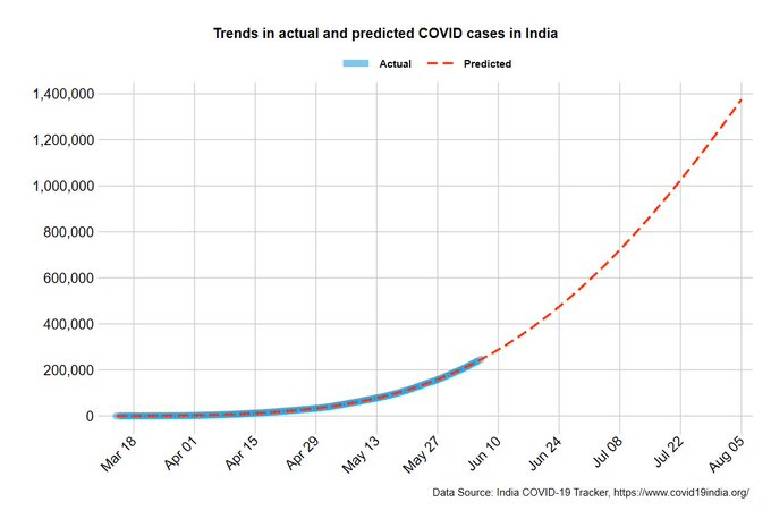 (Growth rate as predicted on June 8th
Source: Dr Rijo John)
As per his new prediction, India will be crossing the 30 lakh mark by August 28 or August 29 and will touch the 32 lakh mark by August 31. Dr John also predicted that the 20 lakh case milestone will be crossed by August 10 or August 11.
"My predictions were based on an assumption of declined growth, but in the last 15 days, the growth rate has remained steady," said Dr John. The rate of tests, along with the test positivity rate, is increasing in several states.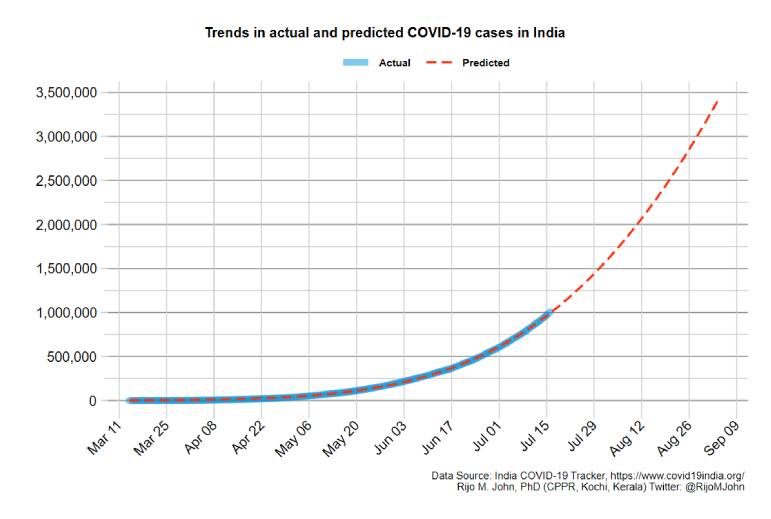 (Growth rate as predicted on July 16th
Source: Dr Rijo John)
The bulletin released by the health department of Telangana on July 16 mentioned that the test positivity rate in the state stands at 18.85 per cent.
"Going by the data that is being reported to us, Telangana is currently performing better than others," he adds. The state government has increased the number of tests being conducted in Telangana.
Telangana tested 14,047 samples on July 16, highest till date. Dr John added that while the number of negative samples has brought down the positivity rate, it is important to know if they are Rapid Antigen Tests or RTPCR tests. "The former alone cannot be trusted. If it comes out negative, an RTPCR needs to be done to confirm it," he says.
On July 15, a bulletin released by the central government stated that Telangana was not conducting repeated tests for those who are getting negative result in the antigen test. Replying to this, the public health director said that TS has asked those testing negative in the antigen tests to go into isolation, if they are symptomatic.