Hyderabad: The Indian Meteorological Department (IMD), on 5 August, predicted heavy rains for the districts of Adilabad, Nirmal, Mancherial, Komaram Bheem, Nizamabad, Jagtial, Peddapali, Karimnagar, Rajanna Sircilla, Mahabubabad, Malugu, Jayashankar Bhpalapalle, Warangal, Bhadradri Kothagudem, and Khammam in Telangana for the next two days.
It also predicted light to moderate rain or thundershowers in some parts of the city in the next two days. The IMD also warned that rainwater may pool on roads in low-lying areas and advised people to restrict their movement on account of the wet and slippery roads.
Mahesh Palawat, the head of Skymet, a private weather forecasting agency, said, "There will be heavy rain northern districts of the Telangana for next 24 hours. The intensity will go down after 24 hours. Because of the low-pressure area in the Bay of Bengal, the cloud will travel towards s Chattisgarh. The southern district will get moderate rain and day after tomorrow the rain intensity will be very low. ."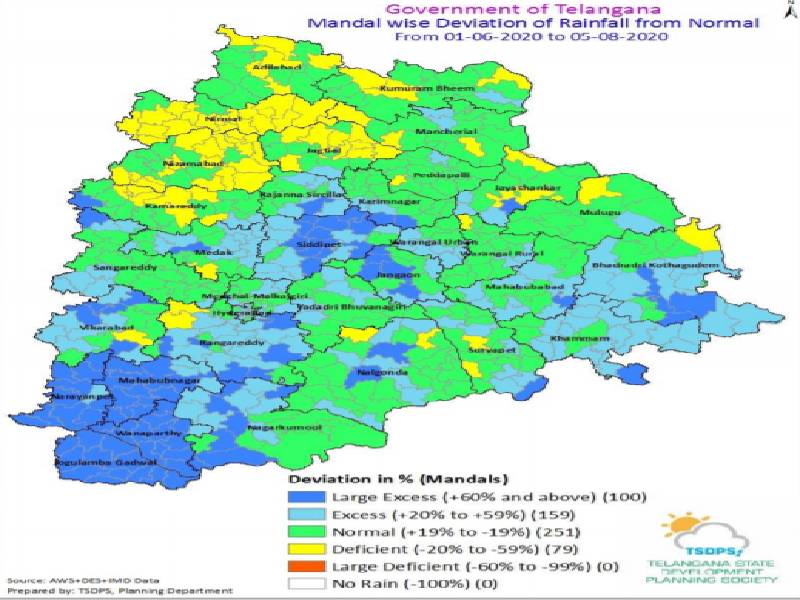 According to the Telangana State Development Planning Society, till 8:30 a.m on Wednesday, Mulakalapalle mandal in Bhadradri Kothagudem district received the highest rainfall in the state, 64.7 mm. It also said that 159 mandals of the state have received excess rain of 20 to 59 per cent while 100 mandals have received large excess of more than 60 per cent rainfall. Meanwhile, 79 mandals saw a deficit of rains till 3 August.
The IMD's weather inference for 5 August read, "The well-marked low-pressure area over northwest Bay of Bengal off north Odisha-West Bengal coasts now lies over northwest Bay of Bengal adjoining north Odisha and West Bengal coasts with the associated cyclonic circulation extending up to 7.6 km above mean sea level tilting southwestwards with height. A trough runs from south Gujarat to the associated cyclonic circulation to well-marked low-pressure area across south Chhattisgarh, Vidarbha, and north-central Maharashtra between 5.8 and 7.6 km above mean sea level."