Hyderabad: Nothing beats public power and once they enter the scene even the best of administrations will respond to the wake-up call.
This time around, it seems that the State authorities, especially Greater Hyderabad Municipal Corporation (GHMC) will be subject to such a harrowing time.
A Hyderabad resident has started an online petition against the huge garbage burning in the open land opposite Shilparamam that adjoins HITEX road.
Chetana Jain, the petitioner, and a resident of Meenakshi Sky Lounge started the petition three days ago demanding immediate stop of the garbage burning in the heart of Cyberabad.
Till now, 298 residents have signed the petition.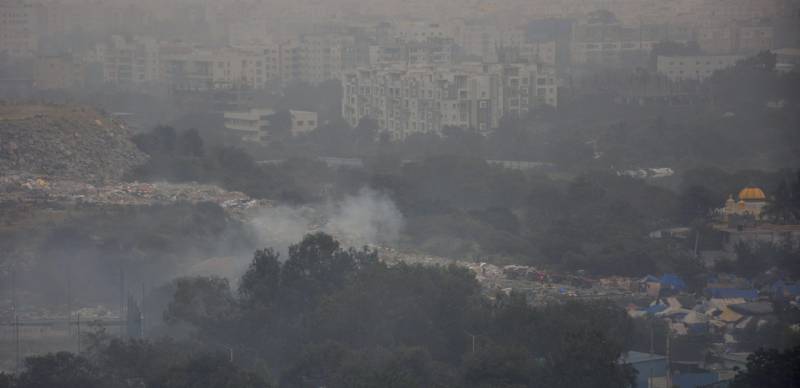 The petitioner alleged that huge garbage dump yard and its burning are leading to air pollution.
The online petition reads, "This has become a daily menace and causing severe health issues to the residents in this area. The whole area is so smoky that we can neither open our windows for fresh air nor go for morning walks. Many residents have filed grievances on GHMC app but no action has been taken".
Chetana Jain told Newsmeter, ""It is so strange and unfortunate to have such a huge dump yard in the heart of Cyberabad. It is unclear as to who is responsible for this nuisance, which is illegal. We urge the authorities to take steps to stop the health hazard."
Another resident Mr Pawan Kaasiraju, said "Much of the area around is open land. There are no trees that could absorb the pollutants. The thick smoke is forcing local residents to close windows and doors. Respiratory problems have become common."
Mr CH Sreenivas, a resident at Silpa Hills, says "Automobile workshops and scrap dealers have opened shops and dump waste indiscriminately. Foul smell emanates as they burn chemicals, tyres and plastic waste and this continues to choke us daily"
"The burning process releases unreasonably high amount of toxic gases as a lot of plastics are burnt. This is a serious issue and needs to be resolved immediately", said MSL resident, Mr Chandramani Panda.