Hyderabad: Women who once stitched jute bags have now switched to stitching three-layered face masks and full-length PPE kits to ensure the safety of frontline COVID workers in the city.
The women associated with the GMR Varalakshmi Foundation (GMRVF), are producing a bulk of protective gear for doctors, nurses, police professionals, and the medical community in Telangana. Ever since they kicked off production, the team has stitched over 30,000 cotton masks and 1,000 PPE kits.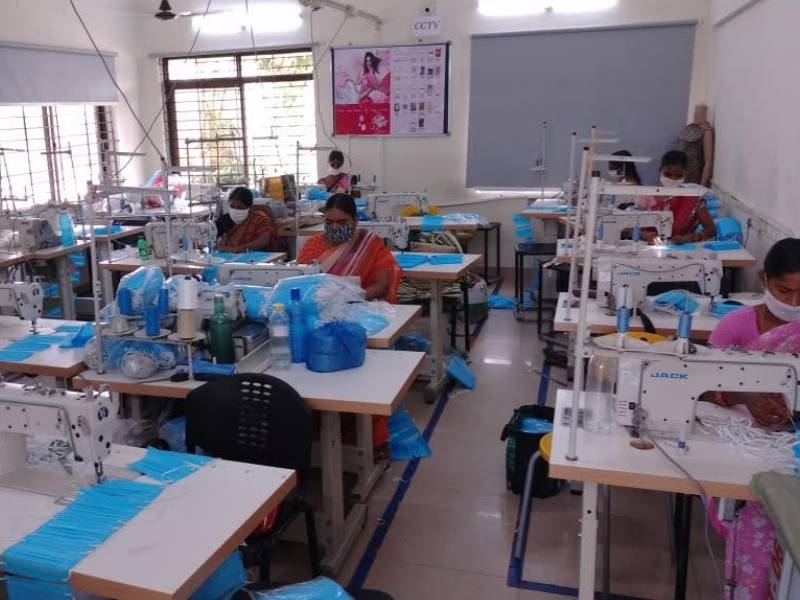 600 GMRVF trained women nationally, out of which 14 work in Telangana, have altogether produced 65,000 face masks and several thousand PPE kits at their offices in Delhi, Hyderabad, Andhra Pradesh, Maharashtra, Uttarakhand, Himachal Pradesh, and Orissa.
Masks and PPE kits developed by the women in Hyderabad have been distributed to doctors at multiple super speciality hospitals. They have even provided 1000 masks to Rangareddy district collector, and 6,000 to Rajiv Gandhi International Airport staffers.
A group of 14 Women at GMRVF – #Hyderabad engaged in crafting Masks and PPE kits from last 4 months.

These women have made more than 30,000 Masks and 6,000 PPE Kits
The Masks and PPE kits now available at Empower Outlet at International Departures of @RGIAHyd
VC:@priyali_dhingra pic.twitter.com/EWf2y6WBGg

— @CoreenaSuares (@CoreenaSuares2) August 25, 2020
The masks have also been distributed to neighbouring areas of Shamshabad, Airport Colony, Mamidipally, Gollapally, and the villages next to the road that leads to RGIA.
These women have been trained by GMRVF, and work from home or the organisation's Hyderabad office. Every woman can stitch 10 PPE kits per day, altogether producing 150 PPE kits daily.
Recently, they supplied PPE kits to Indian Surgicals and GMM Healthcare in Hyderabad, who provided raw material. So far over 6,000 PPE were stitched and provided to them.
Security gear produced by the women can be bought at the departure terminal, at the Empower store.
A group of 14 Women at GMRVF – #Hyderabad engaged in crafting Masks and PPE kits from last 4 months.
These women have made more than 30,000 Masks and 6,000 PPE Kits
The Masks and PPE kits now available at Empower Outlet at International Departures of @RGIAHyd
VC:@priyali_dhingra pic.twitter.com/letBaWPSli

— NewsMeter (@NewsMeter_In) August 25, 2020