Hyderabad : A Hyderabad police cop is melting hearts by feeding 800 poor by contributing money from his salary in the city.
Constable K. Arun Kumar posted in Armed Reserved Headquarters at Petlaburj, has contributed a large portion of his salary to buy food for the poor in the city.
On Wednesday, Constable Arun Kumar got food cooked at City Armed Reserved canteen in Petlaburj and distributed it among 800 poor at Koti Hospital.
During manning check posts, Kumar came across the poor and homeless who had not eaten for days. He could not resist and straight away approached his senior for permission to use the kitchen to cook food for the needy.
"I saw many people battling starvation. I could not sleep and eat after that day. Later I decided to contribute a portion of my salary to feed the poor and hungry. Initially, I thought of donating money, but later decided on to distribute cooked food instead," he said.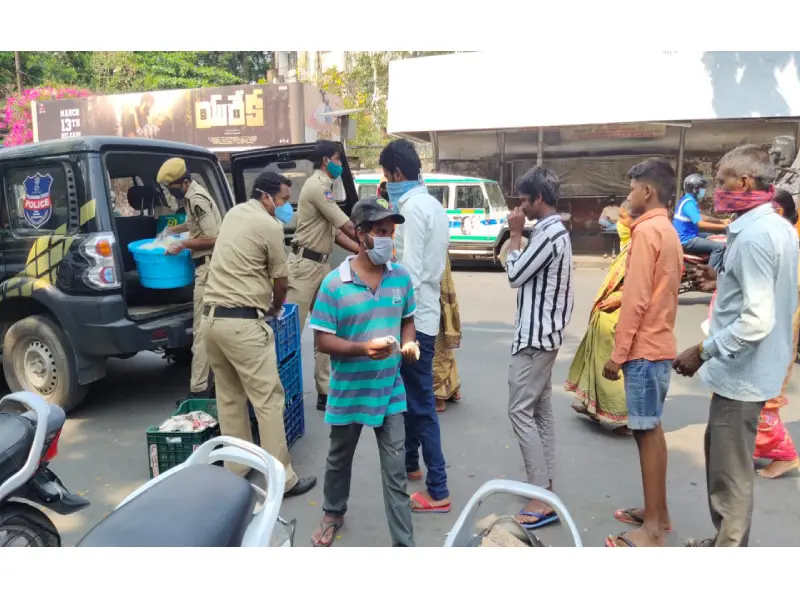 Even his family has backed him in this endeavor. His mother and wife have decided to cook the meal for the poor. "On April 15, we cooked Upma for 800 people, all served and packed by my colleagues at CAR. Today's dinner will be vegetable biryani, potato masala curry and curd cooked by my wife and mother. We will be feeding another 800 in the evening," he said.
Arun Kumar's younger brother K. Ravi Kumar is also a constable posted at Falaknuma police station. " For now I am contributing my salary. If need be, I will ask my brother to chip in. My colleagues have also come forward to help me. Rest, God will take care," he said.
Recognizing Arun Kumar's good work, the CRA chief has allowed him to use the vehicle for food distribution. Food will be distributed at Koti Hospital, Judge Khana hospital, and Petlaburj.