Hyderabad: Despite the unfortunate death of a 23-year-old woman after a banner fell on her in Chennai in August, Hyderabad residents alleged that many roads in the city are still filled with several banners and cutouts.
A Nizampet resident on Tuesday reported cutouts of political leaders installed beside Alwyn X Road bus stop. 31-year-old Harish Munigela, a techie, was driving around the area when he spotted the banner of Serilingampally MLA Arekapudi Gandhi. Annoyed by the huge cutout, Harish immediately rushed to the Miyapur police station and registered a complaint against the cutout.
Harish told NewsMeter that he saw two cutouts while travelling to his office around 11 am. "I spotted one at Miyapur X Road beside the traffic police station and the other at Alwyn X Road. I don't want a repeat of the Chennai incident in Hyderabad. Therefore, I rushed to the Miyapur police station to file a complaint. I sought the help of Teja, an anti-corruption activist."
Harish believes that all city residents should be proactive enough to complain to the concerned authorities whenever they observe such banners to avoid an incident similar to the Chennai incident. He said, "All residents should be proactive and complain in such situations. However, in most cases, we don't know how to approach the concerned authorities. In my case, the police were initially uncertain about taking my complaint. They asked me to reach out to GHMC since they give out the permissions."
Taking to Twitter Harish thanked Sai Teja for his support, and shared a picture of the cutout at Alwyn X Road, adding that it is "dangerous to the public".
Thanks for your guidance @IPS_TEJA in registering the complaint at Miyapur police station against the persons who are responsible for putting up cut-out of @GandhiArekapudi beside Alwyn X road bus stop which is dangerous to the public. pic.twitter.com/woo8hukD9s

— HarishMunigela (@HarishMunigela) October 22, 2019
Sai Teja, a member of the Forum Against Corruption (FAC) told NewsMeter that regardless of the Chennai incident, Hyderabad remains the same. "Even after knowing about what happened in Chennai due to these hoarding and banners, the situation remains the same. Our officials need to act on this before any such accidents occur in Hyderabad. I appeal to GHMC authorities and police to collaborate and clear these hoardings," he noted.
Venkatesh Shamala, Inspector of Police, Miyapur, said, "A Nizampet resident lodged a complaint with us, but we cannot register an FIR on this matter. This comes under GHMC jurisdiction. We will forward this complaint to the concerned authorities as well."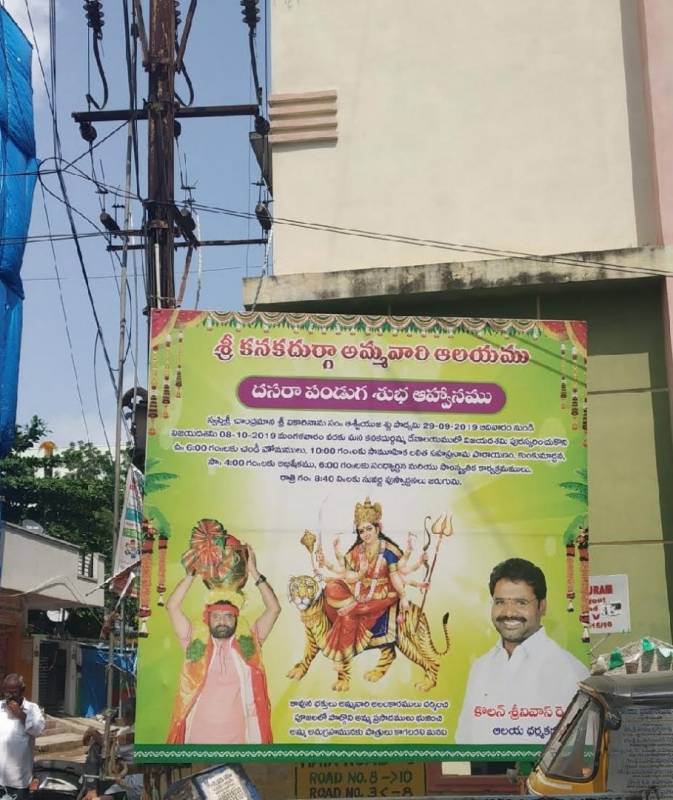 Also Read: https://newsmeter.in/banner-falls-on-techie-killed-in-mishap/