Hyderabad: The attacks on JNU students in Delhi by an armed mob have begun to reverberate in Hyderabad as well. Students from across universities in Hyderabad are marking their dissent with the attack on students from Jawaharlal Nehru University (JNU) on January 6.
Protests are going on at Osmania University. While students had planned to take on a march till Law College, police had prevented them from taking the march outside of Arts College initially.
Following this, students managed to take out a march towards Law College. Several students joined in a sit-in protest on the road in front of the law college. Various professors and student leaders addressed the gathered students. The protest winded up after garlanding the Ambedkar statue near the law college.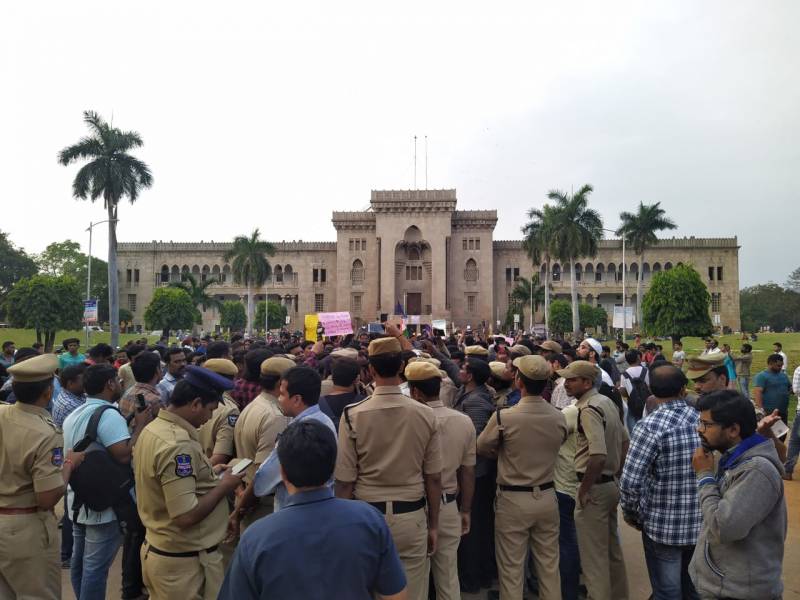 Image credits: Vidhay D
'Ban ABVP'
Several students from Osmania University protested in front of Osmania Arts College, condemning the violence meted out against the students of JNU. Some students held placards that said "Ban ABVP" and "Police are welcome to join us". Slogans of "ABVP Murdabad" "NRC Down Down" were heard. Around 100 people, students and citizens alike had gathered in front of the Arts College.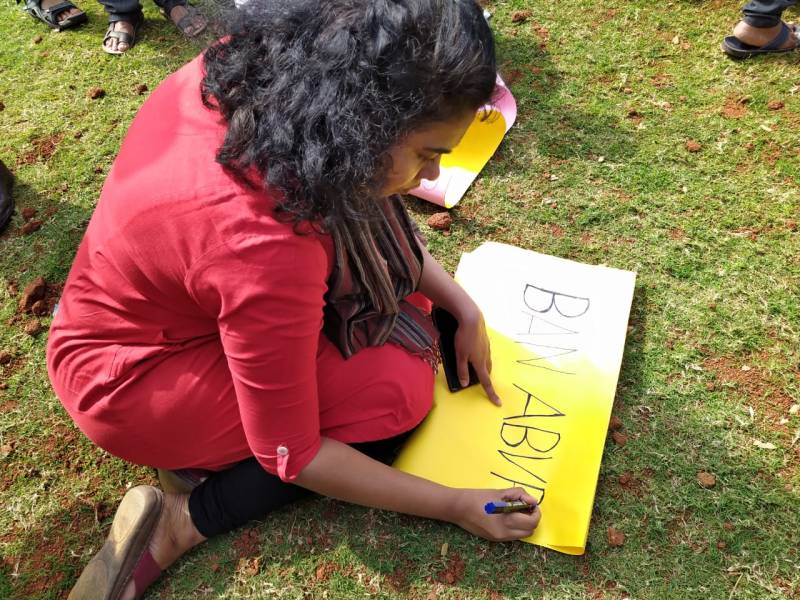 Image credits: Vidhay D
"As Osmania students, we condemn the attack that was unleashed on JNU students by the goons of ABVP and RSS. There was severe violence against the students who were peacefully protesting against NRC and CAA. Since Modi has formed a government in the center, there have been cruel incidents against Dalits and minorities," said a student who protested.
"This protest is against the attack on JNU students. Who is responsible for the brutal incident, is it the government or the Delhi police? It's not just us, students from all over the country are protesting against this. Such an incident is a shame to our whole country," said a protestor.
EFLU joins OU
The students of English and Foreign Languages University (EFLU) have joined the Osmania University students today for the protest against the attack on JNU students. Hundreds of students have gathered in front of the Osmania Arts College.
Students take out protest at MANUU
Extending solidarity with the attacked students at JNU, students from Maulana Azad National Urdu University (MANUU) Hyderabad have taken out a peaceful march against the brutal atrocities and rampage conducted by alleged masked goons of ABVP and their allies last night on the students and teachers of JNU.
About 200 protestors including teaching, non-teaching staff and students led a procession from the office of Directorate of Distance Education to the main gate of the university. The protestors were seen holding a variety of placards in their hands.
They even raised slogans like Save students and teachers – Save university etc. The procession started around 12 pm and ended at 1:30 pm.
Meanwhile, Prof. Mohammad Fariyad expressed his anguish and pain on such developments taking place in universities where no one is safe.
"It is a matter of deep concern for all students and teachers, especially, for females who are not even secured in university campuses now" said Prof. Shahida while addressing the gathering.
Dr. Firoz Alam vehemently condemned the shameful act conducted on JNU students and teachers. "They are the victim of raising their voice against fee hike in that university, it is that simple" he added.
Dr. Sayyed Hammad Hashmi and Mr. Moinuddin also expressed their pained feelings on the occasion. Prof. Mohd. Shahid lamented on the situations emerged in the country in recent days and the way voices of teachers and students are crushed by organized goons." We are raising our concern because of these public funded universities, but, we will be losing such spaces if we allow ourselves to destroy our institutions" he concluded.
The protest dispersed with National Anthem in the end.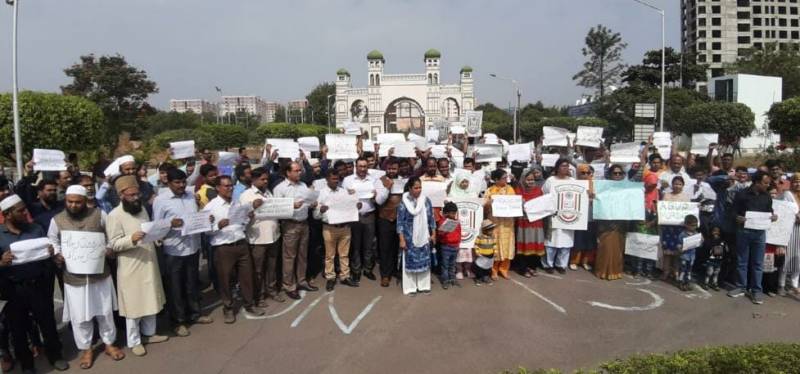 HCU students take out late-night march
Students from University of Hyderabad had taken out a late-night march within the university, as soon as the news broke out regarding the attack on JNU students on January 5. As the university has re-opened after the winter vacations, more students are expected to join the protest that has been called at 5 pm today evening.