Delhi: Jawaharlal Nehru University is once again in turmoil as "masked goons" attacked several students, teachers, including JNUSU President Aishe Ghosh inside the campus on Sunday, January 5, evening.
Students and eyewitnesses in the campus said that a group of "more than 50 masked goons entered the varsity and started vandalising the campus' property using large stones". The students added that the goons thrashed the students brutally, and went inside the girl's hostel and attacked students there. Teachers who tried to save the students also suffered injuries in the incident.
The injured students have been taken to All India Institute of Medical Sciences where they have been admitted in the Trauma Centre. Meanwhile, some are in the Emergency Wards, where they are undergoing medical treatment.
The JNUSU President received head injuries, and she was bleeding profusely. "I have been brutally attacked by goons wearing masks, and I have been bleeding," said Aishe, who is currently undergoing treatment at AIIMS.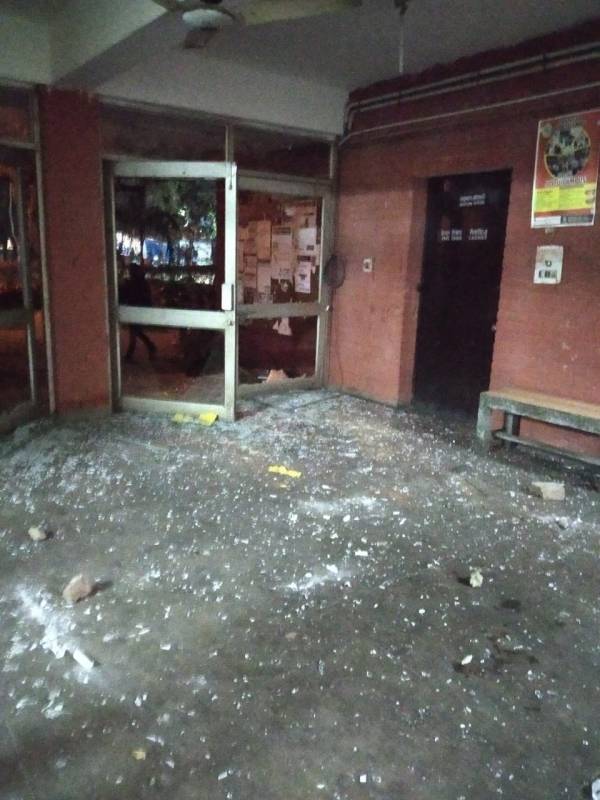 MHRD issues statement on JNU attack
"It has come to Ministry's notice that a group of masked people entered the JNU campus today, threw stones, damaged property and attacked students. This is very unfortunate and highly condemnable, such acts of violence and anarchy will not be tolerated. Police has been called by JNU administration to maintain law and order situation in JNU," said the Ministry of Human Resource and Development, in a statement released on January 6.
Ambulances denied entry into JNU campus

According to sources from the Delhi government's health department, ambulances are being denied entry into JNU campus. "Police is denying entry. We hope Delhi Police will not stop ambulances from giving medical aid to injured students. Delhi Govt officials are constantly in touch with the ambulance staff and medical team who are trying provide medical help to injured students," said the source.
Congress leader Priyanka Gandhi arrives at AIIMS trauma Centre to meet injured students
Congress leader Priyanka Gandhi visited AIIMS, where most of the injured students have been admitted. "Wounded students at AIIMS trauma centre told me that goons entered the campus and attacked them with sticks and other weapons. Many had broken limbs and wounds on their heads. One student said the police kicked him several times on his head," she said.
She further added that "There is something deeply sickening about a government that allows and encourages such violence to be inflicted on their own children.
Condemning the brutal attack on students, Delhi CM Arvind Kejriwal said, "I am shocked to learn about the violence at JNU, where students were brutally attacked. Police should immediately stop the violence and restore peace. How will the country progress if our students are not safe inside the university campus?"
Currently, seven ambulances have been sent to the JNU campus, and ten are on standby. According to students inside the university, the "masked goons continue to remain inside and outside campus, blocking ambulances."
Meanwhile, Delhi Police said, "There was ongoing tension between two groups for two days. Police entered the campus on January 5 on request of Jawaharlal Nehru University Administration."
West Bengal Chief Minister Mamata Banerjee and Rahul Gandhi condemned the violence inside JNU. Mamata Banerjee said, "We strongly condemn the brutality unleashed against students and teachers in JNU. No words are enough to describe such heinous acts. Shame on our democracy."
Meanwhile, an All India Trinamool Congress delegation led by Dinesh Trivedi along with Sajda Ahmed, Manas Bhunia and Vivek Gupta is heading to Delhi to show solidarity with anti-CAA protestors in Shaheen Bagh and students of JNU.
Congress' Rahul Gandhi tweeted, "The brutal attack on JNU students and teachers by masked thugs, which has left many seriously injured, is shocking. The fascists in control of our nation are afraid of the voices of our brave students. Today's violence in JNU is a reflection of that fear."
The brutal attack on JNU students & teachers by masked thugs, that has left many seriously injured, is shocking.

The fascists in control of our nation, are afraid of the voices of our brave students. Today's violence in JNU is a reflection of that fear.

#SOSJNU pic.twitter.com/kruTzbxJFJ

— Rahul Gandhi (@RahulGandhi) January 5, 2020
Meanwhile, as per officials from AIIMS Trauma Centre, more than 15 people from JNU came there with complaints of bleeding and abrasions among others. Currently, many students have gathered outside Delhi Police headquarters and are protesting the attack on JNU students.
Anil Baijal, Lieutenant Governor of Delhi condemned the attack. He tweeted, "The violence in JNU against students and teachers is highly condemnable. Directed Delhi Police to take all possible steps in coordination with JNU Administration to maintain law and order&take action against the perpetrators of violence."
In the injured ones, Sucharita Sen, faculty of CSRD, is also admitted in AIIMS with head injury.
The Left students union ABVP for the violence. "#EmergencyinJNU
ABVP terrorists from DU have entered campus in large numbers with iron rods, and they have been told to single out students' representatives. The JNUSU President, Aishe Ghosh, has been attacked. The Police and guards are aiding and abetting the attackers."
#EmergencyinJNU
ABVP terrorists from DU have entered campus in large numbers with iron rods, and they have been told to single out students' representatives. The JNUSU President, Aishe Ghosh, has been attacked. The Police and guards are aiding and abetting the attackers pic.twitter.com/KoIge6xeaF

— JNUSU (@JNUSUofficial) January 5, 2020
However, ABVP, JNU, wing released a statement in which they countered saying, "Left goons have unleashed their red terror in JNU. Armed with sticks, rods, stones, acid they have visited every room of ABVP activist in the hostel to kill them. When they could not stop students from registering, they targeted and brutally attacked them. #RED_TERROR_IN_JNU"
JNU Students Union slams VC, calls him 'mobster'
"The Vice Chancellor of the university M. Jagadesh Kumar is behaving like a mobster who perpetuates violence in the university he is supposed to administer. He uses all means and manner to see to it that students, teachers, Karmacharis and the entire JNU community faces violence by criminals imported from outside using iron rods, stones and lathis."
"The violence that happened today is the result of the desperation and frustration of the VC and his cronies. But the chronology of events that unfolded today is a shameful episode for the Delhi Police who gave a safe passage to ABVP goons imported from outside."
"The JNU community has a single point demand. That either this VC resign or the MHRD as the competent authority remove him!"
Senior Aam Aadmi Party leaders meet to discuss on Sunday's JNU violence
A meeting of senior Aam Aadmi Party (AAP) leaders is going on at the residence of Delhi chief minister Arvind Kejriwal.
According to AAP sources, Sanjay Singh (MP, Rajya Sabha), Home Minister Satyendra Kumar Jain and other senior leadership are having a discussion on Delhi Government's response in connection with yesterday's JNU violence.
Warden's resign
The Warden & senior warden of Sabarmati hostel of JNU, resigned citing the reason that they "failed to provide security", amid the attack on the students.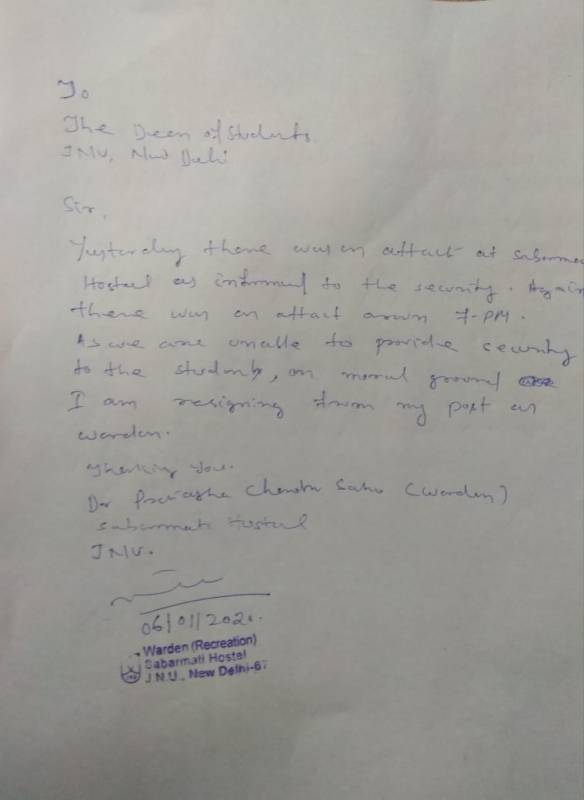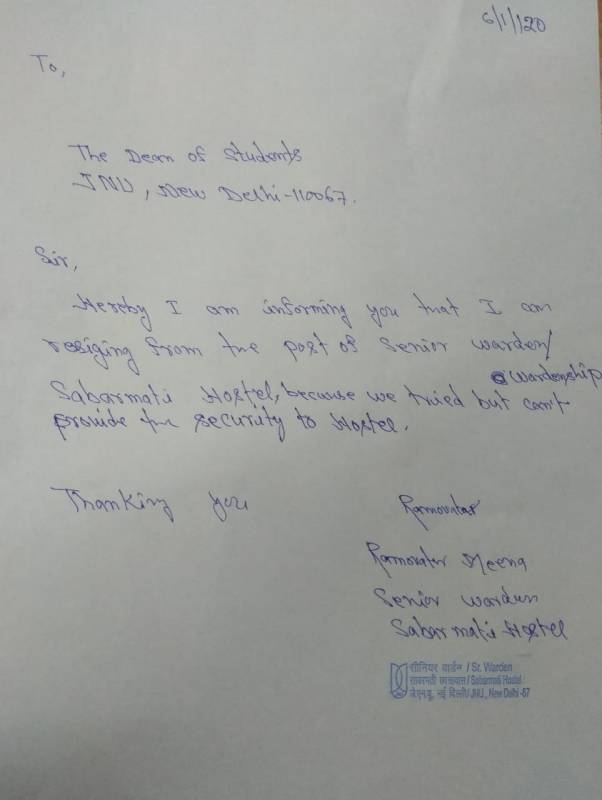 JNU VC says the protesting students have damaged the communication servers
The origin of the present situation in JNU lies in some agitating students turning violent and obstructing the academic activities of a large number of non-protesting students. The protesting students damaged the communication servers to disrupt the winter semester registration. They prevented thousands of students from doing their winter registration. Their intent is clearly aimed at disrupting the functioning of the University. This is simply hooliganism and against the ethos of JNU. No such person will be spared and appropriate action will be taken.
IMA condemns JNU violence and attacks on doctors and nurses in JNU
Indian Medical Association strongly condemns violence on doctors & nurses in JNU. They also pointed out the current situation of India as total anarchy & breakdown of law & order.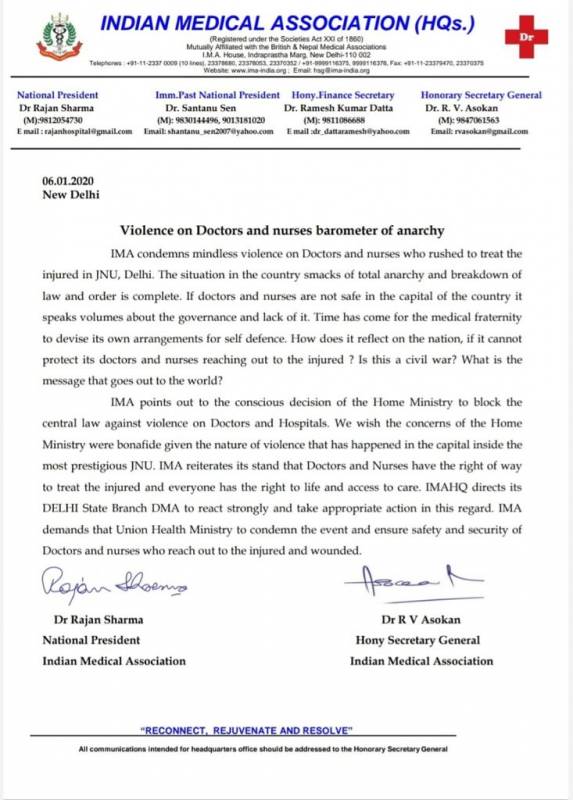 All India Trinamool Congress officials, stopped at Gate number 1 of JNU
AITC official delegation led by Dintri and comprising Sajda Ahmed (MP), Manas Bhunia (MP), Vivek Gupta, who went to express solidarity with #JNU students, stopped at Gate Number 1 (North Gate) of JNU.