`Dhawan-1': Hyd-based Skyroot Aerospace test-fires India's first privately built Cryogenic Engine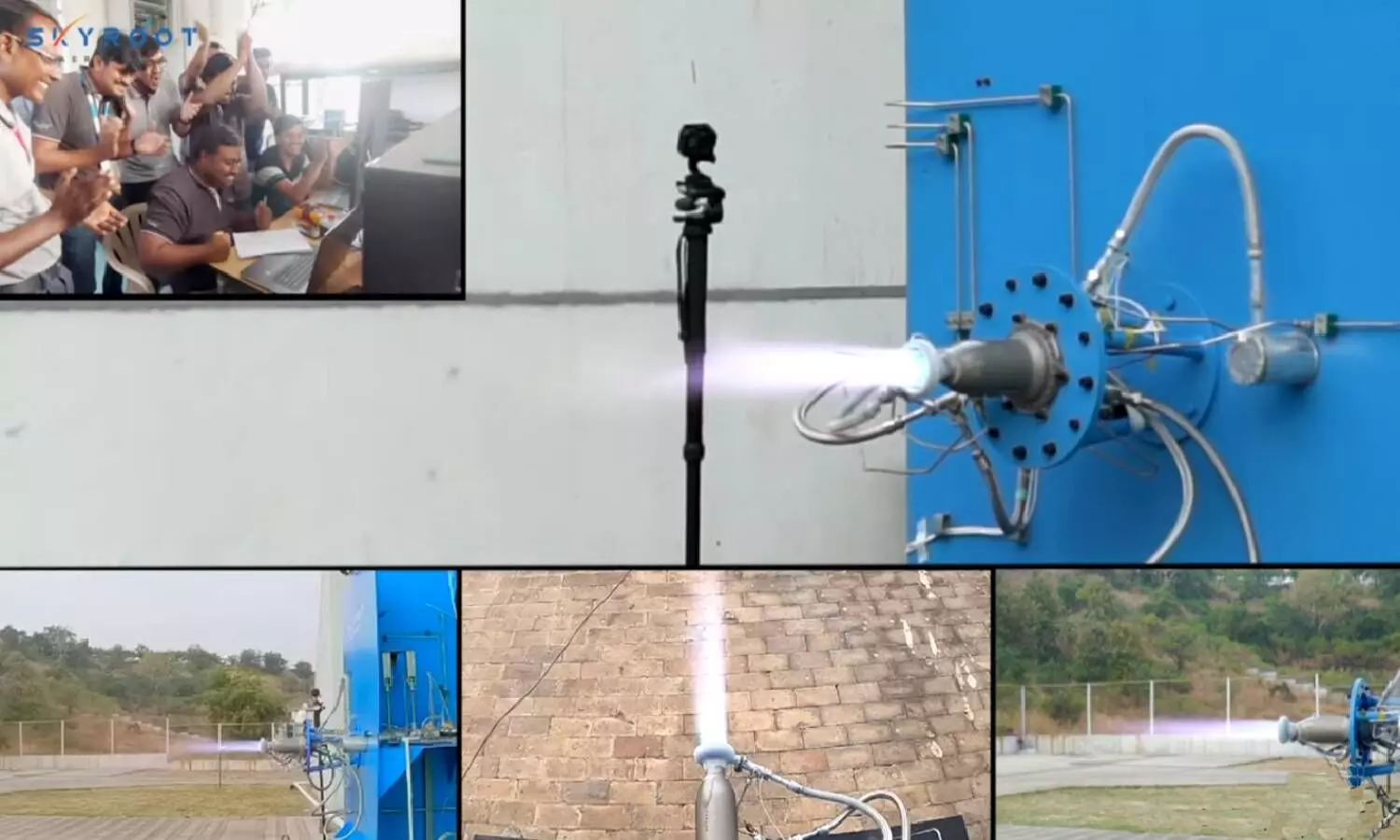 Hyderabad: Skyroot Aerospace Private Limited on Thursday announced that it has successfully test-fired India's first privately built fully Cryogenic Engine `Dhawan-1'.

Skyroot Aerospace Private Limited, a private company based in Hyderabad, develops small satellite launch vehicles.
"We're thrilled to announce, in a major milestone, we successfully test-fired India's first privately built fully Cryogenic Engine 'Dhawan-1'. 100% 3D-Printed, 100% Made in India, Fuel of the future- LNG," tweeted Skyroot.
'Dhawan-1', India's first privately developed indigenous fully cryogenic rocket engine which runs on liquid natural gas (LNG) as fuel is named after Satish Dhawan was the third Chairman of the Indian Space Research Organisation (ISRO). The cryogenic engine 'Dhawan-1' is 100 percent 3D printed and fueled by LNG and liquid oxygen as oxidizer. According to Skyroot, the cryogenic engine will be powering its Vikram II rocket.
Meanwhile, the company's first launch vehicle, 'Vikram-I', is on track for its initial launch by early next year. Named after Dr. Vikram Sarabhai, the father of the Indian space programme, Vikram-I is part of the launch vehicle series especially crafted by the company for the small satellite market. Built on a common architecture and covering a wide range of payloads, they offer the most affordable and on-demand ride to space.
Founded in January 2017 by former ISRO scientists Pawan Kumar Chandana, Naga Bharath Daka, and Vasudevan Gnanagandhi, Skyroot Aerospace won National Start-up Awards 2020 in the space category in October.
In August 2020, Skyroot first hogged the limelight when it test-fired the Raman-I solid-fuel upper stage, a component of Vikram-I. Skyroot was the first Indian private entity to test such a stage.
Skyroot is among the nine ground-breaking start-ups and the only space start-up in the country chosen to interact with Prime Minister Narendra Modi to commemorate five years of the start-up India initiative.